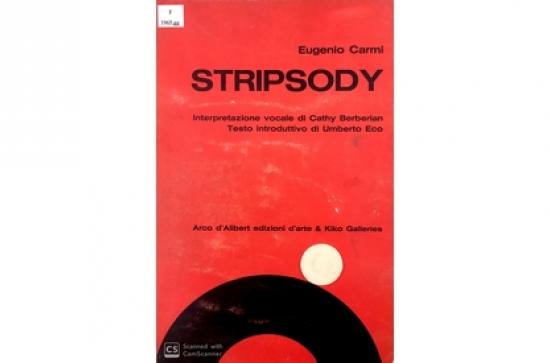 Tuesday, February 25, 2020 - 18:30
In 1966 Cathy Berberian—called 'Callas of the avant-garde' by numerous contemporary composers—was in search of new vocal stimuli. With the support of Umberto Eco, her friend and admirer, she composed and performed a "Comics Opera" made of a series of comic-strip onomatopoeias. The painter Eugenio Carmi then joined in and illustrated the material. The Stripsody project was born.
Eleonora Lima (TCD) and Francesca Placanica (University of Maynooth) will discuss how comics, music, and visual arts came together in this extraordinary collaboration centering the larger-than-life talent of Cathy Berberian.
Event supported by the AHRC-funded project Interdisciplinary Italy: Interart/Intermedia and theArchivio Eugenio Carmi
Event in English.
Free admission, booking recommended. https://iicdublino.esteri.it/iic_dublino/en/gli_eventi/calendario/2020/02/do-re-quack-gulp-come-umberto-eco.html