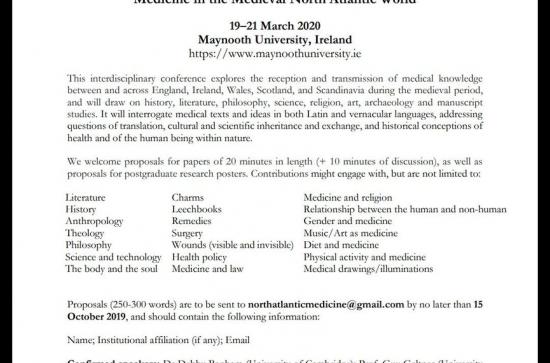 Thursday, February 6, 2020 - 16:45
Registration is now open for the international 3-day conference Medicine in the Medieval North Atlantic World, which will take place on 19-21 March 2020 at Maynooth University, co-organised with Queen's University Belfast.

This interdisciplinary conference explores the reception and transmission of medical knowledge between and across England, Ireland, Wales, Scotland, and Scandinavia during the medieval period, and draws on history, literature, science, religion, linguistics, archaeology and manuscript studies. It interrogates medical texts and ideas in both Latin and vernacular languages, addressing questions of translation, cultural and scientific inheritance and exchange, and historical conceptions of health and of the human being within nature.

Links to the programme, abstracts and online registration form are all available on the conference website here.