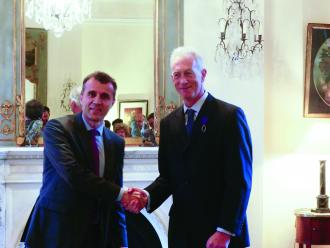 Professor John Ringwood of the Department of Electronic Engineering
was recognised by his peers as a key pillar of French‑Irish scientific and academic cooperation and was awarded France's Chevalier des Palmes Académiques, one of the highest accolades the country bestows on academics and researchers.
Professor Ringwood's research is focussed on the development and application of modelling and control systems techniques, with a particular emphasis on wave energy. He leads the Centre for Ocean Energy Research at Maynooth, and is a co‑PI in the SFI MaREI Centre for Marine and Renewable Energy. Professor Ringwood's research involves determining the optimal shape for a wave energy device and forecasting the dynamics of on‑coming waves to allow the device to maximise the energy take‑off from the wave.
His commitment and dedication to the training of researchers has extended to France, as many French PhD and postdoctoral students and interns have benefited from his expertise and mentoring.