Supporting work participation through early intervention in patients with regional musculoskeletal pain
This research is funded by the Health Research Board [RCQPS-2014-2].
Background
:
Living with musculoskeletal pain can make it difficult to stay working and keep active. Indeed, around 7 million working days are lost each year in Ireland due to musculoskeletal disorders. The lost productivity and sickness absence costs up to 240 billion euro across the EU annually (Fit for Work Europe Coalition).
Delays in getting the correct treatment and supports may mean that some people give up work unnecessarily; the longer an individual is out of work with a musculoskeletal disorder the less likely they will return to work.
There is evidence to indicate that many musculoskeletal disorders respond well to early interventions and integrated management (e.g. Lambeek et al. 2010; Roddy et al. 2013). These interventions could improve health and quality of life and facilitate continued work participation, but opportunities to put these in place in a timely fashion are typically missed.
Early intervention targeting the prevention of work disability has the potential to enhance patient outcomes and the effectiveness of care with positive benefits for the individual and their family, employers and wider society.
Research is still needed, in an Irish context, to establish the types of service that would help people to remain working.

Our research aims to:
Profile levels of work related disability/instability in patients in who are employed at time of assessment.
Feasibility test an early integrated care intervention to improve work participation among patients experiencing RMSKP.

Progress
Phase One: We have completed a systematic review to collate the evidence on early multi-component interventions to promote work participation. The findings were presented at the EULAR Congress 2016 in London. "Early Multidisciplinary Interventions to Promote Work Participation in People with Regional Musculoskeletal Pain".
The protocol review is available here:
http://www.crd.york.ac.uk/PROSPERO/display_record.asp?ID=CRD4201501931
A quantitative study has been conducted to document the impact of RMSKP on work-related disability/instability in patients referred to triage clinics led by Clinical Specialist Physiotherapists. Recruitment to the survey was completed June 2016; 164 participants completed the questionnaires across five hospitals. Initial analyses indicate that over a third of the patients were at risk for long term disability, and were, at the time of the assessment, experiencing difficulties in performing their work effectively more than half of the time. The findings will be presented at the 4th World Disability Prevention and Integration Conference in Amsterdam September 2016.
Phase Two: We have conducted focus groups and individual interviews with health care professionals and relevant stakeholders to inform the delivery of an early, case-manager led intervention. Findings were presented at EULAR 2016. We are continuing to interview a small number of patients who attended the triage clinics to help us better understand their experience working with RMSKP.
Phase Three: We recently started to pilot test a fast track integrated intervention (Figure 1) which includes:
Initial assessment and diagnosis by a Clinical Specialist MSK Physiotherapist
Randomisation to either:

1. Support and co-ordination by a nominated Case Manager.
2. Fast track to MSK Physiotherapist only followed by usual care.

Outcomes (clinical, work and health-related) will be measured at baseline and at three- and six-month follow up.
News
April 2017: The European League Against Rheumatism (EULAR) has awarded Dr Andy Cochrane a travel bursary to disseminate project findings at the Annual European Congress of Rheumatology in Madrid (June 2017).
September 2016: Dr Andy Cochrane was awarded the Irish Pain Society's Clinical Research Prize during the Society's Annual Scientific Meeting in September 2016.
Pictured: Ms Aoife Smith Mundipharma, Mr Conor Rothwell, Dr Andy Cochrane, (Clinical Research Prize), Ms Louise Corcoran (Non Clinical Research Prize), Prof David Finn President Irish Pain Society, Ms Joanne O' Brien President Elect.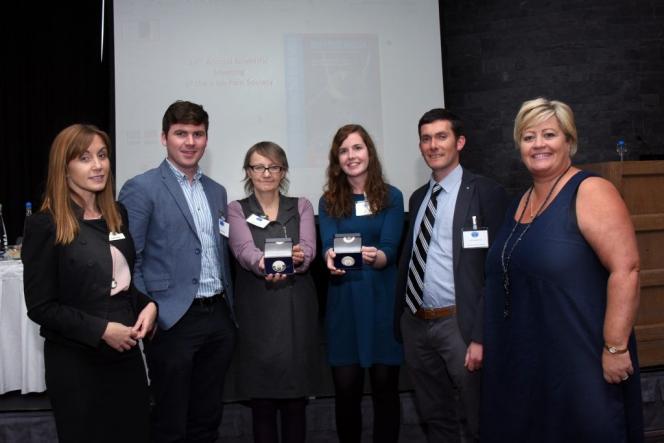 Interested to find out more?
Please contact Dr Andy Cochrane (Andy.Cochrane@mu.ie) or
Conor Rothwell (Conor.Rothwell@mu.ie) for further details

| Research Management Team | Collaborators |
| --- | --- |
| Dr Deirdre Desmond (Principal Investigator, MU) | John Church (CEO, Arthritis Ireland) |
| Dr Andy Cochrane, Conor Rothwell (Researchers, MU) | Christina Doyle (Nurse Specialist, HSE) |
| Prof Oliver Fitzgerald (Consultant Rheumatologist (UCD/St Vincent's Hospital) | Mr Aaron Glynn (Consultant Orthopaedic Surgeon) |
| Prof. Pamela Gallagher (School of Nursing, DCU) | Mr Paddy Kenny (Consultant Orthopaedic Surgeon) |
| Jennifer Ashton (Clinical Specialist Physiotherapist, Beaumont) | Mr David Moore (Consultant Orthopaedic Surgeon) |
| Roisin Breen (Senior Physiotherapist, Beaumont) | Dr Brian McGuire (Senior Research Lecturer, NUIG) |
| Aisling Brennan (Clinical Specialist Physiotherapist, AMNCH) | Prof. Donal O'Neill (Professor of Economics MU) |
| Oriel Corcoran (Clinical Specialist Occupational Therapist, Waterford Regional Hospital) | Dr Katie Robinson (Course Director, MSc. Occupational Therapy, UL) |
| | Dr Robert Ryan (Occupation Medicine) |