Department of Psychology 2021-2022 Teaching Arrangements
Dear students,
We look forward to welcoming you to campus for the new academic year 2021-2022. For some of you this will be a return, and for others it will be a new experience. Due to COVID-19, we will be operating in a different way than usual, and we have been working extensively on our plans for many months now. We have instigated a number of physical changes in the department so that we can comply with public health guidance and make the on-campus experience as safe as possible. Maynooth University has also invested heavily in its digital infrastructure, allowing us more options for on-line teaching and learning.
The past 18 months have been challenging for all of us, and we all continue to face some uncertainty. As such, the plans laid out here are subject to change according to public health advice. However, as you likely know, both the Government and the University are deeply committed to moving our teaching back on to campus and to avoid reversals of this in the future if at all possible. While in principle, adjustments may need to be made to our teaching methods going forward, you should plan on being on campus as a full time student from this point on.
Larger classes with more than 250 students, will for the most part be taught online during the timetabled slots and video recordings of these lectures will be available asynchronously on the relevant Moodle page for that module. This will continue for all of Semester 1. We do not currently have plans for the delivery of large classes in Semester 2 but you will be updated on this in due course.
Classes with fewer than 250 students, will, for the most part, be taught in person on campus. Many or most of these lectures will be recorded in some way and made available to students asynchronously via Moodle. Students should note, however, that individual lectures will make decisions on how to best support students who, for whatever reason, cannot come to campus for lectures. Therefore, while we will provide various supports on Moodle to complement lectures should some students fail to attend some of them, modules with students of less than 250 will not be delivered asonline courses and teaching may not be supported in the same manner as for larger modules primarily delivered online (i.e., videos of lectures).
Some of the measures that will be applied for our on-campus teaching are:
Lectures will have staggered beginning and end times to avoid congregation of students outside lecture halls.
Lectures will be of a shorter duration than usual in order to reduce contact time between students.
Masks wearing is required for all students.
Natural air circulation will be maximised in all of our teaching spaces.
Disinfectant cleaning materials will be available in our teaching rooms to allow for surfaces to be cleaned at the start of each teaching session.
C02 monitors will be placed in our teaching rooms to monitor air qualityand circulation.
One-way systems have been implemented for movement within the Department of Psychology.
We will endeavor to make consultation times with staff more flexible to allow for in person as well as online consultations with staff, as appropriate.
Click below for a list of Psychology classes to be held online and in-person in Semester 1 2021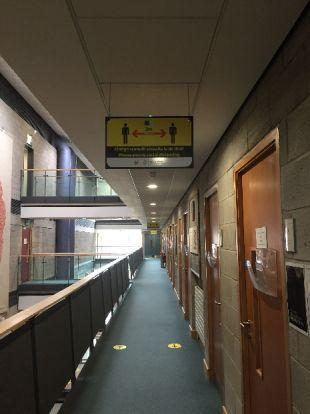 The key things we are asking students to do are:
Stay off-campus if symptomatic: Students with symptoms that could be COVID-19, should stay off campus and avoid contact with others.
Personal responsibility: Students should take personal responsibility for their behaviour and avoid risky situations.
Vaccination: We recommend that students get vaccinated unless advised otherwise by their doctor. The evidence is that this protects them and others. If they decide not to get vaccinated, they are increasing the risk to their health, and should take extra care with their behaviour.
Sanitisers: We will provide sanitisers in corridors and at the entrances to buildings. Students are asked to also carry their own sanitiser, and to wash their hands and sanitise frequently throughout the day.
Face covering: Students are asked to wear a face covering when indoors on campus, except when eating or drinking. This requirement may be adjusted if the public health advice on face covering is changed.
Cleaning: We will provide wipes in computer rooms and labs, and students are asked to wipe the surfaces on equipment they use.
Data sharing: Students are required to consent to limited data sharing with the public health authorities for the purposes of contact tracing and similar health measures. Students will consent to this at registration.
Recording of attendance: Students are asked to comply with measures to record attendance. We would like to assure students that we will endeavor to accommodate them when following public health guidance in the case that They need to stay away from campus upon infection, or for any reason related to public health guidelines.
Please see here for further guidance and information from the University regarding COVID-19.