Professor Philip Nolan
President: 2011-2021
Professor Philip Nolan served as President of Maynooth University from 2011 to 2021. During that 10-year term he led a university-wide reform of the undergraduate curriculum which was cited as a best practice model for all Irish universities for its success in broadening the range of subject options. He oversaw the expansion of the Law department, the School of Business, and the appointment of over 250 additional faculty members. Professor Nolan instigated major campus developments, including Maynooth University's largest capital project, a €57 million 'Technology Society and Innovation Project,' the development of a 20-year campus master plan and the opening of the International College of Engineering at Fuzhou University in China.
During his tenure, Maynooth University to became the fastest growing and most diverse university in Ireland.
Early in his career, Prof Nolan practiced medicine for a short time, but having become involved in research and teaching as a student, was drawn to an academic career. In 2004 he came Registrar and Deputy President at University College Dublin.
When the Covid-19 pandemic hit in 2020, Professor Nolan was tapped to chair the National Public Health Emergency Team's (NPHET) Irish Epidemiological Modelling Advisory Group, with responsibility for advising government on the response to Covid-19, earning him national admiration for his dedication and sound counsel.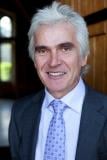 Professor Thomas Collins
President: 2010 – 2011
Professor Tom Collins was appointed interim President of Maynooth University in 2010. Prior to this he was Professor and Head of the Education Department and Dean of Teaching and Learning at Maynooth University. He is the former Director of Dundalk Institute of Technology in which capacity he established the Centre for Renewable Energy, the National Centre for Fresh Water Studies and the Centre for Ageing. He was Government advisor on both the Green Paper (1998) and White Paper (2000) on Adult Education at which time he was Director of the Centre for Adult and Community Education at Maynooth University. Professor Collins has published and lectured widely in the area of Education and is a regular media columnist.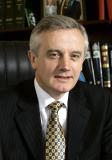 Professor John G Hughes
President: 2004 – 2010
Professor John G. Hughes was President of Maynooth University from 2004 - 2010. During his tenure the University was transformed into one of the most successful research-led institutions in Ireland, overseeing a tripling of research income (from €10 million in 2004 to €34 million in 2009) and an increase in postgraduate student numbers of more than 50%, to 1,800. At undergraduate level, Maynooth University 's number of CAO first preferences increased by more than 50% since 2005 and average entrance points moved from under 400 points to 425 in the same period. The percentage of foreign students also grew from 3% to 12%. The University developed strong links with industry, particularly Intel, with whom it has established IVI (The Innovation Value Institute), a highly successful global research centre.
A native of Belfast, Professor Hughes was educated at Queens University where he obtained a BSc with First Class Honours in Mathematics and a PhD in Theoretical Physics. Following appointments at Queens and at the International Atomic Energy Agency, Vienna, he became Professor of Information Systems Engineering at University of Ulster in 1991. Professor Hughes is a Fellow of the British Computer Society. In 1999 his research team won the prestigious European Grand IST prize for software innovation. Professor Hughes has extensive international links in Europe, the US and Asia. He is currently Vice Chancellor of Bangor University, Wales.
Professor William Smyth
President: 1997 – 2004
In 1994 Professor Smyth was appointed executive head and Master of the Recognised college of the National University of Ireland at Maynooth and when the Universities Act, 1997, was enacted he became the first President of the newly created, National University of Ireland Maynooth. In that capacity he served also as Pro-Vice-Chancellor of the National University of Ireland, and for the period 1999-2001 he served as Vice-Chancellor - the first Maynooth person to occupy that office. In 1997 and again in 2003 he served as chairman of the Conference of Heads of Irish Universities. The principal activities of CHIU in those two years revolved around the Finalization of the Universities Act and arrangements for the OECD review of Irish Higher Education. He is currently a visiting academic at the University of Toronto where he is researching the historical geography of Irish settlement in Canada