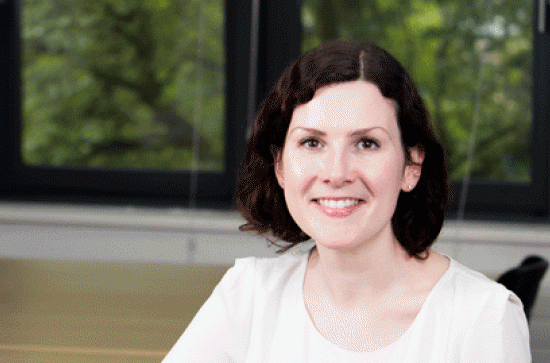 Laura Anderson is a musicologist with interests in film music, sound design, audio-visual archives, nineteenth- and twentieth-century French music, and issues of music and national identity. She was awarded a first-class honours degree in Music and French from Trinity College Dublin.She holds a MMus degree with distinction in Advanced Musical Studies and a PhD from Royal Holloway, University of London where her doctoral studies were supported by the AHRC. Her PhD, 'The Poetry of Sound: Jean Cocteau, Film, and Early Sound Design' explored Cocteau's approach to music and sound throughout his career in film.

Laura has been awarded an Irish Research Council Post-Doctoral Fellowship to support her current project at Maynooth, 'Disruptive Soundscapes: Music and Sound Design in French Post-War Cinema'. This interdisciplinary project offers a new view of avant garde post-war French film sound design by examining its relationship with wider cultural developments.

Between 2013 and 2016, Laura was the Post-Doctoral Research Fellow on the AHRC-funded project, 'The Professional Career and Output of Trevor Jones' at the University of Leeds. She was responsible for the day to day management of the audio-visual archive and conducted individual and collaborative research into the archival film-music materials.

Recent projects include co-editing a special issue of the Journal of Film Music on audio-visual archives (2016, issue 6.2). With David Cooper and Ian Sapiro, Laura is co-author of the monograph, The Screen Music of Trevor Jones: Technology, Process, Production (in progress). Other current projects include book chapters on the topics of pre-existing music in Jean-Pierre Melville's film Les Enfants terribles; John Williams's score for Angela's Ashes; and Brian Boydell's music for documentary film.

Laura has presented her research at several international conferences including Music and the Moving Image NYU, Music and Audio-Visual Media, and the Society for Musicology in Ireland.
 
Year
Publication
2018
'Sounding an Irish Childhood: John Williams's Score for 'Angela's Ashes''
Laura Anderson (2018) 'Sounding an Irish Childhood: John Williams's Score for 'Angela's Ashes'' In: Emilio Audissino (eds). John Williams: Music for Films, Television and the Concert Stage. Turnhout: Brepols. [Details]
 
Year
Publication
2018
'Sonic 'detheatricalisation': Jean Cocteau, Film Music, and 'Les Parents terribles''
Laura Anderson (2018) 'Sonic 'detheatricalisation': Jean Cocteau, Film Music, and 'Les Parents terribles''. MUSIC AND LETTERS, [Details]
2016
'Digitizing, Organizing and Managing an Audio-Visual Archive: The Trevor Jones Archive at the University of Leeds'
Cooper D, Sapiro I, Anderson L, Hall S (2016) 'Digitizing, Organizing and Managing an Audio-Visual Archive: The Trevor Jones Archive at the University of Leeds'. The Journal of Film Music, 6 (2):101-110 [Details]
2015
'Musique Concrète, French New Wave cinema, and Jean Cocteau's 'Le Testament d'Orphée''
Anderson L (2015) 'Musique Concrète, French New Wave cinema, and Jean Cocteau's 'Le Testament d'Orphée''. Twentieth-Century Music, 12 (2):197-224 [Details]
2008
'French Influence on Pelham Humfrey's Verse Anthems'
Anderson L (2008) 'French Influence on Pelham Humfrey's Verse Anthems'. The Musicology Review, 4 :25-57 [Details]
Year
Publication
2015
Film Sound Design.
Anderson L (2015) Film Sound Design. Oxford Bibliographies Online: Dictionary Entry [Details]