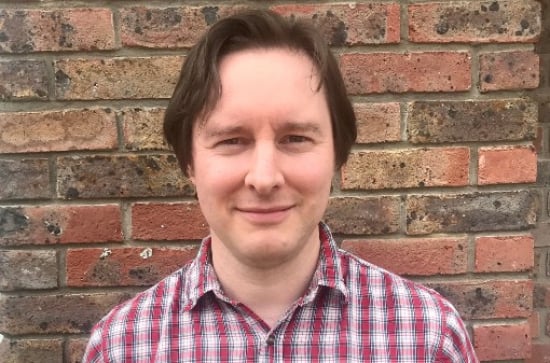 John Hume Building
2nd
SF19
My background is in Cognitive Science, having studied at Dublin City University and University of Edinburgh before completing my PhD at University College Dublin. Prior to arriving in Maynooth in 2021, I worked in Northumbria University, University of Manchester, and Lancaster University.
My research falls broadly within the areas of cognitive science and embodied cognition. I am interested in how people's linguistic, bodily and environmental experience shapes their mental representations and how this affects the way they process the world around them. This research includes investigations of the grounded and situated nature of concepts, the ability of language, body and environment to shape representations and behaviour, and the interplay of linguistic and simulation systems in human cognition.I strongly support an open science approach to research, and strive to make my work as transparent and reproducible as possible. You can access my Open Science Framework project page
here
, and you can read more about my research
here
.
If you are interested in open science, or in topics related to any of my publications and are interested in pursuing a PhD, please email me a few lines of what you'd like to do.
|   | Project | Role | Funding Body / Program | Description | Start Date | End Date | Award (€) |
| --- | --- | --- | --- | --- | --- | --- | --- |
| | Texture Oracle: A Software Service for Predicting and Responding to COVID-19 Outbreaks in UK Regions Using Twitter Data | Co-investigator | UK Research and Innovation (UKRI) / Government State Bodies | | 01-NOV-20 | 31-DEC-21 | 200000 |
| | If it looks like a duck: emergent categorical structure in the human conceptual system | Principle Investigator | The Leverhulme Trust / TLT / Non Commercial | | 01-MAY-16 | 31-OCT-18 | 155000 |
 
Year
Publication
2020
'The Lancaster Sensorimotor Norms: multidimensional measures of perceptual and action strength for 40,000 English words'
Lynott D;Connell L;Brysbaert M;Brand J;Carney J; (2020) 'The Lancaster Sensorimotor Norms: multidimensional measures of perceptual and action strength for 40,000 English words'. Behavior Research Methods, 52 (3) [DOI] [full-text] [Details]
2020
'The relationship between gambling advertising and gambling attitudes, intentions and behaviours: a critical and meta-analytic review'
Bouguettaya, Ayoub,Lynott, Dermot,Carter, Adrian,Zerhouni, Oulmann,Meyer, Silke,Ladegaard, Isak,Gardner, John,O'Brien, Kerry S (2020) 'The relationship between gambling advertising and gambling attitudes, intentions and behaviours: a critical and meta-analytic review'. Current Opinion in Behavioral Sciences, 31 :89-101 [full-text] [Details]
2020
'The Effect of a Food Addiction Explanation Model for Weight Control and Obesity on Weight Stigma'
O'Brien KS;Puhl RM;Latner JD;Lynott D;Reid JD;Vakhitova Z;Hunter JA;Scarf D;Jeanes R;Bouguettaya A;Carter A; (2020) 'The Effect of a Food Addiction Explanation Model for Weight Control and Obesity on Weight Stigma'. Nutrients, 12 (2) [DOI] [full-text] [Details]
2019
'Are You What You Read? Predicting Implicit Attitudes to Immigration Based on Linguistic Distributional Cues From Newspaper Readership'
Dermot Lynott;Michael Walsh;Anthony McEnery;Louise Connell;liam cross;Kerry S. O'Brien; (2019) 'Are You What You Read? Predicting Implicit Attitudes to Immigration Based on Linguistic Distributional Cues From Newspaper Readership'. Frontiers in Psychology, [DOI] [full-text] [Details]
2018
'Registered Replication Report: Dijksterhuis and van Knippenberg (1998)'
Michael O'Donnell;Leif D Nelson;Evi Ackermann;Balazs Aczel;Athfah Akhtar;Silvio Aldrovandi;Nasseem Alshaif;Ronald Andringa;Mark Aveyard;Peter Babincak;Nursena Balatekin;Scott A Baldwin;Gabriel Banik;Ernest Baskin;Raoul Bell;Olga Białobrzeska;Angie R Birt;Walter R Boot;Jessie C Briggs;Axel Buchner;Desiree Budd;Kathryn Budzik;Lottie Bullens;Richard L Bulley;Peter R Cannon;Katarzyna Cantarero;Joseph Cesario;Stephanie Chambers;Christopher R Chartier;Peggy Chekroun;Clara Chong;Axel Cleeremans;Sean P Coary;Jacob Coulthard;Florien M Cramwinckel;Thomas F Denson;Marcos Díaz-Lago;Theresa E DiDonato;Aaron Drummond;Julia Eberlen;Titus Ebersbach;John E Edlund;Katherine M Finnigan;Justin Fisher;Natalia Frankowska;Efraín García-Sánchez;Frank D Golom;Andrew J Graves;Kevin Greenberg;Mando Hanioti;Heather A Hansen;Jenna A Harder;Erin R Harrell;Andree Hartanto;Michael Inzlicht;Andrew Karpinski;Victor N Keller;Olivier Klein;Lina Koppel;Emiel Krahmer;Anthony Lantian;Michael J Larson;Jean-Baptiste Légal;Richard E Lucas;Dermot Lynott;Corey M Magaldino;Karlijn Massar;Matthew T McBee;Neil Marvin McLatchie;Nadhilla Melia;Michael C Mensink;Laura Mieth;Samantha Moore-Berg;Geraldine Neeser;Ben R Newell;Marret K Noordewier;Asil Ali Özdogğru;Myrto Pantazi;Michał Parzuchowski;Kim Peters;Michael C Philipp;Monique M H Pollmann;Panagiotis Rentzelas;Rosa Rodríguez-Bailón;Jan Philipp Röer;Ivan Ropovik;Nelson A Roque;Carolina Rueda;Bastiaan T Rutjens;Katey Sackett;Janos Salamon;Ángel Sánchez-Rodríguez;Blair Saunders;Juliette Schaafsma;Michael Schulte-Mecklenbeck;David R Shanks;Martin F Sherman;Kenneth M Steele;Niklas K Steffens;Jessie Sun;Kyle J Susa;Barnabas Szaszi;Aba Szollosi;Ricardo M Tamayo;Gustav Tinghög;Yuk-Yue Tong;Carol Tweten;Miguel A Vadillo;Deisy Valcarcel;Nicolas Van der Linden;Michiel van Elk;Frenk van Harreveld;Daniel Västfjäll;Simine Vazire;Philippe Verduyn;Matt N Williams;Guillermo B Willis;Sarah E Wood;Chunliang Yang;Oulmann Zerhouni;Robert Zheng;Mark Zrubka; (2018) 'Registered Replication Report: Dijksterhuis and van Knippenberg (1998)'. Perspectives on Psychological Science, [DOI] [Details]
2018
'Interoception: The forgotten modality in perceptual grounding of abstract and concrete concepts'
Louise Connell;Dermot Lynott;Briony Banks; (2018) 'Interoception: The forgotten modality in perceptual grounding of abstract and concrete concepts'. Philosophical Transactions of the Royal Society B: Biological Sciences, [DOI] [full-text] [Details]
2017
'The effect of haptic and ambient temperature experience on prosocial behavior'
Dermot Lynott;Katherine S. Corker;Louise Connell;Kerry S. O'Brien; (2017) 'The effect of haptic and ambient temperature experience on prosocial behavior'. Archives of Scientific Psychology, [DOI] [full-text] [Details]
2016
'Registered Replication Report Strack, Martin, & Stepper (1988)'
(2016) 'Registered Replication Report Strack, Martin, & Stepper (1988)'. Perspectives on psychological science, [DOI] [full-text] [Details]
2016
'Spatial language and converseness'
Michele Burigo;Kenny R. Coventry;Angelo Cangelosi;Dermot Lynott; (2016) 'Spatial language and converseness'. The Quarterly Journal of Experimental Psychology, [DOI] [Details]
2016
'Child and adolescent exposure to alcohol advertising in Australia's major televised sports'
Sherilene Carr;Kerry S. O'Brien;Jason Ferris;Robin Room;Michael Livingston;Brian Vandenberg;Robert J. Donovan;Dermot Lynott; (2016) 'Child and adolescent exposure to alcohol advertising in Australia's major televised sports'. Drug and Alcohol Review, [DOI] [full-text] [Details]
2016
'Do we know what we're simulating? Information loss on transferring unconscious perceptual simulation to conscious imagery'
Louise Connell;Dermot Lynott; (2016) 'Do we know what we're simulating? Information loss on transferring unconscious perceptual simulation to conscious imagery'. Journal of Experimental Psychology: Learning Memory and Cognition, [DOI] [Details]
2015
'Alcohol advertising in sport and non-sport TV in Australia, during children's viewing times'
Kerry S. O'Brien;Sherilene Carr;Jason Ferris;Robin Room;Peter G. Miller;Michael Livingston;Kypros Kypri;Dermot Lynott; (2015) 'Alcohol advertising in sport and non-sport TV in Australia, during children's viewing times'. PLoS ONE, [DOI] [full-text] [Details]
2015
'Correction: Alcohol advertising in sport and non-sport TV in Australia during children's viewing times'
Kerry S. O'Brien;Sherilene Carr;Jason Ferris;Robin Room;Peter Miller;Michael Livingston;Kypros Kypri;Dermot Lynott; (2015) 'Correction: Alcohol advertising in sport and non-sport TV in Australia during children's viewing times'. PLoS ONE, [DOI] [full-text] [Details]
2014
'High quality direct replications matter: response to Williams (2014)'
Katherine S. Corker;Dermot Lynott;Jessica Wortman;Louise Connell;M. Brent Donnellan;Richard E. Lucas;Kerry S. O'Brien; (2014) 'High quality direct replications matter: response to Williams (2014)'. Social Psychology, [DOI] [Details]
2014
'Replication of œExperiencing physical warmth promotes interpersonal warmth by Williams & Bargh (2008)'
Dermot Lynott;Katherine Corker;Jessica Wortman;Louise Connell;M. Brent Donnellan;Richard Lucas;Kerry S. O'Brien; (2014) 'Replication of œExperiencing physical warmth promotes interpersonal warmth by Williams & Bargh (2008)'. Social psychology, [DOI] [Details]
2014
'On the ups and downs of emotion'
Dermot Lynott;Kenny R. Coventry; (2014) 'On the ups and downs of emotion'. Psychonomic Bulletin and Review, [DOI] [Details]
2014
'I see/hear what you mean'
Louise Connell;Dermot Lynott; (2014) 'I see/hear what you mean'. Journal of Experimental Psychology: General, [DOI] [Details]
2014
'Principles of representation: Why you can't represent the same concept twice'
Louise Connell;Dermot Lynott; (2014) 'Principles of representation: Why you can't represent the same concept twice'. Topics in Cognitive Science, [DOI] [Details]
2013
'Alcohol industry sponsorship and alcohol-related harms in Australian university sportspeople/athletes'
Kerry S. O'Brien;Dermot Lynott;Peter G. Miller; (2013) 'Alcohol industry sponsorship and alcohol-related harms in Australian university sportspeople/athletes'. Drug and Alcohol Review, [DOI] [Details]
2013
'Modality exclusivity norms for 400 nouns'
Dermot Lynott;Louise Connell; (2013) 'Modality exclusivity norms for 400 nouns'. Behavior Research Methods, [DOI] [Details]
2013
'Flexible and fast: Linguistic shortcut affects both shallow and deep conceptual processing'
Louise Connell;Dermot Lynott; (2013) 'Flexible and fast: Linguistic shortcut affects both shallow and deep conceptual processing'. Psychonomic Bulletin and Review, [DOI] [Details]
2013
'The role of body and environment in cognition'
Dermot Lynott;Louise Connell;Judith Holler; (2013) 'The role of body and environment in cognition'. Frontiers in Psychology, [DOI] [Details]
2013
'Racism, gun ownership and gun control'
Kerry S. O'Brien;Walter Forrest;Dermot Lynott;Michael Daly; (2013) 'Racism, gun ownership and gun control'. PLoS ONE, [DOI] [full-text] [Details]
2012
'When does perception facilitate or interfere with conceptual processing?'
Louise Connell;Dermot Lynott; (2012) 'When does perception facilitate or interfere with conceptual processing?'. Frontiers in Psychology, [DOI] [Details]
2012
'Commentary on Larsen etal. (2012): Throwing the baby out with the bathwater - teething problems with implicit attitude-behaviour links'
(2012) 'Commentary on Larsen etal. (2012): Throwing the baby out with the bathwater - teething problems with implicit attitude-behaviour links'. Addiction, [Details]
2012
'Alcohol-related aggression and antisocial behaviour in sportspeople/athletes'
(2012) 'Alcohol-related aggression and antisocial behaviour in sportspeople/athletes'. Journal of Science and Medicine in Sport, [Details]
2012
'Modelling the IAT: implicit association test reflects shallow linguistic environment and not deep personal attitudes'
Lynott, Dermot,Connell, Louise,O'Brien, Kerry S,Kansal, Himanshu (2012) 'Modelling the IAT: implicit association test reflects shallow linguistic environment and not deep personal attitudes'. [Details]
2012
'Alcohol industry sponsorship and alcohol-related harms in Australian university sportspeople/athletes'
; (2012) 'Alcohol industry sponsorship and alcohol-related harms in Australian university sportspeople/athletes'. [Details]
2012
'When does perception facilitate or interfere with conceptual processing? The effect of attentional modulation'
; (2012) 'When does perception facilitate or interfere with conceptual processing? The effect of attentional modulation'. [Details]
2011
'Touching with the mind's hand: Tactile and proprioceptive stimulation facilitates conceptual size judgements'
Connell, Louise,Lynott, Dermot,Dreyer, Felix (2011) 'Touching with the mind's hand: Tactile and proprioceptive stimulation facilitates conceptual size judgements'. European Perspectives on Cognitive Science, [Details]
2011
'Modality switching costs emerge in concept creation as well as retrieval'
Louise Connell;Dermot Lynott; (2011) 'Modality switching costs emerge in concept creation as well as retrieval'. Cognitive Science, [DOI] [Details]
2010
'Embodied conceptual combination'
Dermot Lynott;Louise Connell; (2010) 'Embodied conceptual combination'. Frontiers in Psychology, [DOI] [Details]
2010
'Look but don't touch'
Louise Connell;Dermot Lynott; (2010) 'Look but don't touch'. Cognition, [DOI] [Details]
2010
'Spatial language, visual attention, and perceptual simulation'
(2010) 'Spatial language, visual attention, and perceptual simulation'. Brain and Language, [Details]
2009
'Is a bear white in the woods? Parallel representation of implied object color during language comprehension'
(2009) 'Is a bear white in the woods? Parallel representation of implied object color during language comprehension'. Psychonomic Bulletin and Review, [Details]
2004
'Conceptual combination with PUNC'
(2004) 'Conceptual combination with PUNC'. Artificial Intelligence Review, [Details]
| | Description |
| --- | --- |
| | Associate Editor Collabra: Psychology |