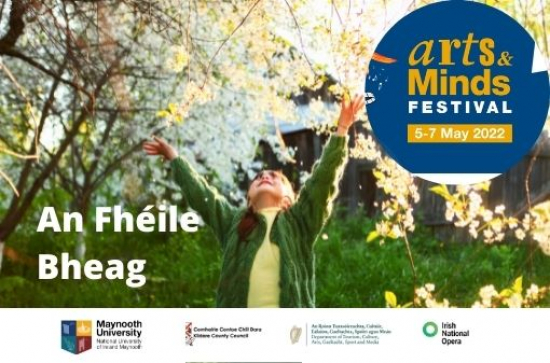 Saturday, May 7, 2022 -

09:30

to

16:30
Halla Callan/Callan Hall
An Fhéile Bheag, Ollscoil Mhá Nuad
The Féile Bheag – an Irish-language programme of Arts Events
Dé Sathairn/Saturday 7/05/2022
Saorchead isteach, ach ní mór clárú roimré ar Eventbrite
Free Admission, but pre-registration required on Eventbrite
Tuilleadh eolais/further information: feilebheag@mu.ie
9.30am Oscailt Oifigiúil agus Clárú/Official Opening and Registration Halla Callan/Callan Hall
10-11.30am Ceardlanna Amhránaíochta, Damhsa, agus Ceardaíochta trí mheán na Gaeilge/Song, Dance, and Craft Workshops
Stiúrthóir/Director: Méabh de Barra.
Ceardlann amhránaíochta (ar líne)/Online Sean-nós Singing Workshop through Irish: Muireann Nic Amhlaoibh
Ceardlann Cheardaíochta (Halla Callan)/Craft Workshop through Irish (Callan Hall)
Ceardlann Damhsa ar an sean-nós (Loftus)/Sean-nós Dance Workshop through Irish (Loftus): Nada Ní Chuirrín

11.45-12.45pm Seisiún Siúlach Amhránaíochta i nGairdíní Ollscoil Mhá Nuad le hÉtáin Ní Churraoin/ A sean-nós singing walking tour as Gaeilge of Maynooth University Gardens with Étáin Ní Churraoin

1-2pm An Phicnic Bheag ['The Little Picnic']
Comhstiúrthóirí/Co-directors: Méabh de Barra agus Máire Ní Churraoin
I gcomhar le Cill Dara le Gaeilge agus Féile na Gealaí/In conjunction with Cill Dara le Gaeilge and Féile na Gealaí
Beidh an ócáid seo lonnaithe i ngáirdíní áille an tseana-champais in Ollscoil Mhá Nuad agus tabharfaidh deis do dhaoine taitneamh a bhaint as comhluadar a chéile trí mheán na Gaeilge. Béarfaidh an pobal a gcuid bia féin leo don ócáid do phinic bheag le tionlacan ceoil agus cainte. Tabharfar cuireadh do na healaíontóirí a thug na ceardlanna ar maidin taispeántas a thabhairt ar stáitse ag an bpicnic bheag chomh maith. Beidh córas PA lasmuigh againn, agus tabharfar cuireadh do dhaoine amhrán a rá nó port a sheinm de réir mar is maith leo.
This Irish-language picnic will take place in the beautiful gardens of Maynooth University's South Campus, where people can enjoy the beautiful surroundings as Gaeilge, while enjoying traditional music and sean-nós dance performances. Attendees will bring their own food and a rug for the grass, and will also have the opportunity to perform if they wish also!

3pm-4.30pm Péinteáil agus Port/ ['Painting and a Tune'] – Halla Callan/Callan Hall
Stiúrthóir/Director: Máire Ní Churraoin
Ócáid ana-speisialta a bheidh anseo ina gcuirfear ábhair phéinteála agus scuaba péinte ar fáil do dhaoine fásta ionas gur féidir leo todhchaí nua a shamhlú don Ghaeilge. Roinnfear íomhánna ar leith a bhaineann le saol na Gaeilge agus na Gaeltachta ar rannpháirtithe mar inspioráid chun gur féidir leo todhchaí na Gaeilge a shamhlú go teibí leis an scuab phéinte agus iad ag éisteacht le taispeántais cheoil den scoth. Beidh béim ar éagsúlacht agus indibhidiúlacht na cruthaitheachta sa tseisiún, agus beidh saoirse chruthaitheach ag cách. Iarrfar ar rannpháirtithe grianghraf a ghlacadh dá bpictiúr féin lena bhfón póca le seoladh go dtí stiúrthóirí na comhdhála as a gcruthófar collage digiteach ealaíne a roinnfear leis an bpobal.
At this very special Irish-language event, attendees will be supplied with paints, brushes and canvases so that they can imagine a new future for Irish-language culture. While attendees listen to beautiful and compelling performances on Harp and Uilleann Pipes, images synonymous with Irish-language and Gaeltacht life will be shared as inspiration for abstract imaginative engagement with contemporary Irish-language culture, fostering creative freedom through a diversity of perspectives. Participants will also be invited to take a photo to send to festival organisers, who will then construct a digital collage to be shared with the community.
Bean an tí/Facilitator: Máire Ní Churraoin
Píob/Uilleann Pipes: Éanna Ó Cróinín
Cruit/Harp: Caoimhe Nic Giobúin

Maynooth University Arts and Minds Festival is supported by Kildare County Council and funded by the Department of Tourism, Culture, Arts, Gaeltacht, Sport and Media's Local Live Performance Programming Scheme.