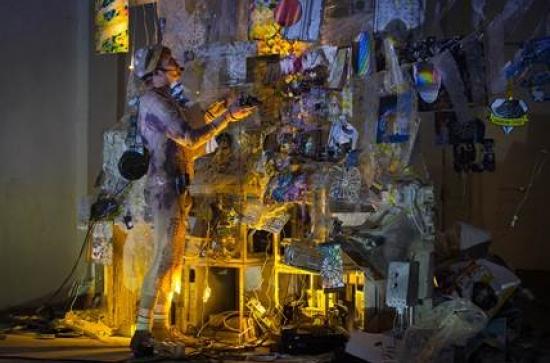 Tuesday, January 29, 2019 -

13:15

to

14:15
School of Education, SE012
Sam Keogh and Aislinn O'Donnell would like to initiate a collective conversation about diverse practices of thinking and researching in education and art. This will take an experimental format that builds on our previous (meandering) conversations, shown in diagram form, that touch on a range of contemporary questions from landlords to knotweed to the commons. We will explore some of the ways in which these practices could open up different kinds of pedagogies and research practices that are open and experimental, sensual and multi-modal, and that resist prescribed outcomes or ready solutions, without falling into either cynicism or blind acceptance of the status quo. We want to think about how and why educators, artists, activists and researchers manifest their ideas and responses in different ways to these contemporary questions.
Sam's work spans installation, sculpture, performance, drawing and collage. His installations often facilitate a performance which morphs sculpture into props and collage into mnemonic devices or surfaces to be read as visual scripts which tend to take the form of dramatised, rambling monologues, densely packed with references to popular culture, wikipedic 'factoids', politics, history, anecdotes and descriptions of physical and chemical processes. Through performance, the dialogue, collage and sculpture become knots saturated with confused information. They are attempts to make information tangible and malleable until it can be treated as a sculptural medium.
In Sam's own words: "My research methodology is quite disorganised, but does still constitute a methodology if we are to understand the term as a 'system of methods'. Its dis-organisation allows me to follow tangential lines of inquiry in a way that is motivated by desire and curiosity, I understand to involve the senses(other than but including thinking), and maybe more conducive to realising a work in physical form. Practically what this means in the studio is a-lot of open tabs, partial google docs containing notes, links, fragments of writing and folders of saved images. A point might then be reached when I have to print material out on paper, then I might start editing it physically, cutting it up and arranging into categories, then arranging those categories into a form with a dramatic cadence, or cutting up images, collaging them together, pushing them through some other formal treatment until they become strange or unexpected things begin to happen. These tendencies are simultaneously kept in check by moments of critical reflection in the studio, crits from trusted peers and chances to test out a work in progress in public. In these ways I can begin to hone the relationship between the works form and content and decided to reshape parts, expand parts, edit bits out or intensify parts until it approaches being finished."

Aislinn is interested in the idea of experimentation, ethics, and the composition of subjectivities and new forms of experience in institutions. She draws on the work of Jean Oury, Spinoza, and Deleuze and Guattari to think about ways of subverting the logics of performativity and the violence of procedure in order to offer different ways of thinking about what matters and what is of value in these spaces. She works with a couple of propositions in her pedagogical and philosophical practice: philosophy is an experimental practice that involves creating concepts and philosophical thinking involves encounters and experiences. To that end she has been working with different collaborators to introduce different experimental pedagogies in prisons, primary schools, art galleries, museums, and community spaces.
We welcome an inter-disciplinary audience to think about and talk through together these different themes as they emerge.

In the meantime, you can see Sam's exhibition in the Illuminations Gallery, Iontas Building, Maynooth University until January 29th.