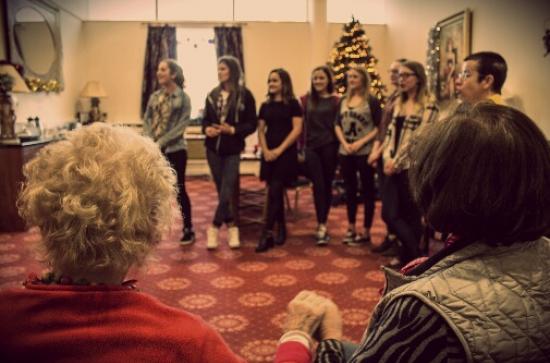 Thursday, December 4, 2014 - 00:00
D'fhógair Aontas na Mac Léinn Seachtain Rannpháirtíochta sa Phobal inniu, comhoibriú seachtaine idir Aontas na Mac Léinn Ollscoil Mhá Nuad, agus Clubanna agus Cumainn na hOllscoile, chun comhoibriú níos doimhne a chur chun cinn idir comhlacht mac léinn na hOllscoile agus ógánaigh agus aosaigh an bhaile.
Beidh go leor tionscnamh eile mar chuid den fheachtas i rith na bliana seo chugainn.

Mar chuid den Seachtain Rannphairtíochta sa Phobal, beidh mic léinn as cumainn éagsúla ag cur fichille, ceol traidisiúnta, drámaíocht agus ranganna oidis "giob geab" ar fáil do chónaitheoirí Theach Altranais TLC i Má Nuad.

Agus é ag labhairt i rith na Seachtaine Rannpháirtíocht sa Phobal, dúirt Uachtarán Aontas na Mac Léinn, Ben Finneagan: Tá an-ghaol agus an-ghrá ag mic léinn Ollscoil Mhá Nuad do bhaile Mhá Nuad, agus tá sé tábhachtach, mar sin, go mbeimis ábalta rud éigin a thabhairt ar ais don phobal áitiúil, pé bealach ar féidir linn."

"Tá an t-ádh le hOllscoil Mhá Nuad go bhfuil pobal leathan éagsúl de chlubanna agus de chumainn ann, a chabhraigh le saol na mac léinn ar an gcampas a shaibhriú. Tá súil againn go mbeimid ábalta cur leis an móiminteam atá tosnaithe ag an Seachtain Rannpháirtíochta sa Phobal, agus tarraingt ón tobar tallainne agus nirt atá ar an gcampas, chun leanúint orainn ag déanamh forbairt ar an ngaol atá againn leis an bpobal áitiúil."

"Fógraíonn Seachtain Rannpháirtíochta sa Phobal ré nua caidrimh idir mic léinn agus an pobal" a dúirt sé.

Déanfar seoladh oifigiúil ar Fhéile Nollag Aontas na Mac Léinn ar an Déardaoin 4 Nollaig ag 5.30 i.n. nuair a lasfar na soilse ar an gCrann Nollag, le seó mór scannán Nollag, i bpictiúrlann faoin aer, in Aontas na Macléinn, atá oscailte do mhicléinn, don fhoireann agus dá gclainnte.

Maynooth University Students Union launch Community Engagement Week
Maynooth Students' Union (MSU) have announced Community Engagement Week, a week-long collaboration between the Students' Union and the University's Clubs and the Societies, promoting deeper engagement between the university student body and the elderly and youth in the town. The campaign will feature a number of further initiatives throughout the coming year.
As part of the week long event, students from a number of societies are providing chess, traditional music, drama and 'banter' tutorials for the residents of TLC Nursing Home in Maynooth.
Speaking during Community Engagement Week, Students' Union President Ben Finnegan commented: "The students of Maynooth University have a great relationship and a real affection for Maynooth Town, so it is important that we can give something back to the local community in whatever way we can."
"Maynooth University is fortunate enough to boast a broad and eclectic community of student clubs and societies that have each helped to enrich student campus life. Hopefully we can build on the momentum created by the MSU Community Engagement Week and draw from the fountain of talent and energy on campus to continue developing our relationship with the local community".

"Community Engagement Week signals a new age of student and community interaction" he continued.
The MSU Christmas Festival will officially launch on Thursday, 4 December at 5.30pm, with the lighting of the Christmas tree, followed by Christmas movies in an outdoor cinema at the Students' Union; open to students, staff and their families.