Thursday, July 13, 2017 - 12:45
Maynooth University and Kildare County Council Arts and Library Services are delighted to announce the appointment of Rob Doyle and Sarah Maria Griffin as writers-in-residence. The partnership allows for the support of artists in the community, and fosters creative writing and contact with writers in the general public.
Last year's programme saw a host of writers on Maynooth's campus, and public readings at events such as the Kildare Readers Festival, as well as a Film Lab weekend with panel discussions and screenings. This year promises further public events with both writers-in-residence.
Commenting on the announcement Dr Victor Lazzarini, Dean of the Faculty of Arts, Celtic Studies and Philosophy, said "Maynooth University is honoured to have Rob Doyle and Sarah Maria Griffin join this year as writers-in-residence. Rob and Sarah bring a wealth of experience and immense passion for the arts, and will inspire our students and the local community to find their creative voices. Their appointment follows the extremely successful tenure of Joanna Walsh and Lindsey Sedgwick, writer and screenwriter-in-residence in 2016."
Dr Oona Frawley commented: "Maynooth University is delighted to be continuing our partnership with Kildare County Council Arts and Library Services, following the successful appointments of writers- and screenwriters-in-residence in 2015 and 2016."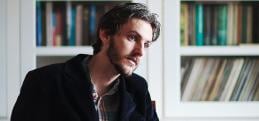 Rob Doyle's debut novel,
Here Are the Young Men
, was selected as one of Hot Press magazine's 20 Greatest Irish Novels from 1916-2016. His second book,
This Is the Ritual,
was a book of the year in the
New Statesman
,
Irish Times
and
Sunday Times
. The
Sunday Independent
called it 'a masterstroke in experimental short fiction brimming with ideas, vulgarity and intelligence.' Doyle's writing has been published widely, in the
Guardian
,
Vice
, BBC World Service,
Observer
,
Dublin Review
,
Irish Times
and elsewhere. He is the editor of the Dalkey Archive's anthology of Irish Literature to be published later this year.
Sarah Maria Griffin's first novel, Spare & Found Parts, was published by Greenwillow Books in October 2016 and will be released in Ireland & the UK in early 2018 by Titan. Her nonfiction has appeared on Buzzfeed, The Rumpus, Guts and Winter Pages. Her collection of essays about emigration, Not Lost, was published by New Island Press in 2013. She was the recipient of the European Science Fiction Awards Chrysalis Award in 2017.
Both authors will be involved with the Kildare Readers' Festival, and a programme of events open to the public is be announced in the autumn.
For further information about the residencies, please contact Dr Oona Frawley.
Photo caption: Rob Doyle, one of this year's writers-in-residence.