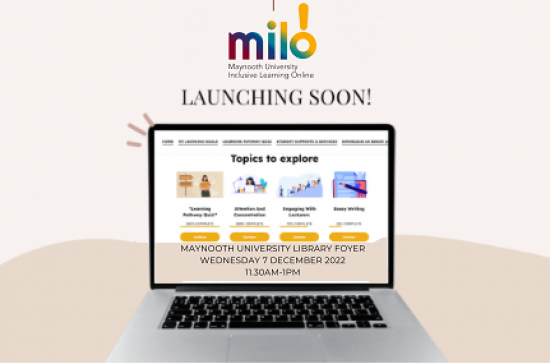 Wednesday, December 7, 2022 -

11:30

to

13:00
Maynooth University Library Ground Floor Foyer
Milo is an intuitive user-friendly site where students can work on their study skills and wellbeing in a self-directed way, with interactive activities, quizzes, videos and downloadable eBooks. The topics are designed to have maximum impact and to make life at university a little bit easier. Milo is now available to all Maynooth University students and staff using their MU login credentials.
Students and staff are invited to come along to the Library Ground Floor Foyer on Wednesday 7 December between 11.30am and 1pm to see Milo in action. Register to attend, put a note in your diary and be sure to pop along to see demonstrations of Milo, find out how you can make maximum use of Milo to support you in your studies, and to pick up some free Milo branded swag and donuts! Don't miss out on the chance to feel better prepared for your exams, take great notes in your lectures and manage yourself and your time better!
Date: Wednesday 7 December 2022
Time: 11.30am-1pm
Location: Maynooth University Library Foyer
Milo is the result of a year-long Inclusive Learning Project headed by the Maynooth University Access Programme. The project was managed by the National Learning Network, with involvement from Mi:Lab, the Centre for Teaching and Learning, the Library, IT Services, Student Services as well as external advisory board members from UCC, UCD and AHEAD. The Inclusive Learning Project was funded by the HEA through the FSD Strategic Initiatives Fund.
For more information see www.maynoothuniversity.ie/access-office/inclusive-learning-project
Instagram: mu_launchpad Twitter: mu_map
Milo: mu.ie/milo