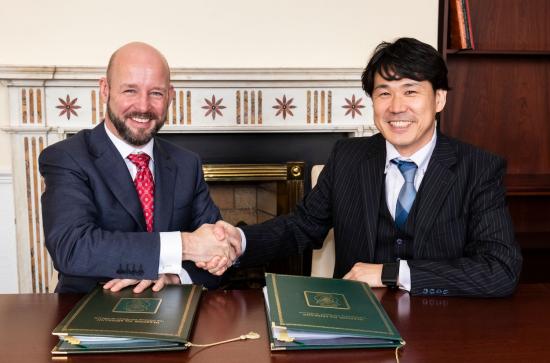 Thursday, November 15, 2018 - 15:45
Japanese students will graduate with a Bachelor of Economics from Nihon University and a Bachelor of Arts (Economics) Degree from Maynooth University

Maynooth University's partnership with Nihon University in Tokyo has taken an important step forward this week with the signing of a dual degree in economics.

The new agreement between the Department of Economics, Finance and Accounting at Maynooth University and the College of Economics at Nihon University, will enable Japanese students to study economics for two years at Nihon University, and then continue to study for two years at Maynooth, graduating with a degree from both universities.

It marks a further strengthening of relations that have been developing with Nihon University over the past five years.

The partnership with the College of Economics in Nihon University (CENU) began in 2013 with the development of a one-year Study Abroad programme at Maynooth.

These students initially undertake five months of English language classes on campus, alongside organised cultural trips within Ireland and a Maynooth University International Summer School economics module. The students then register for the Autumn Semester with the Department of Economics, Finance and Accounting. The programme's fifth group of students will arrive in March 2019.

The Maynooth University and Nihon University economics departments have been engaged in research collaboration as well as staff exchange, and also have an active student exchange agreement.
Ends