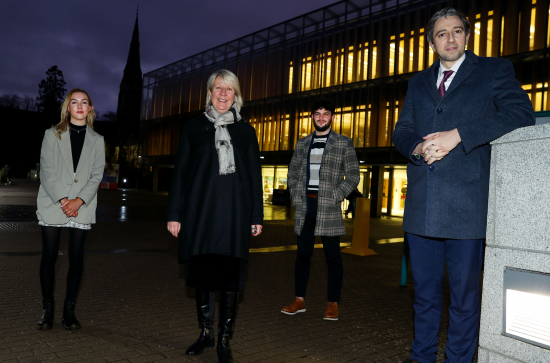 Tuesday, November 30, 2021 - 10:45
The President of Maynooth University, Professor Eeva Leinonen, has welcomed the Minister for Higher and Further Education, Research, Innovation and Science, Simon Harris, TD, to campus for an introductory meeting and campus walk.
Minister Harris and Prof Leinonen toured the campus, and spoke with students and staff, also stopping to view progress on a €57 million Technology, Society, and Innovation Project on North Campus, due for completion early next year.
Maynooth University received a capital grant of €25 million from Government in 2019 for this major new building development, to support the University's rapidly growing student population. This is the largest capital grant ever awarded to Maynooth University. The total €57 million project comprises the new academic building, and also the modernisation and expansion of the existing Arts and Sciences buildings.
Prof Leinonen, the first female President of Maynooth University, commenced her duties on 1 October. This was her first meeting with Minister Harris.
Speaking at his visit to Maynooth University, Minister Simon Harris said: "I was thrilled to visit Maynooth University yesterday and to see the incredible work that has gone into creating a state of the art Technology, Society and Innovation Project on the North Campus.
"The world is changing rapidly, but at Maynooth it's clear the students are being equipped with the tools and skills they need to compete and thrive on the world stage, be it in technology, science, innovation or the arts."
"Maynooth is a university which has grown at an incredible rate since it was established almost 25 years ago, but as its numbers increased its desire to deliver excellence in education has never wavered."
"I look forward to continuing to work with students, staff and the governing body to ensure the university continues to play an integral role in the region."
Prof Leinonen said: "I am delighted to welcome Minister Harris to our campus. I hope this meeting will be the first of many collaborative engagements over the coming months as we work together in the interests of educational advancement and societal progress."
"Maynooth University is located in one of the fastest growing demographic regions in Ireland. Our rapid enrolment growth and the diversity of our student population, combined with academic excellence and impactful research innovation, are strengths that are critical to Ireland's future. Maynooth University will continue to play a significant role in preparing for next-generation Ireland."
Formally established as an autonomous university in 1997, Maynooth has tripled its enrolment to over 14,000 students from at least 90 countries. It is the only university in Ireland ranked in the top 100 global universities under 50 years old in the Times Higher Education (THE) Young University Rankings.