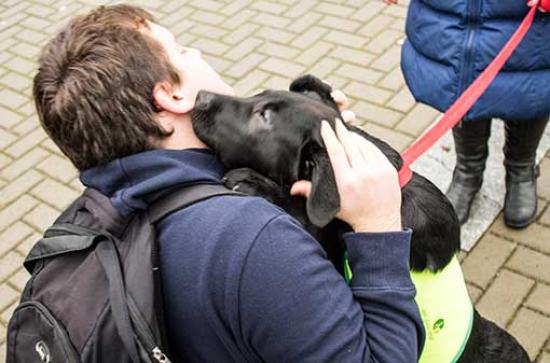 Wednesday, December 17, 2014 - 00:00
A pack of energetic puppies greeted staff and students of Maynooth University yesterday at the fundraising kick-off of the 2015 Galway Cycle, which will take place in March.

Thousands of students, former and current, have cycled the 400km round trip journey from Maynooth to Galway every year since 1987. In that time they have raised in excess of €1,000,000 for a variety of Irish children's charities.

This year, cyclists will raise funds for the charity Irish Guide Dogs, which helps families of children with autism achieve improved mobility and independence, in addition to helping blind and sight impaired individuals.

Professor Philip Nolan, President of Maynooth University, participates in the cycle. He, along with Ruth Phelan of Irish Guide Dogs and Therese Lynn, President of Maynooth Students for Charity, gathered on the Maynooth University campus this week to kick off fundraising efforts for the 2015 Galway Cycle. They were accompanied by several guide dogs in training.
"This year we are delighted to be fundraising for the assistance dog program with the Irish Guide Dogs. Online registration is open now and we need more student collectors, cyclists and people to help us along the road," Therese Lynn said at the launch.
The cyclists will depart from Maynooth University campus on Friday, 27th March 2015. Cyclists arrive in Galway that evening, fundraise Saturday, and cycle back to Maynooth on Sunday.

If you would like to register for the cycle or to help out please visit www.galwaycycle.ie.
Photo by Jack McGuirk