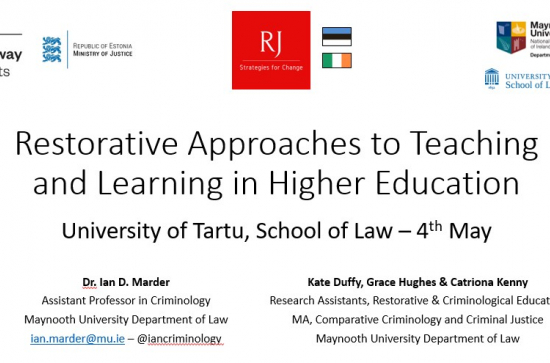 Friday, May 7, 2021 - 09:45
In recent weeks, Dr. Marder has organised workshops and given several talks to student, academic and professional audiences.

With respect to professional audiences, On April 28th, Ian was invited to deliver a keynote presentation to over 370 Gardaí and youth workers at the Garda Youth Diversion Projects Annual Conference. There, he spoke about the mainstreaming of restorative justice and restorative practices in youth justice and youth work, exploring the case studies of this work recently published as part of the Restorative Justice: Strategies for Change project, and relevant provisions in the new Youth Justice Strategy 2021-2027.

In addition, over two days in April and two days in February, Ian delivered training on using restorative principles in the individual assessment of children in conflict with the law, to an audience of Czech and Slovak judges, probation officers, defence lawyers, prosecutors and other professionals. As part of the European project PRACTICE (Procedural Rights for All Children in Justice), the training was funded by the International Commission of Jurists and delivered alongside colleagues from the Czech Republic and the Netherlands

In March, Ian collaborated with the Irish Prison Service College and Waterford IT to deliver training on restorative practices for trainee prison officers. This training was part of a wider project, funded by the Irish Prison Service, to explore the implementation of restorative practices in Irish prisons, following the IPS' recent strategy commitments to 'exploring and examining mechanisms for incorporating restorative justice principles throughout the Irish Prison Service' and to 'include restorative justice principles in the training of staff including all new recruits'.

With respect to academic and student audiences, Ian delivered a series of four workshops across April and May on the teaching of restorative justice in universities. Funded by the Estonian Ministry of Justice, these workshops aimed to support the University of Tartu School of Law to integrate restorative justice into its undergraduate and postgraduate law curricula, and to educate Estonian students and academics about restorative justice and restorative approaches to teaching and learning in universities.

Ian also collaborated with colleagues from Vermont Law School Centre for Justice Reform to organise a workshop, on April 22nd, on restorative approaches to restorative justice assessments. At this workshop, over 30 academics from 12 countries worked with PG students from Maynooth and Vermont to explore how restorative principles could be applied to the assessment processes in university restorative justice courses. The idea for the workshop emerged from work in 2020 that brought together academics who teach restorative justice in 40 countries to discuss their approaches and materials (see here and here).

In April, Ian also presented findings from a recent Team Teaching and Learning Fellowship to colleagues from the Maynooth University criminology programme, gave four lectures on criminology to members of the public as part of Communiversity project, and presented findings from a recent research project on cocooning in prisons as part of the Maynooth Public Seminar Series on Crime and COVID.