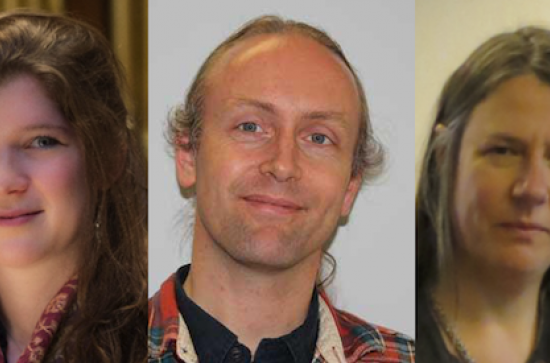 Thursday, November 16, 2017 - 13:00
Riverstown Hall
Ensemble Opale are an early music group specialising in the performance of music from the 13th to 18th centuries. In this recital, they will perform a diverse programme of wind music, including works by Obrecht, Ruffo, Henry VIII and Quantz, with extracts from the Glogauer Liederbuch.
Recorders:
Annemarie Klein
Theresa Burton
Joost Slingerland
∞∞∞∞∞∞∞∞∞∞∞∞
Biographies
Born in Luxembourg, Annemarie Klein completed her undergraduate music degree at the University of Edinburgh, and her Master in recorder performance at Lemmensinstituut in Leuven, Belgium, in 2015, where she studied with Bart Coen and Bart Spanhove. Her academic research has centred around music of the high baroque, in particular the lack of surviving recorder writing by JS Bach.
Annemarie has participated in lessons, courses and masterclasses by Philip Thorby, Dorothee Oberlinger, Matthias Maute, Saskia Coolen, Joris van Goethem, Anna Stegmann and Pamela Thorby. Recent performance highlights include recitals with David Gerrard (harpsichord) in Yorkshire, and with her ensembles Musica Mundana (with Eric Thomas, lute and theorbo, focussing on music of the Renaissance and early Baroque) and Atelier 32:44 (with Ward Ginneberge, accordion, exploring the tail ends of the classical music repertoire) in Scotland. Future concerts include a programme of Vivaldi concertos in Luxembourg.
Based in Edinburgh, Annemarie is regularly invited to teach at various residential courses and to guest-conduct recorder groups around the UK. She translates for international sheet-music publisher Hal Leonard Corporation, and has recently translated CD liner notes for Flanders Recorder Quartet into both English and French.
www.annemarieklein.com
∞∞∞∞∞∞∞∞∞∞∞∞
Theresa Burton is a recorder player and vocalist/choral singer based in Dublin, Ireland. She divides her time between the UK, The Netherlands, and Ireland for music engagements. Theresa gained her bachelor's degree in music at Dartington College of Arts, UK studying recorder with Piers Adams, and thereafter pursued postgraduate studies in The Netherlands with Leo Meilink, Baldrick Deerenburg, and Heiko ter Schegget at Utrecht Music Conservatory with the financial support of the Dorries Stoop Fonds. In 1998 and 1999 she was awarded the Nuffic scholarship for 2 consecutive years running, which financed her studies for the Masters music performance degree course. Theresa has attended early music courses and recorder masterclasses with Sebastien Marc, Renemarie Verhagen, Peter van Heighen, Walter Van Hauwe, Marion Verbruggen, Peter Holtslag, Philip Thorby, and Wilbert Hazelzet. Together with Laura Holzenspies she has worked extensively as a recorder and harpsichord duo, and together they founded 'Tierkreis Ensemble' a mixed instrument quintet specialising in the performance of contemporary music. She has given performances in diverse clubs and festivals throughout Europe including Utrecht Early Music Festival, Edinburgh International Festival Fringe, and the Dartington Music Festival. She also improvised the music for Channel 4 film 'Laws of Nature' (Tony Hill, 1997). and plays regularly in diverse ensembles in the UK, Ireland, Israel and the Netherlands including Good Jews, Toucher Muziek, Baroque Bicolore (NL), Loki Music, Musica Concordia, traditional music band Skinner's Alley.
∞∞∞∞∞∞∞∞∞∞∞∞
Joost Slingerland was born in The Netherlands. He studied recorder from 1995-1998 at Utrecht Conservatory of Music, The Netherlands with Leo Meilink and Reine Marie Verhagen.
He has attended masterclasses with Piers Adams, Sebastian Marc, Peter van Heighen, Philip Thorby, and Marion Verbruggen. After his music studies, Joost pursued a Ph.D. in Theoretical Physics at the University of Amsterdam. Joost performs regularly as a recorder player in various ensembles including Oxford based early music ensemble Musica Concordia. He is also active and in demand as a choral singer and has sung with award winning choirs Mornington Singers, and most recently Cuore. After research positions in Scotland, the American west coast and Ireland, he is now lecturer for Theoretical Physics at Maynooth University.