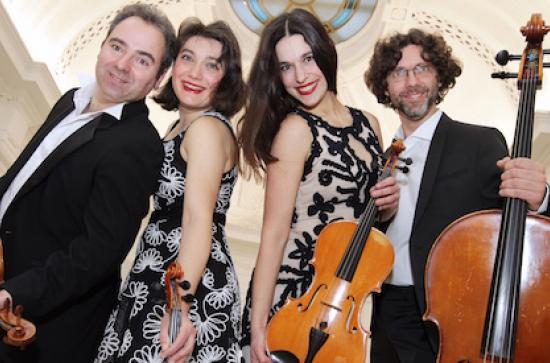 Thursday, April 25, 2019 -

13:00

to

14:00
Riverstown Hall
The RTÉ Contempo Quartet is one of the most exciting and vibrant chamber ensembles performing today. The members met at Primary school in Bucharest, studied together, formed a quartet in 1995 and were appointed as Galway Music Residency's Quartet in Residence in 2003 and RTÉ's Quartet in Residence between 2014-2019. The Quartet has won fourteen international prizes at competitions across Europe, performing over two thousand concerts worldwide in venues such as Wigmore Hall, Carnegie Hall, Tel Aviv Performing Arts Centre, Geidai Tokyo and Théatre du Châtelet Paris. The Quartet has played for Prince Charles, Nelson Mandela, Irish President Michael D. Higgins and Pope John Paul II. Recent years have included complete cycles of Beethoven and Bartók quartets as well as many works by Haydn, Mozart, Schubert, Brahms and Schumann. The are champions of Irish contemporary music, premiering works by composers Jane O'Leary, Ian Wilson, Frank Corcoran, Elaine Agnew, Deirdre McKay, Raymond Deane, Linda Buckey and Kevin Volans, amongst many others.
All four members pursue individual solo and chamber careers working with musicians of the highest calibre. They also teach in Galway and Dublin, having a close association with the Royal Irish Academy of Music where they have coached many young quartet groups as part of the John Lynch memorial workshops.
At the heart of every performance is the member's desire to communicate both their love of, and delight in the music, and the Quartet has gained many new fans with its fresh and enthusiastic approach to a wide variety of repertoire spanning Classical, Jazz, Folk, Traditional and Pop. The Quartet live in Galway and describe themselves as "The ABBA of the quartet world", violinists Ingrid and Bogdan being married to each other as are Andreea and Adrian.
In 2018 the National University of Ireland awarded its members with honorary doctorates in recognition of their cultural work. The Quartet's discography can be found on the Sony, Universal, RTÉ and HBO labels.
A native of county Sligo, Aileen Cahill is a pianist best known as a repetiteur and chamber musician. In 2007, she completed her Masters in Solo Piano under Dr. John O'Conor at the Royal Irish Academy of Music, and in 2011, her Masters in Piano Accompaniment under Catherina Lemoni-O'Doherty at DIT Conservatory of Music and Drama. At this time, she was also awarded a Fellowship Diploma for vocal and instrumental accompaniment from the London College of Music.
Aileen has won many prizes at Dublin, Sligo and Arklow Feiseanna, as well as at RIAM and DIT festival competitions for solo piano, concerto, vocal duo, instrumental duo, piano duet and organ. She has competed internationally on numerous occasions, most recently in Cantù, Taranto and Val Tidone, Italy. In masterclass, Aileen has studied with esteemed teachers such as Christian Favre, Barry Douglas, and Marie Francoise-Buquet, and in concerto, has been a frequent soloist with ensembles such as Sligo Baroque Orchestra, Budweis Philharmonic Orchestra (Czech) and the Irish Youth Wind Ensemble.
These days, she performs regularly with members of RTÉ ConTempo Quartet, Concorde contemporary music ensemble and DIT colleagues such as Paul Roe (clarinet) and Ian Dakin (horn). Having lectured in Piano and Piano Accompaniment at Dundalk IT and DIT Conservatory of Music and Drama, Aileen is currently repetiteur at Maynooth University.