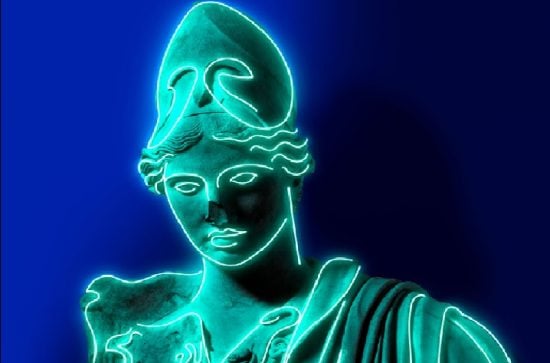 Friday, January 27, 2023 - 10:00
to
Sunday, January 29, 2023 - 22:00
See programme for event locations
ClassicsNow: Festival
The Future of the Past
Friday 27 - Sunday 29 January, 2023
Following the success of its first two festivals, the third weekend will explore Classics and the ancient world through the eyes of artists, writers and thinkers, international and Irish.
ClassicsNowFest's three-day programme in January will present a series of inviting encounters, including performances, both online and live in Dublin's public spaces - art galleries and cultural centres - with a number of events aimed at second and third-level students. In interviews, discussions, film screenings and musical theatre performances, you will meet artists who are working in different genres and art forms, in thought-provoking and imaginative ways.
Friday 27th
Opening night event
Eurydice and Orpheus: performance exploring the many facets of the myth of Orpheus in music and poetry, with baritone Rory Musgrave, actor Tara Lynne O'Neil, and musician Andrew Synnott on piano. Music by Monteverdi, Glück, Saint-Saëns, Nick Cave, with excerpts from texts by Ovid, Rilke, Yannis Ritsos, Theo Dorgan, Enda Wyley and others. Directed by Conor Hanratty. In partnership with Poetry Ireland.
Kevin Barry Room, National Concert Hall, 7 pm. Booking: Jan 9th, www.nch.ie

In Conversation: Helen Morales, author of Antigone Rising: the Subversive Power of the Ancient Myths and Professor of Hellenic Studies at the University of California, Santa Barbara, talks to Classics scholar Stephanie McCarter, author of a newly published, 'unapologetically feminist' translation from Latin of Ovid's Metamorphoses.
Online Event, from 6pm. No booking required. www.classicsnow.ie


Saturday 28th
Classical Museum, UCD: Museum tour for the public with curator Dr Joanna Day, and drawing workshop with artist Genevieve Harden. Ticketed, booking required.
Tour: 11-11.45am; workshop: 12 noon-1.30 pm. www.classicsnow.ie

Staging Greek Tragedy: insights into performing and interpreting ancient tragedy for audiences today. With theatre artists Eileen Walsh and Derbhle Crotty, who have played roles including Medea, Clytemnestra and Hecuba, and acclaimed British director of Greek and Shakespearean tragedy, Erica Whyman. Discussion and Q&A chaired by dramaturg Dr Tanya Dean. In partnership with the Abbey Theatre, on Peacock stage, 3 pm. Tickets on sale now from the Abbey. www.abbeytheatre.ie

An evening with Natalie Haynes: live event with the award-winning author, broadcaster and Classicist, with a focus on her new novel, Stone Blind, a dazzling reinterpretation of the myth of Medusa. Abbey Theatre, on Peacock stage.
6 pm. Sold Out.


Sunday 29th
The Odyssey
Nostos: Return to Ithaca: Gavin Kostick's new version of the Odyssey. Excerpts from this work-in-progress performed with new piano score by composer Andrew Synnott, with dancer Megan Kennedy (Junk Ensemble) and playwright Gavin Kostick. In partnership with Hugh Lane Gallery, Sundays at Noon series. 12 noon – 1 pm. Admission free; ticketed. Booking from Hugh Lane, opens January 23rd.

Of Gods and Men: John Banville discusses his latest book, The Singularities, whose narrator is the god Hermes, with novelist Laura Beatty, author of Looking for Theophrastus, in which she travels to Lesbos, tracing the life and influence of the ancient Greek natural philosopher, Theophrastus. An 'In Conversation' event, chaired by broadcaster and playwright Vincent Woods.
National Concert Hall Studio, 3.30 pm. Booking open now, www.nch.ie

Orpheus on film: Screening of Orphée, Jean Cocteau's beautiful, enigmatic version of the Orpheus myth, set in Paris in 1950. Introduced by Director of Literature Ireland, Sinéad Mac Aodh. Irish Film Institute, 6.15 pm. Booking now from IFI. www.ifi.ie

In Conversation: Shadi Bartsch has published a translation of Virgil's Aeneid, among many other works on Classics. She is Professor of Classics at the University of Chicago. Her latest book, Plato Goes To China, is just published. She will discuss interpretations of Plato and Aristotle in China today and competing versions of antiquity with renowned Classics scholar and broadcaster, Professor Mary Beard. Online event, from 8pm. No booking required. www.classicsnow.ie


Schools programme: book clubs for Classical Studies 5th and 6th-year students, who will read and discuss Stone Blind: Medusa's Story by Natalie Haynes and prepare some questions for her.

Come and join the new Renaissance.
With special thanks to:
Venue partners
Dublin City Gallery: the Hugh Lane
National Concert Hall
The Abbey Theatre
Irish Film Institute


Academic partners
Trinity College Dublin Classics
Maynooth University Classics
University College Dublin Classics
Classical Association of Ireland – Teachers
Classical Association of Ireland

Cultural partners
Poetry Ireland
Irish Film Institute
National Concert Hall
The Abbey Theatre
Dublin City Gallery: the Hugh Lane