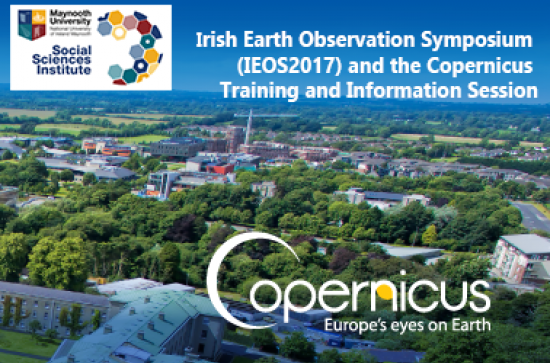 Thursday, November 2, 2017 - 12:15
to
Friday, November 3, 2017 - 12:15
Iontas Building, Maynooth University
EOS2017 The Irish Earth Observation Symposium (IEOS) 2017 provides an opportunity for all those involved in the remote sensing sector to network and present their work to the EO community in either oral or poster format. This event, the 11th in the series, is a full day of talks and demonstrations, hosted by the National Centre for Geocomputation, Maynooth University Social Science Institute on the 2 November 2017.
Further information on the IEOS agenda, industry exhibitions and abstract submission guidelines are available at www.ieos2017.com

Copernicus Training and Information Session
The Copernicus Training and Information Session to be held on 3 November 2017 at Maynooth University, is the 12th in a series of national Copernicus events. The European Commission is organising the Sessions at the request of, and in collaboration with Member States.
The event aims to promote awareness of the many uses of Copernicus data and information, while providing the opportunity for hands on demonstrations and basic training regarding:
The data and information available;
Its potential uses and applications, both generally and amongst specific categories of users (Public Authorities , Entrepreneurs, etc.) or business sectors (Copernicus for Emergency Management Service, Land Monitoring, Marine Monitoring, Urban Planning etc.);
The tools available to access the data and information.
The Copernicus Training and Information Session targets both Copernicus "intermediate" end users (technical) and end user communities (non-technical).
These events are open and free to registered participants. Please go to "Register now" to sign up.
The registration will close on 31st October 2017.