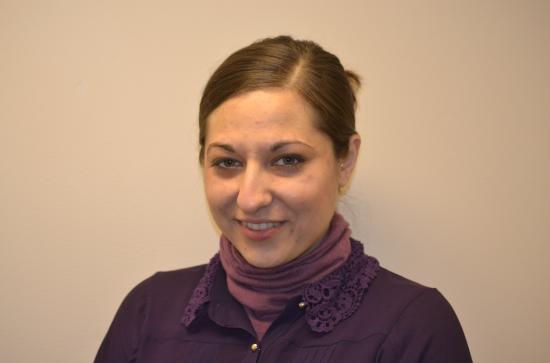 Danielle Sofer
(she/her/they/them) is a lecturer in music at Maynooth University, researching themes related to electroacoustic music and gender, sexuality, social justice, philosophy, aesthetics, 20th- and 21st-century sound studies, sociotechnical ethics and bias in music, and a range of subjects under the umbrella of music theory and analysis. Such topics feature extensively in a forthcoming monograph,
Making Sex Sound: Intersections of Sexuality, Race, and Gender in Electronic Music
(Cambridge, MA: MIT Press, 2020), the first book to explore sexuality in electronic music. Co-founder of the
LGBTQ+ Music Study Groups
, Dr. Sofer also serves on the committees of the MU Sexualities and Gender Network and MU's LGBTIQ+ Staff Network. In 2018, Dr. Sofer joined the SMI Council for a three-year term as Education Officer working toward the fair and equitable representation of individuals from a wide variety of backgrounds.

Her volume Elizabeth Maconchy: Music as Impassioned Argument (Universal Edition, 2018), edited with Christa Brüstle, features contributions from the composer's two daughters, family photos, and a complete list of the composer's works presented for the first time. Recent articles include an analysis of gender and sexuality in music by Barry Truax (Organised Sound, 2018), and 'Breaking Silence, Breaching Censorship: "Ongoing Interculturality'" in Alice Shields's Electronic Opera Apocalypse', forthcoming in American Music journal, awarded subventions from the Society for Music Theory and the American Musicological Society's AMS 75 Publication Awards for Young Scholars Endowment of the American Musicological Society, funded in part by the National Endowment for the Humanities and the Andrew W. Mellon Foundation.


Danielle graduated summa cum laude from the State University of New York at New Paltz with a BA in music performance (viola and piano) and honours. She holds Master's degrees from Binghamton University (New York) in piano performance and Stony Brook University (New York) in music history and theory, with a thesis on Prokofiev's opera The Gambler, a project that brought her to St. Petersburg, Russia as an Erasmus student. Prior to joining the faculty of the Institute for Musical Criticism and Aesthetical Research at the Kunstuniversität Graz, Danielle studied music theory at the University of Wisconsin-Madison, where she was an assistant to Brian Hyer. She has presented on sexuality and electronic music on several occasions, including conferences of the International Computer Music Association, The Society for Music Theory, The Society for Musicology in Ireland, and the Feminist Theory and Music conference.

As a violist, pianist, and singer, Danielle has performed in New York City, Boston, San Francisco, Graz, Haifa, Tel Aviv, Jerusalem and many smaller cities around the globe.
http://daniellessofer.wixsite.com/daniellesofer
Electronic music; sexuality; pornography; sound; race; gender; twentieth century music; electroacoustic music; electroacoustic; acousmatic; representation; feminism; postmodern movement; new musicology; critical musicology; hip-hop; sound art; noise; critical race theory; racism; EDM; queer of colour critique; queer of color critique; queerness; lesbian; homosexual; homoerotic; heterosexual; same-sex; trans; transgender; transition; sampling; disco; rap; Y2k.
| | Project | Role | Description | Start Date | End Date |
| --- | --- | --- | --- | --- | --- |
| | Performing, Experiencing and Theorizing Augmented Listening [PETAL] INTERPRETATION AND ANALYSIS OF MACROFORM IN CYCLIC MUSICAL WORKS | Research Board Member | | 01-SEP-17 | 31-AUG-20 |
Year
Publication
2020
Making Sex Sound: Vectors of Difference in Electronic Music.
Danielle Sofer (2020) Making Sex Sound: Vectors of Difference in Electronic Music. Cambridge, Mass: MIT Press. [Details]
 
Year
Publication
2020
'FemSounds: an analysis of female representation in audio-related HCI'
Areti Andreopoulou, Visda Goudarzi, and Danielle Sofer, (2020) 'FemSounds: an analysis of female representation in audio-related HCI'. [Details]
2020
'Gendered Stereotypes of Feminist Music Theory'
Danielle Sofer (2020) 'Gendered Stereotypes of Feminist Music Theory'. 17 (1) [Details]
2019
'Mythologies of Sample-Based Music'
Danielle Sofer (2019) 'Mythologies of Sample-Based Music'. Contemporary Music Review, [Details]
2019
'Review of Analytical Essays on Music by Women Composers: Concert Music, 1960-2000, eds. Laurel Parsons and Brenda Ravenscroft'
Danielle Sofer (2019) 'Review of Analytical Essays on Music by Women Composers: Concert Music, 1960-2000, eds. Laurel Parsons and Brenda Ravenscroft'. Current Musicology, 103 [Details]
2018
'The Macropolitics of Microsound: Gender and Sexual Identities in Barry Truax's Song of Songs'
Danielle Sofer (2018) 'The Macropolitics of Microsound: Gender and Sexual Identities in Barry Truax's Song of Songs'. The International Journal of Music and Technology - Organised Sound, 23 (1) [DOI] [Details]
2018
'Breaking Silence, Breaching Censorship: 'Ongoing Interculturality' in Alice Shields's Electronic Opera Apocalypse'
Danielle Sofer (2018) 'Breaking Silence, Breaching Censorship: 'Ongoing Interculturality' in Alice Shields's Electronic Opera Apocalypse'. American Music, 36 (2) [Details]
 
Year
Publication
2018
'Death Becomes Him: Elizabeth Maconchy's One-Act Opera The Departure'
Danielle Sofer (2018) 'Death Becomes Him: Elizabeth Maconchy's One-Act Opera The Departure' In: Christa Brüstle and Danielle Sofer (eds). Elizabeth Maconchy: Music as Impassioned Argument. Vienna - London - New York: Universal Edition. [Details]
2016
'Strukturelles Hören?: Von ideellen und idealen Hörern'
Danielle Sofer (2016) 'Strukturelles Hören?: Von ideellen und idealen Hörern' In: Klaus Aringer, Franz Karl Prassl, Peter Revers und Christian Utz (eds). Geschichte und Gegenwart des musikalischen Hörens. Möglichkeiten und Herausforderungen für neue methodische Zugänge. Freiburg: Rombach Verlag. [Details]
Year
Publication
2018
Elizabeth Maconchy: Music as Impassioned Argument
Christa Brüstle and Danielle Sofer (Ed.). (2018) Elizabeth Maconchy: Music as Impassioned Argument Vienna - London - New York: Universal Edition. [IR Link] [Details]
Year
Publication
2014
'Review of "'Platonic Rhizomes in Computer Music': Concert and Keynote Speaker Panel at the 2014 joint conference of the International Computer Music Association and the Sound and Music Computing Conference'
Danielle Sofer (2014) 'Review of "'Platonic Rhizomes in Computer Music': Concert and Keynote Speaker Panel at the 2014 joint conference of the International Computer Music Association and the Sound and Music Computing Conference' Array: The Journal of the International Computer Music Association, 2015-2016 . [Details]
Year
Publication
2015
Music in Transit: An Interactive Interview with Juliana Hodkinson
Danielle Sofer and Juliana Hodkinson (2015) Music in Transit: An Interactive Interview with Juliana Hodkinson . In: Paulo de Assis and Paulo Giudici eds. Artistic research performance-presentation at The Dark Precursor: International Conference on Deleuze and Artistic Research Orpheus Institute. Ghent, Belgium, , 09-NOV-15 - 11-NOV-15 [Details]
2014
Eroticism and Time in Computer Music: Juliana Hodkinson and Niels Rønsholdt's Fish & Fowl
Danielle Sofer (2014) Eroticism and Time in Computer Music: Juliana Hodkinson and Niels Rønsholdt's Fish & Fowl From Digital Echoes to Virtual Ethos," proceedings of the ICMC-SMC 2014: 40th International Computer Music Conference joint with the 11th Sound and Music Computing Conference Athens, Greece, , 14-SEP-14 - 19-SEP-14 , pp.148-153 [Details]
Year
Publication
2018
The Sounds of (Sex) Music.
Danielle Sofer (2018) The Sounds of (Sex) Music. [Oral Presentation], Rethinking Sound Conference, Hanyang University, Seoul, Korea , 30-MAR-18 - 31-MAR-18 [Details]
2018
Mastering Sex In and Out of the Studio.
Danielle Sofer (2018) Mastering Sex In and Out of the Studio. [Oral Presentation], Society for Music Theory, San Antonio, Texas, USA [Details]
2018
Forming and Framing Queer Urban Musical Communities in the Pacific Northwest.
Danielle Sofer (2018) Forming and Framing Queer Urban Musical Communities in the Pacific Northwest. [Oral Presentation], Joint-Alternative Session of the American Musicological Society and the Society for Music Theory on "Diversity and Discipline in Hip-Hop Studies", University for Music and Performing Arts Vienna, Austria , 31-OCT-18 - 04-NOV-18 [Details]
2017
Un-bracketing the objet sonore in Schaeffer's 'Erotica'.
Danielle Sofer (2017) Un-bracketing the objet sonore in Schaeffer's 'Erotica'. [Oral Presentation], The Society for Musicology in Ireland, Belfast, Northern Ireland , 16-JUN-18 - 18-MAR-18 [Details]
2017
LGBTQ+ Music Study Group themed session on Music and Musical Expression in LGBTQ+ Activism.
Danielle Sofer (2017) LGBTQ+ Music Study Group themed session on Music and Musical Expression in LGBTQ+ Activism. [Oral Presentation], Royal Musical Association, University of Liverpool (UK) , 09-SEP-17 [Details]
2016
The 'Ongoing Interculturality' of Alice Shields's Apocalypse.
Danielle Sofer (2016) The 'Ongoing Interculturality' of Alice Shields's Apocalypse. [Oral Presentation], Deleuze + Art: Multiplicities | Thresholds | Potentialities, Trinity College Dublin , 08-APR-16 - 10-APR-16 [Details]
2016
Breaking Silence, Breaching Censorship: 'Ongoing Interculturality' in Alice Shields's Electronic Opera Apocalypse.
Danielle Sofer (2016) Breaking Silence, Breaching Censorship: 'Ongoing Interculturality' in Alice Shields's Electronic Opera Apocalypse. [Oral Presentation], The Society for Musicology in Ireland, Dublin City University. Dublin, Ireland , 10-JUN-16 - 12-JUN-16 [Details]
2015
Identity and Orientation in Barry Truax's Song of Songs.
Danielle Sofer (2015) Identity and Orientation in Barry Truax's Song of Songs. [Oral Presentation], The Society for Music Theory, St. Louis, Missouri , 29-OCT-15 - 01-NOV-15 [Details]
2014
'A System of Systems': Negotiations with the Ideal Listener.
Danielle Sofer (2014) 'A System of Systems': Negotiations with the Ideal Listener. [Oral Presentation], University of North Georgia Arts & Letters Conference 2014, Utopia in the Arts, Humanities and Social Sciences, University of North Georgia, Dahlonega, Georgia , 28-FEB-14 - 02-MAR-14 [Details]
2013
'Love to Love You Baby': Donna Summer and the Ambiguous Labor of Disco Queens.
Danielle Sofer (2013) 'Love to Love You Baby': Donna Summer and the Ambiguous Labor of Disco Queens. [Oral Presentation], 2013 Feminist Theory and Music conference, FTM 20-21: New Voices in the New Millennium, Hamilton College, Clinton, New York , 31-JUL-13 - 04-AUG-13 [Details]
| | Year | Title | Awarding Body |
| --- | --- | --- | --- |
| | 2017 | Publication Subvention | AMS 75 PAYS Endowment of the American Musicological Society, funded in part by the National Endowment for the Humanities and the Andrew W. Mellon Foundation. |
| | 2018 | Keitel-Palisca Membership and Professional Development Travel Grant | American Musicological Society |
| | 2015 | Best Presentation Award | The Dark Precursor: International Conference on Deleuze and Artistic Research. Orpheus Institute, Ghent, Belgium. |
| | 2005 | Dr. Edwin A. Ulrich Scholarship in Music | Music Department, State University of New York at New Paltz |
| | 2005 | Honours Programme Outstanding Graduate | State University of New York at New Paltz |
| | 2015 | Minority Travel Grant | Society for Music Theory |
| | 2017 | Publication Subvention | Society for Music Theory |
| | 2005 | Summa cum laude | State University of New York at New Paltz |
| | 2005 | Marion Harding Scholarship in Music | Music Department, State University of New York at New Paltz |
| | 2003 | Marion Harding Scholarship in Music | Music Department, State University of New York at New Paltz |
| | 2004 | Marion Harding Scholarship in Music | Music Department, State University of New York at New Paltz |
| | 2007 | Violist in Residence | International Chamber Music Festival and Institute at St. Mark's School, Southborough, Massachusetts |
| | 2004 | Dr. Edwin A. Ulrich Scholarship in Music | Music Department, State University of New York at New Paltz |
Professional Associations
| | Association | Function | From / To |
| --- | --- | --- | --- |
| | Society for Music Analysis | Member, LGBTQ+ Study Group Liaison | 01-AUG-16 / |
| | Royal Musical Association | Board member, LGBTQ+ Study Group | 01-NOV-16 / |
| | Society for Music Theory | Member | 01-JAN-11 / |
| | Society for Musicology in Ireland | Member | 01-JAN-16 / |
| | American Musicological Society | Member | 01-JAN-10 / |
| | LGBTQ+ Music Study Groups (founder) | Deputy Chair | / |
| | Committee | Function | From / To |
| --- | --- | --- | --- |
| | Performing, Experiencing and Theorizing Augmented Listening [PETAL] | Research Board Member | 2017 / 2020 |
| | Teaching & Learning (FASCP) | Committee Member | / |
| | Chair of the Symposium 'Queerness, Voice, Embodiment' | Committee Chair | 2017 / 2018 |
| | Department of Music Undergraduate Student Committee | Committee Member | / |
| | Steering Committee for the introduction of jazz/pop performance in the Department of Music | Committee Member | 2018 / |
| | Employer | Position | From / To |
| --- | --- | --- | --- |
| | Maynooth University | Lecturer | 01-SEP-16 / |
| | Year | Institution | Qualification | Subject |
| --- | --- | --- | --- | --- |
| | 2012 | Stony Brook University | MA | Music History and Theory |
| | 2011 | New York - St. Petersburg Institute of Linguistics, Cognition, and Culture, University of St. Petersburg, Russia | Postgraduate Diploma | Culture and Communism; Russian |
| | 2015 | Digital Humanities at Oxford Workshop | Completion | Humanities Data: Curation, Analysis, Access, and Reuse (Managing modern data for academic research) |
| | 2005 | State University of New York at New Paltz | BA | Music performance, piano and viola |
| | 2008 | Binghamton University | Masters of Music | Music, piano performance |
| | 2016 | University of Music and Performing Arts Graz | PhD | Musicology, Music Aesthetics and Criticism |
| | Language | Reading | Writing | Speaking |
| --- | --- | --- | --- | --- |
| | German | Fluent | Basic | Functional |
| | 1984-1985 Biblical Hebrew | Fluent | Fluent | Fluent |
| | French | Functional | None | None |
| | Russian | Functional | Basic | Basic |
| | Client | Description |
| --- | --- | --- |
| | Microsoft | Consultant on ethics and sociotechnical bias |
|   | Description |
| --- | --- |
| | Co-Founder and General Secretary Link |
| | Convened panel on 'LGBTQ+ Mental Health in University Music Departments' at University of Bristol together with representatives from Brisol's LGBT Staff Network, University of Southampton, University of Huddersfield, Newcastle University, Maynooth University and University of Plymouth. |
| | Invited Speaker Link |
| | Bright Club - Variety night where researchers become comedians, musicology lecture |
| | Journal | Role |
| --- | --- | --- |
| | Music Theory Spectrum | Reviewer |
| | The International Journal Of Music And Technology - Organised Sound | Reviewer |
| | Description |
| --- | --- |
| | Oxford University Press |
Music and Sexuality/Gender
Music and Philosophy/Aesthetics
Electroacoustic Music
- and gender
- and sexuality
- and acoustics
- and perception (e.g. space, time, processing techniques, sound quality, compositional philosophy, listener reception, etc.)
Sound Studies of the 20th century
Russian Music of the 20th century (Russian avant-garde, Russian music theories, music and politics)
Music Theory and Analysis (of specific works or theories)
History of Music Theory

|   | Graduation | Student Name | University | Degree | Thesis |
| --- | --- | --- | --- | --- | --- |
| | 2017 | Sarah Troy | Maynooth University | Bachelor of Arts | Ludovico Einaudi: A simplistic illusion |
| | 2017 | Aoife Fennel | Maynooth University | Bachelor of Music | Moving through the motions: A study of motion reactive music through movement and dance |
| | 2018 | Meabh Reilly | Maynooth University | Bachelor of Music | Why female jazz instrumentalists should now be more recognized for their roles during the 1920s and 1930s |
| | 2018 | Rita Perry | Maynooth University | Bachelor of Arts | Music and Conflict: Music of Resistance and Coexistence in Spaces of Political Conflict |
| | 2018 | Sophia Leithold | | Master of Arts | Desire, Disappointment, Love and Death: Topics in Elizabeth Maconchy's Chamber Operas The Sofa and The Departure; University of Music and Performing Arts Graz |
| | 2018 | Laura Halligan | Maynooth University | Bachelor of Arts | Expressing the Inexpressible: Music's Role in Creating a Means of Expression for People with Autism |
| | 2018 | Méabh Barry | Maynooth University | Bachelor of Music | Can I Be Me? Gender, Race & Sexuality in Popular Music from the 1960s to the Present Day |
| | 2019 | Oluş Alkan | Maynooth University | Master of Arts | Song, Wheel, and Treadle: An Analysis of Schubert's Gretchen am Spinnrade |
| | 2019 | Niamh Keane | Maynooth University | Master of Arts | |
| | 2018 | Patrick McGinley | Maynooth University | Bachelor of Music | Alfred Schnittke's Penitential Verses: An Analysis |
|   | Name | Role / Description | Country |
| --- | --- | --- | --- |
| | Christian Utz | PI of PETAL Project | AUSTRIA |
| | Martin Rumori | Installation Artist | AUSTRIA |
| | Christa Brüstle | Co-Author | AUSTRIA |