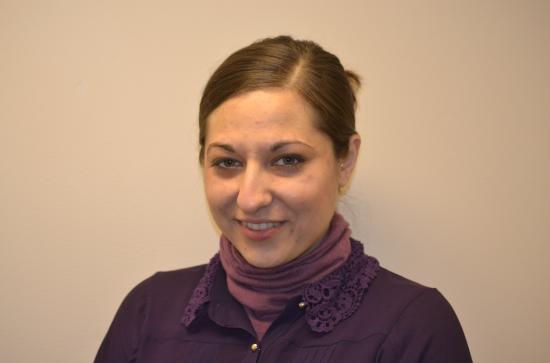 Danielle Sofer (she/her/they them) has been a lecturer at Maynooth University since 2016. A music theorist attuned to gendered hearings and sensitive to cultural context, Dr. Sofer has published on music by Elizabeth Maconchy, Juliana Hodkinson, Alice Shields, Donna Summer, and Barry Truax and on the reception of Adorno's 'listening typology'. She completed a PhD with distinction at the Kunstuniversität Graz with the dissertation, "Making Sex Sound: Erotic Currents in Electronic Music."


Her volume Elizabeth Maconchy: Music as Impassioned Argument (Universal Edition, 2018), edited with Christa Brüstle, features contributions from the composer's two daughters, family photos, and a complete list of the composer's works presented for the first time. Recent articles include an analysis of gender and sexuality in music by Barry Truax (Organised Sound, 2018), and 'Breaking Silence, Breaching Censorship: "Ongoing Interculturality'" in Alice Shields's Electronic Opera Apocalypse', forthcoming in American Music journal, awarded subventions from the Society for Music Theory and the American Musicological Society's AMS 75 Publication Awards for Young Scholars Endowment of the American Musicological Society, funded in part by the National Endowment for the Humanities and the Andrew W. Mellon Foundation.


Danielle graduated summa cum laude from the State University of New York at New Paltz with a BA in music performance (viola and piano) and honours. She holds Master's degrees from Binghamton University (New York) in piano performance and Stony Brook University (New York) in music history and theory, with a thesis on Prokofiev's opera The Gambler, a project that brought her to St. Petersburg, Russia as an Erasmus student. Prior to joining the faculty of the Institute for Musical Criticism and Aesthetical Research at the Kunstuniversität Graz, Danielle studied music theory at the University of Wisconsin-Madison, where she was an assistant to Brian Hyer. She has presented on sexuality and electronic music on several occasions, including conferences of the International Computer Music Association, The Society for Music Theory, The Society for Musicology in Ireland, and the Feminist Theory and Music conference.

As a violist, pianist, and singer, Danielle has performed in New York City, Boston, San Francisco, Graz, Haifa, Tel Aviv, Jerusalem and many smaller cities around the globe.
http://daniellessofer.wixsite.com/daniellesofer
| | Project | Role | Description | Start Date | End Date |
| --- | --- | --- | --- | --- | --- |
| | Performing, Experiencing and Theorizing Augmented Listening [PETAL] INTERPRETATION AND ANALYSIS OF MACROFORM IN CYCLIC MUSICAL WORKS | Research Board Member | | 01-SEP-17 | 31-AUG-20 |
 
Year
Publication
2018
'The Macropolitics of Microsound: Gender and Sexual Identities in Barry Truax's Song of Songs'
Danielle Sofer (2018) 'The Macropolitics of Microsound: Gender and Sexual Identities in Barry Truax's Song of Songs'. The International Journal of Music and Technology - Organised Sound, 23 (1) [DOI] [Details]
2018
'Breaking Silence, Breaching Censorship: 'Ongoing Interculturality' in Alice Shields's Electronic Opera Apocalypse'
Danielle Sofer (2018) 'Breaking Silence, Breaching Censorship: 'Ongoing Interculturality' in Alice Shields's Electronic Opera Apocalypse'. American Music, 36 (2) [Details]
 
Year
Publication
2016
'Strukturelles Hören?: Von ideellen und idealen Hörern'
Danielle Sofer (2016) 'Strukturelles Hören?: Von ideellen und idealen Hörern' In: Klaus Aringer, Franz Karl Prassl, Peter Revers und Christian Utz (eds). Geschichte und Gegenwart des musikalischen Hörens. Möglichkeiten und Herausforderungen für neue methodische Zugänge. Freiburg: Rombach Verlag. [Details]
Year
Publication
2018
Elizabeth Maconchy: Music as Impassioned Argument
Christa Brüstle and Danielle Sofer (Ed.). (2018) Elizabeth Maconchy: Music as Impassioned Argument Vienna - London - New York: Universal Edition. [Details]
Year
Publication
2015
Music in Transit: An Interactive Interview with Juliana Hodkinson
Danielle Sofer and Juliana Hodkinson (2015) Music in Transit: An Interactive Interview with Juliana Hodkinson . In: Paulo de Assis and Paulo Giudici eds. Artistic research performance-presentation at The Dark Precursor: International Conference on Deleuze and Artistic Research Orpheus Institute. Ghent, Belgium, , 09-NOV-15 - 11-NOV-15 [Details]
2014
Eroticism and Time in Computer Music: Juliana Hodkinson and Niels Rønsholdt's Fish & Fowl
Danielle Sofer (2014) Eroticism and Time in Computer Music: Juliana Hodkinson and Niels Rønsholdt's Fish & Fowl From Digital Echoes to Virtual Ethos," proceedings of the ICMC-SMC 2014: 40th International Computer Music Conference joint with the 11th Sound and Music Computing Conference Athens, Greece, , 14-SEP-14 - 19-SEP-14 , pp.148-153 [Details]
Year
Publication
2018
The Sounds of (Sex) Music.
Danielle Sofer (2018) The Sounds of (Sex) Music. [Oral Presentation], Rethinking Sound Conference, Hanyang University, Seoul, Korea , 30-MAR-18 - 31-MAR-18 [Details]
2018
Forming and Framing Queer Urban Musical Communities in the Pacific Northwest.
Danielle Sofer (2018) Forming and Framing Queer Urban Musical Communities in the Pacific Northwest. [Oral Presentation], International Council for Traditional Music (ICTM) Joint Symposium of the Music and Gender & Music and Minorities Study Groups, University for Music and Performing Arts Vienna, Austria , 22-JUL-18 - 31-JUL-18 [Details]
2017
Un-bracketing the objet sonore in Schaeffer's 'Erotica'.
Danielle Sofer (2017) Un-bracketing the objet sonore in Schaeffer's 'Erotica'. [Oral Presentation], The Society for Musicology in Ireland, Belfast, Northern Ireland , 16-JUN-18 - 18-MAR-18 [Details]
2017
LGBTQ+ Music Study Group themed session on Music and Musical Expression in LGBTQ+ Activism.
Danielle Sofer (2017) LGBTQ+ Music Study Group themed session on Music and Musical Expression in LGBTQ+ Activism. [Oral Presentation], Royal Musical Association, University of Liverpool (UK) , 09-SEP-17 [Details]
2016
The 'Ongoing Interculturality' of Alice Shields's Apocalypse.
Danielle Sofer (2016) The 'Ongoing Interculturality' of Alice Shields's Apocalypse. [Oral Presentation], Deleuze + Art: Multiplicities | Thresholds | Potentialities, Trinity College Dublin , 08-APR-16 - 10-APR-16 [Details]
2016
Breaking Silence, Breaching Censorship: 'Ongoing Interculturality' in Alice Shields's Electronic Opera Apocalypse.
Danielle Sofer (2016) Breaking Silence, Breaching Censorship: 'Ongoing Interculturality' in Alice Shields's Electronic Opera Apocalypse. [Oral Presentation], The Society for Musicology in Ireland, Dublin City University. Dublin, Ireland , 10-JUN-16 - 12-JUN-16 [Details]
2015
Identity and Orientation in Barry Truax's Song of Songs.
Danielle Sofer (2015) Identity and Orientation in Barry Truax's Song of Songs. [Oral Presentation], The Society for Music Theory, St. Louis, Missouri , 29-OCT-15 - 01-NOV-15 [Details]
2014
'A System of Systems': Negotiations with the Ideal Listener.
Danielle Sofer (2014) 'A System of Systems': Negotiations with the Ideal Listener. [Oral Presentation], University of North Georgia Arts & Letters Conference 2014, Utopia in the Arts, Humanities and Social Sciences, University of North Georgia, Dahlonega, Georgia , 28-FEB-14 - 02-MAR-14 [Details]
2013
'Love to Love You Baby': Donna Summer and the Ambiguous Labor of Disco Queens.
Danielle Sofer (2013) 'Love to Love You Baby': Donna Summer and the Ambiguous Labor of Disco Queens. [Oral Presentation], 2013 Feminist Theory and Music conference, FTM 20-21: New Voices in the New Millennium, Hamilton College, Clinton, New York , 31-JUL-13 - 04-AUG-13 [Details]
| | Year | Title | Awarding Body |
| --- | --- | --- | --- |
| | 2017 | Publication Subvention | AMS 75 PAYS Endowment of the American Musicological Society, funded in part by the National Endowment for the Humanities and the Andrew W. Mellon Foundation. |
| | 2015 | Best Presentation Award | The Dark Precursor: International Conference on Deleuze and Artistic Research. Orpheus Institute, Ghent, Belgium. |
| | 2005 | Dr. Edwin A. Ulrich Scholarship in Music | Music Department, State University of New York at New Paltz |
| | 2005 | Honours Programme Outstanding Graduate | State University of New York at New Paltz |
| | 2015 | Minority Travel Grant | Society for Music Theory |
| | 2017 | Publication Subvention | Society for Music Theory |
| | 2005 | Summa cum laude | State University of New York at New Paltz |
| | 2005 | Marion Harding Scholarship in Music | Music Department, State University of New York at New Paltz |
| | 2003 | Marion Harding Scholarship in Music | Music Department, State University of New York at New Paltz |
| | 2004 | Marion Harding Scholarship in Music | Music Department, State University of New York at New Paltz |
| | 2007 | Violist in Residence | International Chamber Music Festival and Institute at St. Mark's School, Southborough, Massachusetts |
| | 2004 | Dr. Edwin A. Ulrich Scholarship in Music | Music Department, State University of New York at New Paltz |
Professional Associations
| | Association | Function | From / To |
| --- | --- | --- | --- |
| | Society for Music Analysis | Member, LGBTQ+ Study Group Liaison | 01-AUG-16 / |
| | Royal Musical Association | Board member, LGBTQ+ Study Group | 01-NOV-16 / |
| | Society for Music Theory | Member | 01-JAN-11 / |
| | Society for Musicology in Ireland | Member | 01-JAN-16 / |
| | American Musicological Society | Member | 01-JAN-10 / |
| | LGBTQ+ Music Study Groups | General Secretary | / |
| | Committee | Function | From / To |
| --- | --- | --- | --- |
| | Performing, Experiencing and Theorizing Augmented Listening [PETAL] | Research Board Member | 2017 / 2020 |
| | Employer | Position | From / To |
| --- | --- | --- | --- |
| | Maynooth University | Lecturer | 01-SEP-16 / |
| | Year | Institution | Qualification | Subject |
| --- | --- | --- | --- | --- |
| | 2012 | Stony Brook University | MA | Music History and Theory |
| | 2005 | State University of New York at New Paltz | BA | Music performance, piano and viola |
| | 2008 | Binghamton University | Masters of Music | Music, piano performance |
| | 2016 | University of Music and Performing Arts Graz | PhD | Musicology, Music Aesthetics and Criticism |
| | Language | Reading | Writing | Speaking |
| --- | --- | --- | --- | --- |
| | German | Fluent | Basic | Functional |
| | 1984-1985 Biblical Hebrew | Fluent | Fluent | Fluent |
| | French | Functional | None | None |
| | Russian | Functional | Basic | Basic |
|   | Description |
| --- | --- |
| | Co-Founder and General Secretary Link |
| | Invited Speaker Link |
| | Variety night where researchers become comedians |
| | Journal | Role |
| --- | --- | --- |
| | The International Journal Of Music And Technology - Organised Sound | Referee |
|   | Name | Role / Description | Country |
| --- | --- | --- | --- |
| | Christian Utz | PI of PETAL Project | AUSTRIA |
| | Martin Rumori | Installation Artist | AUSTRIA |
| | Christa Brüstle | Co-Author | AUSTRIA |