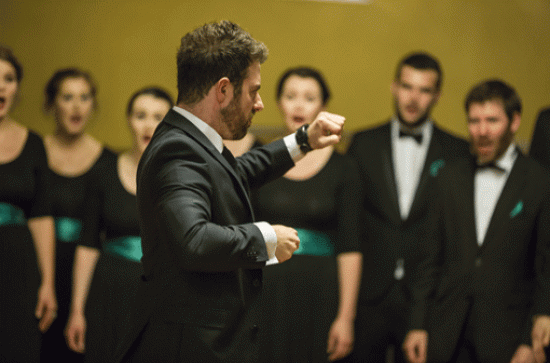 Monday, October 19, 2015 - 18:00
Fresh from their victory as 'Choir of the World 2015', the Maynooth University Chamber Choir today launched Lorica, their inaugural CD featuring a wide variety of both well- and lesser-known choral works, including new works by Maynooth University composer Martin O'Leary and former students Adam Cullen and Michael Dawson. Lorica was launched by Nick Strimple, Professor of Choral and Sacred Music at the University of Southern California.

The term 'Lorica' describes both a physical piece of armour and a prayer recited for protection. The Maynooth University Chamber Choir commissioned three Irish composers to write new works for this recording, based on the Lorica idea of uniting vulnerability and invincibility.

The title track Lorica, by Adam Cullen, recites the phrase 'Christ to shield me' while outer voices interject with the various dangers and perils outlined in the text.

Lúireach Phádraig, by Martin O'Leary, sets the text simultaneously in English and Irish, alluding to the idea of 'speaking in tongues' associated with men of God.

Caoineadh na dtrí Mhuire, by Choir Director Michael Dawson, tells of the mother Mary discovering her Son dying on the cross.

Dawson, speaking at the CD launch, said: "The idea of the Lorica ties together a diverse collection of music, uniting the three newly-commissioned pieces with established works ranging from the delicacy of Stanford's The Blue Bird to the raw power of Matsushita's O Lux Beata Trinitas. Together they paint a detailed landscape of the glorious emotional and conceptual dualities inherent in the Lorica."

Professor Philip Nolan, President of Maynooth University, speaking at the launch said: "I'd like to congratulate the Maynooth University Chamber Choir on the launch of this exceptional piece of work. The entire University community is extremely proud of the Chamber Choir for this impressive achievement and for its role in spreading Maynooth's reputation for excellence around the globe."

Founded in 1986, the Maynooth University Chamber Choir is the elite performing group of the Maynooth University Department of Music. Former members of the Chamber Choir include Eimear Quinn, winner of the Eurovision Song Contest in 1996 for Ireland, and Alan Costello, assistant conductor at the Scottish Ballet.
The Chamber Choir has a longstanding tradition of feeding into internationally renowned Celtic choral group Anúna, with many of its present and past members originally training at Maynooth University.
The Chamber Choir has been directed since 2011 by Michael Dawson, who led the choir on a highly successful tour of the United States in 2013, followed in 2014 by participation in the Canta en Primavera Choral Festival, where the choir won two Gold Diplomas. In July 2015, the Chamber Choir became the first Irish choir to lift the coveted Pavarotti Trophy as 'Choir of the World' at the Llangollen International Musical Eisteddfod. One of the world's great choral competitions, Choir of the World has been won by internationally renowned ensembles from around the globe.