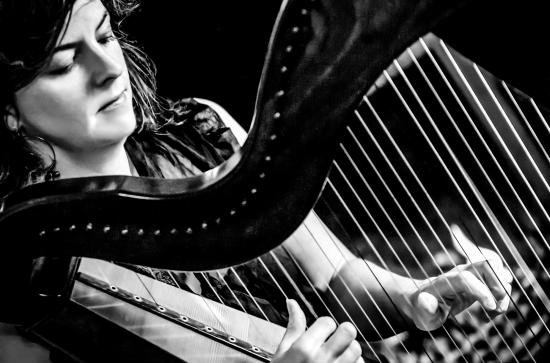 Thursday, November 28, 2019 -

13:00

to

14:00
Riverstown Hall
Laoise Kelly from Westport, Co. Mayo, now living on Achill Island, is regarded as the most significant harper of her generation – Nuala O'Connor. She has pioneered a new style of driving instrumental harping showcased in her three critically acclaimed solo albums Just Harp, Ceis and Fáilte Uí Cheallaigh. She is director of the new Achill International Harp Festival, encompassing her role as musical director of music Suites Sraith Oileán Acla, Mayo-Breton & Ireland Galicia collaborations.
Laoise was a founding member of traditional group Bumblebees with whom she recorded two albums and toured extensively. She is a founding member of Fiddletree a group from America, Cape Breton and Scotland who play 8 instruments made from the same tree; they have two albums to date. Her latest album release is Ar Lorg na Laochra with Monaghan Uilleann piper Tiarnán Ó Duinnchinn.
Throughout her solo career she has recorded on over 70 albums with many of Ireland's foremost artists including Seamus Heaney, The Chieftains, Christy Moore, Sharon Shannon, Dónal Lunny, Tommy Makem, Matt Molloy, Tommy Peoples, Mary Black, Maighread & Tríona Ní Dhomhnaill, as well as Kate Bush and American country/bluegrass icon Tim O'Brien.
Laoise tours regularly with different collaborators: piper Tiarnán Ó Duinnchinn; Clare fiddler Tola Custy; singer and accordion player Breanndán Begley; award winning Scottish Gaelic singer Kathleen MacInnes; fiddler Diarmuid Gielty; piper Allan MacDonald; fiddler Michelle O'Brien; Double Bassist Martin Brunsden.
Laoise composed new music for a co-commission of the National Theatre of Scotland and The Abbey, Dublin in 2018 for Theatre Gu Leòr's Scotties. She was Musical Director on Brendan Beehan's The Hostage and Seán O'Casey's Purple Dust with Glasgow theatre company Arches at the Edinburgh Festival. She toured with NY-based Mabou Mines' award winning production of Peter & Wendy to the Edinburgh Festival and the Old Vic, off Broadway.
She has performed for Irish Presidents Michael D. Higgins, Mary Robinson and Mary McAleese; HRH Prince Andrew at the commemoration of the Battle of Kinsale; for the twenty-five EU Heads of State and Presidents in Dublin. She is honoured to have represented Ireland at the World Harp Festival in Paraguay.
Laoise was the winner of the Waterford Crystal harp at the Belfast Bicentennial Harp Festival 1992.
She has featured on numerous TV and radio programs both in Ireland and internationally including RTÉ's A River of Sound, The Late Late Show, Eurovision; BBC's Folkworks UK Harp tour Documentary, Colmcille sessions, and many of TG4's music programmes. She recently presented an RTÉ Radio 1 programme of highlights from Viljandi Folk Festival in Estonia where she had also performed.
"Laoise Kelly is a young harpist with the disposition of an iconoclast and the talent and technique of a virtuoso." Irish Times
"An exuberant and innovative talent which catches the spirit of the modern Irish music movement in a way that few harpers have done to date" Irish Music Magazine
"Her right hand fires out tunes with a fluidity, creativity and clarity that has revolutionised the harp as a solo instrument; her left hand is the source of a new voice in the world of accompaniment and groove, rooted in her engagement with the contemporary world of guitar, bouzouki, bódhran and keyboard while being distinct in its own right. Laoise has made it OK for a harp to sit in the centre of the session and be the heart of the trad band headlining the festival." Niall Keegan, Irish World Academy, UL.