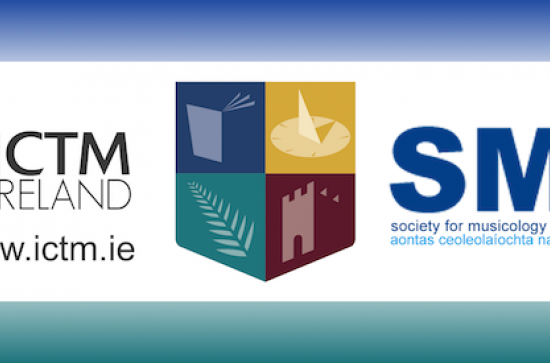 Friday, January 19, 2018 - 09:00
to
Saturday, January 20, 2018 - 20:00
Music Department, Maynooth University, Ireland
Joint ICTM-IE/SMI Annual Postgraduate Conference 2018
19-20 January 2018
Music Department, Maynooth University, Ireland
Extended Call for Papers
Extended Deadline: Wednesday 27 September 2017
Email: ictm.smi.pg2017@gmail.com

As part of the collaboration between the Society for Musicology in Ireland and the Irish National Committee of the International Council for Traditional Music, we are pleased to announce a joint postgraduate conference taking place in Maynooth University on Friday the 19th and Saturday the 20th of January 2018.

The conference committee would like to invite postgraduates working in all areas of musical research to submit proposals for conference papers. Each speaker will be given 20 minutes for their paper, followed by a 10-minute discussion. Areas of research include but are not limited to historical musicology, ethnomusicology, music theory and analysis, music technology, music pedagogy, popular music studies, musical practice as research, psychology of music, and music and gender. Aside from the traditional paper sessions, there will also be a Careers Forum on the Saturday as part of the conference.

To submit a proposal, please send an email attachment (.doc, .docx) to the conference committee at ictm.smi.pg2017@gmail.com with the following information:

Title of paper
Abstract (maximum 250 words)
Full name, contact details, and institutional affiliation
Short biography (maximum 150 words)
Audio-visual and other requirements (data projection, CD/DVD player, piano, etc.)

Applicants will be notified by the beginning of October 2017.