ELSA Maynooth International Negotiation Competition 2017
The Department of Law is extremely proud to sponsor the third annual ELSA Maynooth International Negotiation Competition. The negotiation competition was the first of its kind to take place in Ireland: an international negotiation competition for current third-level law students.​
Competition Overview
Participants will compete against each other in teams consisting of two persons (i.e. two teams, each consisting of two persons, compete against each other). In advance of the competition, each team will receive some mutual facts and some individual, confidential facts concerning a given case, in which they will represent one of the parties. Teams will be required to negotiate the resolution of an international dispute. The competition will take place across the weekend of 10 – 13 March 2017.
Prize
The winning team will be awarded €500.00, jointly. All participants will receive Certificates of Participation.
Why Negotiation?
Most disputes in which lawyers are involved do not end up in the courts. Instead, they are settled by way of some form of compromise between the parties - a negotiated agreement. In order to ensure that a client's best interests are protected in the context of a negotiated, out-of-court agreement, it is imperative for lawyers to possess effective negotiation skills. This applies on both a national and an international level.

The ELSA Maynooth International Negotiation Competition is designed to foster the skills of negotiation in students of law at an early stage in their careers and to provide the opportunity to gain first-hand negotiation experience!
Further Information
For further information, you can contact the Organising Committee via email: elsamaynoothinc@gmail.com. And to keep up to date with the competition as it progresses, like the negotiation competition Facebook page.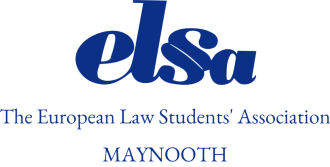 ​
Purpose of the competition
The purpose of the competition is to:
Promote greater interest in and awareness of legal negotiation among law students;
Provide a forum through which law students can learn the techniques of effective legal negotiation;
Facilitate interaction between students from different countries and jurisdictions;
Enable law students to learn to build strategies and use methods that will further enhance a client's best interests; and
Enable law students to enhance their existing negotiation skills.