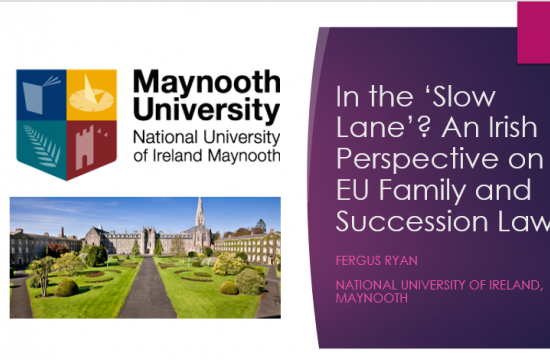 Friday, October 16, 2020 - 09:00
Dr Fergus Ryan of the Department of Law at Maynooth University spoke on the topic of EU Cross-Border Measures on Family and Succession Law at the University of Almería's conference on "Effective Implementation of the EU Regulations 2016/1103 and 2016/1104: Challenges and Opportunities for Cross-Border Couples in Family and Succession Law." At the conference, which took place virtually on 24-25 September, Dr Ryan addressed the impact of various EU cross-border initiatives on jurisdiction, recognition and applicable law with implications for Family Law and Succession Law, some of which apply to Ireland and some of which do not. He explored the possible reasons for Ireland not participating in enhanced cooperation measures and the implications of Brexit for Irish Family Law.
Dr Ryan is an associate professor (senior lecturer) in law at the Department of Law, Maynooth University. He is a law lecturer with many years' experience teaching and researching law, with a particular focus on family law, constitutional law, gender, sexual orientation, and human rights.