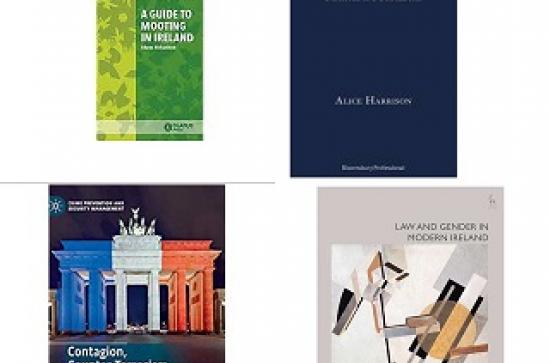 Friday, October 4, 2019 - 16:15
We are delighted to invite you to an upcoming event in the RDS (Merrion Room) in Dublin on Tuesday 22nd October at 17:00. The speakers will include four members of the Maynooth University Department of Law – Dr. Edana Richardson, Alice Harrison, Dr. Lynsey Black and Prof. Claire Hamilton – all of whom have published new books in 2019 (see below for the list of publications).
The event will begin at 17:00 with welcome drinks and canapés, before a panel, starting at 17:45, at which the four speakers will discuss the implications of their recent publications for law, legal education and criminal justice in Ireland and elsewhere. We follow this with a short prize ceremony for our undergraduate students and, finally, a wine reception which will finish at 20:00.
This evening is one of a series of events taking place in October and November as part of our department's 10th anniversary celebrations. Attendance is free but registration is compulsory. To register, please email law@mu.ie
Books to be discussed on October 22nd
Dr. Edana Richardson, A Guide to Mooting in Ireland (Clarus Press, 2019).
Dr. Lynsey Black and Dr. Peter Dunne (Eds.), Law and Gender in Modern Ireland: Critique and Reform (Hart Publishing, 2019)
Alice Harrison BL, The Special Criminal Court: Practice and Procedure (Bloomsbury Professional, 2019)
Prof. Claire Hamilton, Contagion, Counter-Terrorism and Criminology: Justice in the Shadow of Terror (Palgrave, 2019)