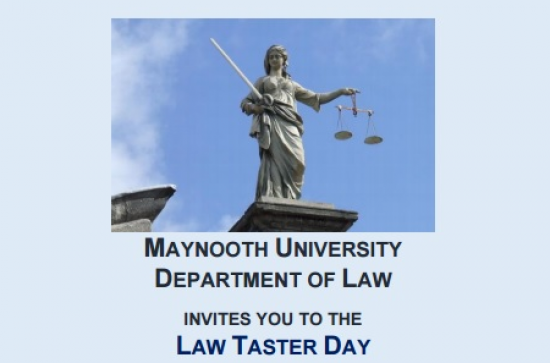 Saturday, March 4, 2017 - 09:30
Aula Maxima, South Campus
MU Law Taster Day: Saturday, 4th March 2017 - Aula Maxima, South Campus.
Registration has now closed. If you missed out on booking this event and would like to take a campus tour on another day, hosted by a Law student, you can book online here.
The Department of Law at Maynooth University is giving you the unique opportunity to experience university life as a Law student for one day with our Law Taster Day 2017.
Discover how Law at Maynooth University can enhance your personal and professional goals through a range of activities, including; taster lecture, interactive negotiation showcase, guest speakers, Q&A with current students, and networking opportunities with students and staff members.

We are delighted to announce that the Keynote Address on the day will be delivered by: Emily Logan, Chief Commissioner of the Irish Human Rights and Equality Commission (and former Ombudsman for Children).

The event is free of charge with lunch and refreshments provided.
The Negotiation Problem that will be debated on the day is available here​
The Schedule is available here
​