Undergraduate full-degree
Requirements
Senior Secondary School Graduation Certificate (3 Years) with a minimum overall final result of 85% including Maths and English results of 70%
Meet mandatory subject requirements
IELTS overall 6.0 for STEM degree programmes & IELTS 6.5 for all other degree programmes
Be over 18 years of age when beginning the degree programme
Please click here for our Undergraduate full-degree programmes
Postgraduate Taught full-degree
Requirements
Bachelor degree which is considered equivalent to an Irish bachelor degree from a recognised university with a minimum final overall result of 75%.
Meet mandatory subject requirements
Please note the minimum final overall result for all our Business degrees is 70%
IELTS 6.5 overall or equivalent
Please note our Business degrees require an overall IELTS score of 6.5 with 6.0 in the reading & writing components or equivalent
Please note our MSc in Immunology & Global Health requires an overall IELTS 7.0 with 7.0 in the writing component & 6.5 in the other components
Please click here for our Postgraduate taught full-degree programmes
Students who do not meet the above requirements may be offered our one-year full-time International Foundation Year.
Postgraduate Research full-degree
Requirements
All Postgraduate full-degree research programme applicants must identify & contact a potential academic supervisor. Once a supervisor has been secured a formal application can be made. Research at Maynooth University spans the disciplines from the Sciences, the Social Sciences and the Arts. Please click here for our Research programmes & themes.

Intensive English Programmes
10-week programme – begins Monday July 6th Cost: €2,795
For undergraduate or postgraduate offer holders who require IELTS 6.5 but at the time of offer have IELTS 6.0
For undergraduate offer holders who require IELTS 6.0 but at the time of offer have IELTS 5.5
The programme will be taught online for five weeks and the remaining five weeks will be taught on campus (subject to change according to Irish Government Covid19 health guidance).

Visa Information
You may require a entry visa for Ireland. You can check here. Please note during busy periods visa applications may take several weeks.
Scholarships
Maynooth University is pleased to participate in the Claddagh Scholarship Programme offering three Postgraduate scholarships. The scholarships are valued at 2,000 euro each and are applied as a reduction of the tuition fee for the first year of full-time postgraduate studies.
(Please note this scholarship is only open to Chinese citizens resident in China. Students must receive an offer to study at Maynooth University before applying for this scholarship).

How to Apply
We welcome your application online:
Undergraduate full-degree applications should be made here
Postgraduate full-degree applications should be made here
Maynooth University China Representative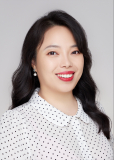 Naomy Liu 刘硕
Maynooth University China Office
Mobile: +86 (0) 18010058317 (Consult wechat)
Email: naomy.liu@mu.ie

Follow us on Social Media
| | | |
| --- | --- | --- |
| Wechat | Bilibili | Tiktok |
| Study in Maynooth | | |
​