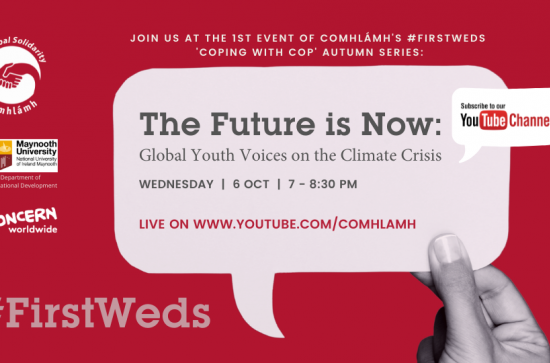 Wednesday, October 6, 2021 -

19:00

to

20:30
https://www.youtube.com/watch?v=7SQeL28gmX8
Join us for the return of #FirstWeds conversations
The UN Climate Change Conference – COP26 takes place in Glasgow this coming November. It comes hot on the heels of the most recent and disturbing report of the Intergovernmental Panel on Climate Change. With COP26 as the backdrop, join the Department of International Development and Comhlámh this autumn for our #FirstWeds 'Coping with COP: Reflections on the climate crisis, present and future' series where we will be seeking wisdom and inspiration from youth, elders, and a wider cohort of community activists on the climate crisis, present and future.
At the first event of the series, 'The Future is Now: Global Youth Voices on the Climate Crisis' on 6 October, our youth panellists from Ireland, the Global South, and First Nations Indigenous from Canada, will reflect and share their perspectives on the present and the future, and their commitment and contribution to new forms of political activism. Our panellists will also discuss their views of the COP26.
Our Panel:
Ineza Umuhoza Grace is an eco-feminist impact-driven actor in the climate change and environment protection sector serving the global community-based in Rwanda. She holds a bachelor degree in Water and Environmental Engineering from the University of Rwanda, which shaped her to engage in climate justice by contributing on the national and international level. In 2017 she started the Rwandan Youth NGO The Green Fighter with the aim to increase an active contribution in the creation of a better and protected environment in the community. With the team of 10 youth, they engage in project design and implementation, environment education and advocacy. In 2020, she co-founded the Loss and Damage Youth Coalition aiming to create a borderless youth partnership to seek climate justice through taking action on loss and damage. To date, the coalition is present in +45 countries with roughly 350 members.
Amy O'Brien uses she/her pronouns and is a 16-year-old activist and advocate with Fridays for Future, Girl Up International and Youth Against Racism and Inequalities. She is a youth writer with SpunOut, the youth information website, and is the host of the Sustainable Sleepover Club podcast. Amy is also a Chair of Cork County Comhairle na nÓg and an organiser of Climate Assembly Éire.
First Nations Youth Activist - TBC: We will also be joined by a First Nations Youth Activist with support from the Canadian organisation VIDEA, one of Canada's original global education centres promoting greater intercultural understanding and awareness of global issues. Details TBC.
Dr Eilish Dillon, Head of the Department of International Development looks forward to moderating this event.
This is an online event, watch it on YouTube Livestream and remember to subcribe to the channel to keep up with all #FirstWeds events.