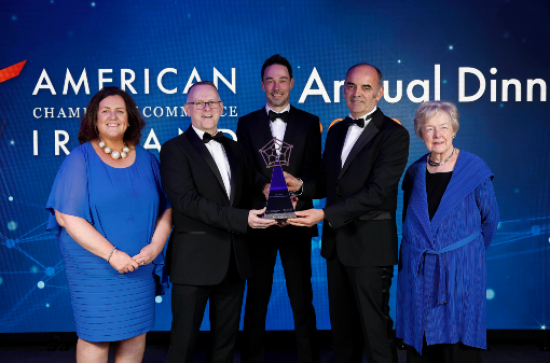 Wednesday, May 25, 2022 - 11:00
Maynooth University congratulates MU's Terrain-AI and Microsoft Ireland on receiving prestigious US-Ireland Research Innovation Award
Maynooth University is delighted to congratulate Terrain-AI and Microsoft Ireland on receiving a prestigious US-Ireland Research Innovation Award. The award for Innovation in Sustainability recognises a team demonstrating transformational change in environmental, economic, or social sustainability. Terrain-AI, led by Dr Rowan Fealy, Department of Geography and ICARUS Climate Research Centre, and Professor Tim McCarthy, Department of Computer Science, aims to help understand the impact of human activity on land use and as a driver of climate change for more sustainable land use.
The research team found that there is a lack in the level of detailed information required to enable the implementation of policies to address challenges including climate change and the need for sustainable food and natural resources production to meet future population demands. Terrain-AI aims to address these multiple interrelated, challenges in an integrated manner and sensitive to time and geographical contexts.
The multidisciplinary research collaboration develops new cloud-based, automated work-flows and machine learning data toolsets for profiling and characterising environment types for more effective and precise carbon mitigation policies and practices.
Terrain-AI is advancing the standards of measurement, monitoring, verification and reporting of carbon stocks and emissions across complex environments. The project is developing innovative AI solutions and technologies, integrated with computational models, to provide more accurate estimates of carbon fluxes across scales, and a deeper understanding of the effects of human activities, to enable decision makers to develop more effective climate mitigation strategies.
This is the second occasion in which a Maynooth University collaboration with Microsoft Ireland has won the US-Ireland Research Innovation Award.
Click here to watch a video on this year's winning project Terrain AI.