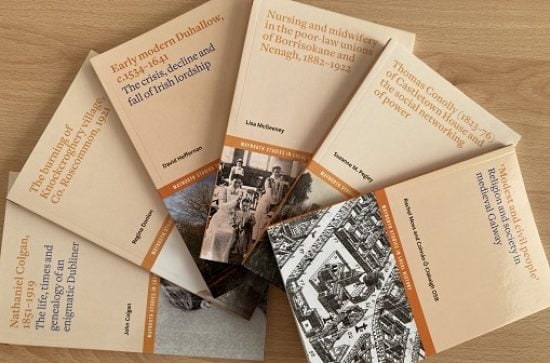 Tuesday, November 15, 2022 - 15:30
There was an excellent turnout for the launch of six new volumes in the Maynooth Studies in Local History series in the John Paul II Library at MU on 10 November 2022. This year's crop takes us from a broad look at the church in medieval Galway (Rachel Moss and Colmán Ó Clabaigh) to a very specific and tragic event in Knockcroghery village on the night of 20 June 1921 (Regina Donlon). En route we witness the gradual dismantling of Irish lordship in early modern north Co. Cork (David Heffernan), and the development of nursing and midwifery in Co. Tipperary at the turn of the twentieth century (Lisa McGeeney). Finally, we have biographical sketches of two remarkable men of the nineteenth century – Thomas Conolly (1823–76) of Castletown House in Co. Kildare (Suzanne Pegley) and botanist Nathaniel Colgan (1851–1919) of Dublin (John Colgan). Current and past volumes in the series can be purchased from publishers Four Courts Press at
www.fourcourtspress.ie
.
The books were launched by Prof. Raymond Gillespie, who recently stepped down as series editor after a remarkable twenty-seven years at the helm. Raymond established the series with Irish Academic Press as a direct result of the enormous success of the Maynooth MA in Local History programme, which began in 1992. Under Raymond's supervision, some 153 volumes were produced, authored by 140 different scholars (94 men and 46 women). Twelve people have each contributed two volumes to the series, while Prof. Terry Dooley is the only person to have written three. As Head of Department, Terry also spoke at the recent launch, and his announcement that the MA in Local History will be re-established in 2023 was met with great delight.
While the genesis and home of the MSLH series lie firmly at Maynooth, it is a mark of its appeal, its breadth and its inclusivity that this year's contributors are drawn from Carlow College, Glenstal Abbey, NUI Galway, Trinity College Dublin and the University of Limerick as well as Maynooth University. The new Series Editor Dr Michael Potterton also spoke at the launch. If you have a proposal or an enquiry, please contact the editor by email at Michael.L.Potterton@MU.ie.
Picture below are (l-r) Raymond Gillespie, David Heffernan, Suzanne Pegley, Regina Donlon, Michael Potterton, Lisa McGeeney, John Colgan and Terry Dooley.