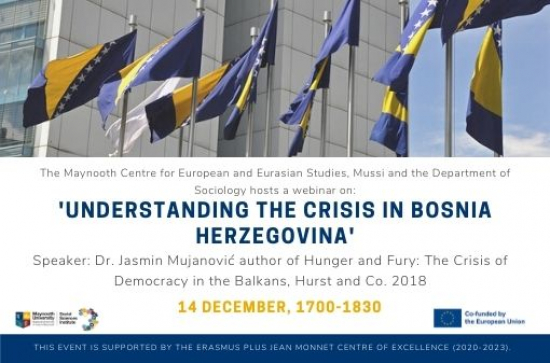 Tuesday, December 14, 2021 -

17:00

to

18:30
Online
The Maynooth Centre for European and Eurasian Studies, Mussi and the Department of Sociology hosts a webinar on:

'Understanding the crisis in Bosnia Herzegovina'

Speaker: Dr. Jasmin Mujanović (Independent Scholar/ author of Hunger and Fury: The Crisis of Democracy in the Balkans, Hurst and Co. 2018)
Dr. Jasmin Mujanović is a political scientist and analyst of Southeast European and international affairs with a PhD from York University in Toronto. He is the co-host of the popular regional podcast Sarajevo Calling and, until recently, a lecturer in Political Science and Policy Studies at Elon University. His career background is a unique blend of global academic and professional engagement, as he has worked as a scholar, policy analyst, consultant, researcher, and writer in both North America and Europe.
Jasmin's academic research concentrates primarily on the politics of contemporary Southeastern Europe, with a particular focus on the politics of the non-EU states of the Western Balkans. More broadly, his academic fields of interest and expertise are split between international relations, global political economy, and political theory. He is interested in democratization processes, state development (including the process of state and regime failure), and post-conflict and peace studies, in particular as these topics relate to Southeastern and Eastern Europe.
His first book, Hunger and Fury: The Crisis of Democracy in the Balkans, was published in 2018 by Hurst Publishers and Oxford University Press and drew extensively on the research that he conducted during his PhD research at York University, as well as during a stay at Columbia University as a Visiting Scholar at the Harriman Institute. He is also a regular contributor to international media, on Bosnia, the Western Balkans and other issues, including for Balkan Insight.
This event is supported by the Erasmus Plus Jean Monnet Centre of Excellence (2020-2023).
All are welcome.