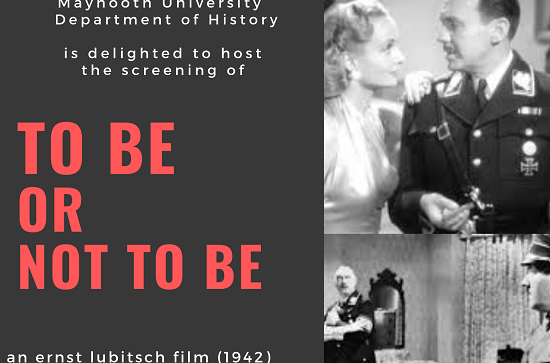 Wednesday, December 4, 2019 -

17:00

to

18:45
Iontas Theatre, Iontas Building, North Campus
FILM SCREENING - sponsored by the Department of History, Maynooth University

We are delighted to host the screening of an Ernst Lubitsch classic: To Be or Not to Be (1942)

4th December 2019, Wednesday, 5-7pm
Iontas Lecture Theatre, Iontas Building

About the film:
To Be or Not to Be is a black comedy about a Polish theatre company – led by Joseph and Maria Tura (Jack Benny and Carole Lombard) – that turns to espionage after being shut down by the invading Nazis.
While some critics were shocked at Lubitsch's "odd sense of humour" at the time of the picture's release in the middle of the Second World War, it is now considered to be a timeless comedy classic. In the words of Slovenian philosopher, Slavoj Žižek, "it is madness, you cannot do a better comedy"!

All welcome!