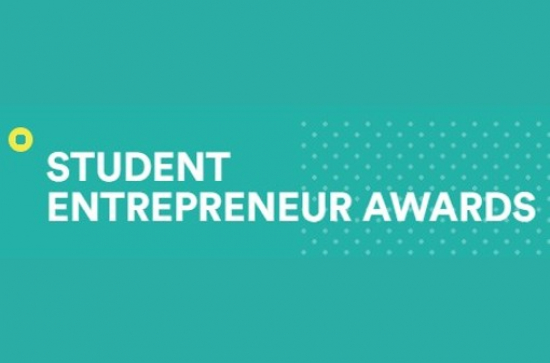 Thursday, June 9, 2022 - 13:30
We are delighted to announce that 2nd year student, Lauryn McGrath (Studying International Business) has made it into the Student Entrepreneurs Awards final - a huge achievement!
Her Company, Farmi-Fix, is an Eco-Friendly business aimed at reducing agricultural pollution. With increasing concerns surrounding the sustainability of agriculture, clever innovation must be made in order for our food supplies to be maintained. Following a wide-scale appeal to reduce environmental damage in the agricultural sectors in Ireland, Lauryn released her first product which reduces fertiliser usage massively.
Last year, several lakes in Ireland were closed due to fertiliser wastage entering waterways. This excess fertiliser enters waterways during periods of rainfall- this causes water to be unsafe for human use or consumption due to the high amounts of algal blooms caused. Furthermore, it starves fish and invertebrate life of oxygen, making it difficult for reproduction to occur. Therefore, our fish populations are decreasing massively in lakes and waterways. In Ireland, over 80% of our waterways are showing worrying signs of pollution.
The product being marketed will test soils for nutrient composition levels, providing definitive answers instantly on whether the soil needs to be fertilised at all and at which exact amounts-cutting both costs and pollution rates massively.
Just two months ago, nitrate fertiliser surpassed its highest ever cost record, having increased a massive 170% since January 2021 alone. Farmers all over Ireland are appealing to the government as these prices cannot be afforded. Lauryn's company cleverly improves the cost efficiency of farming amidst this crisis while reducing the environmental impact of farming on surrounding areas.
With hopes, clever innovations such as these will help make food production more sustainable all over the globe.
We are asking for lots of support in entering this competition! Lauryn is a young student entering this competition on her own and needs all the support she can get.
Like, follow and share the support to help Lauryn on her journey to create a more sustainable and eco-friendly future for Ireland.
Comhghairdeas Lauryn!
Her socials are:
Twitter @farmifix
Lauryn McGrath on LinkedIn
IG @laurynmcgrath_