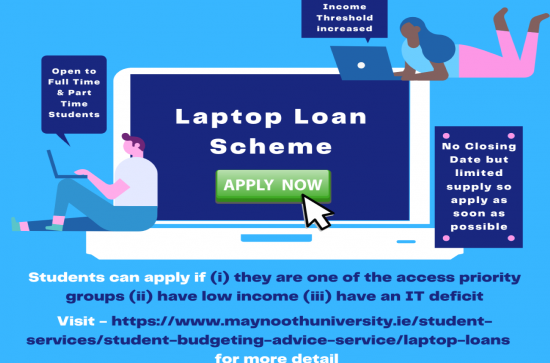 Friday, November 27, 2020 - 10:45
The government has introduced a scheme whereby undergraduate or postgraduate students may be eligible to receive a laptop, on long-term loan and at no charge, in order to assist with their online learning.
Full or Part-Time students who fall under the following categories may apply
do not own or have the use of a laptop or PC for my studies
have a laptop/PC I can use but it is shared with others in the home
have a laptop/PC I can use but it needs repair or upgrading
I or my family do not have sufficient funds to purchase a laptop/PC
I belong to one of the Priority Groups listed below
Priority Groups
Institutions are required to allocate devices on the basis of the priority groups identified in the National Plan for Equity of Access to Higher Education 2015-2021. These priority groups include:
Students disadvantaged by socio-economic barriers
First-time mature students
Students with disabilities
Part-time/flexible learning students
Students who hold further education qualifications
Students who are members of the Traveller and Roma communities
Students who are ethnic minorities
Students who are lone parents
The Laptop Loan Scheme is open to students from these priority groups that are full-time and part-time registered students, undergraduates and postgraduates, and both incoming first year and returning students. Non EU/EEA/International students are not eligible.

For more information and to apply click here
Any questions please email laptoploan@mu.ie