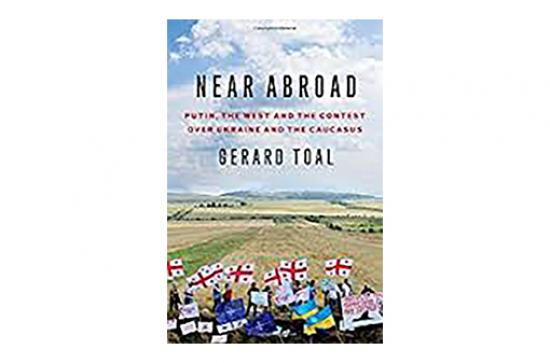 Monday, April 24, 2017 -

10:00

to

11:30
MUSSI Seminar Room, 2.31, Iontas Building
Professor Gerard Toal is Professor in the School of Public and International Affairs at Virginia Tech's campus in the Washington metro area. He is a graduate of Maynooth University (BA History and Geography), Illinois University (MA Geography) and Syracuse University (PhD) and is one of the most pre-eminent scholars of political geography in the world. Among his books are: Bosnia Remade: Ethnic Cleansing and Its Reversal (with C. Dahlman, New York and Oxford: Oxford University Press, 2011); A Geopolitics Reader (with S. Dalby and P. Routledge, Routledge, 2006); A Companion to Political Geography (J. Agnew, K. Mitchell and G. Toal, eds., Blackwell, 2004); Rethinking Geopolitics (with S. Dalby, eds., Routledge, 1998); An Unruly World? Geography, Globalization and Governance (A. Herod, G. Ó Tuathail and S. Roberts, eds, Routledge, 1998 and Critical Geopolitics: The Politics of Writing Global Space. Minneapolis: University of Minnesota Press (Volume 6 in the Borderlines series) and London: Routledge, 1996.

About the book: Before Russia invaded Ukraine, it invaded Georgia. Both states are part of Russia's "near abroad"—former Soviet republics that are now independent states neighboring Russia. While the Russia-Georgia war of 2008 faded from the headlines, the geopolitical contest that created it did not end. Six years later, Russia invaded and annexed Crimea, once part of Russia but part of independent Ukraine since the Soviet collapse. Crimea's annexation and subsequent war in eastern Ukraine have produced the greatest geopolitical crisis on the European continent since the end of the Cold War.
In Near Abroad, Gerard Toal moves beyond the polemical rhetoric that surrounds Russia's interventions in Georgia and Ukraine to study the underlying territorial conflicts and geopolitical struggles. Central to understanding are legacies of the Soviet Union collapse: unresolved territorial issues, weak states and a conflicted geopolitical culture in Russia over the new territorial order. The West's desire to expand NATO contributed to a growing geopolitical contest in Russia's near abroad. This found expression in a 2008 NATO proclamation that Georgia and Ukraine will become members of NATO, a 'red line' issue for Russia. The road to invasion and war in Georgia and Ukraine, thereafter, is explained in Near Abroad.

Geopolitics is often thought of as a game of chess. Near Abroad provides an account of real life geopolitics, one that emphasizes changing spatial relationships, geopolitical cultures and embodied dispositions. Rather than a cold game of deliberation, geopolitics is often driven by emotions and ambitions, by desires for freedom and greatness, by clashing personalities and reckless acts. Not only a penetrating analysis of Russia's relationships with its neighbors, Near Abroad also offers a critique of how US geopolitical culture frames Russia and the territories it sustains beyond its borders.