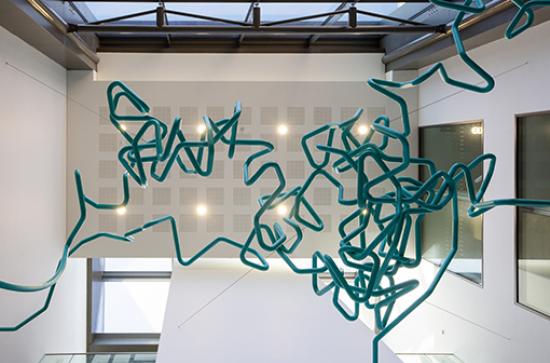 Tuesday, September 24, 2019 - 15:15
The Scribble sculpture by Irish artist Rhona Byrne was formally launched in the School of Education at Maynooth University.
The site-specific art work explores the complexities of learning processes and pathways. It expresses the energy and motion of neural networks, discovery, making connections, getting into knots and having breakthroughs.

The sculpture emerges from the rear courtyard, bends, loops, knots, clusters and traverses energetically throughout the School of Education building. A large circular seat invites groups to gather and share knowledge.

A graduate of NCAD with a BFA in Sculpture, Rhona Byrne's work is also represented in the collection of the Irish Museum of Modern Art, Fingal County Council, Facebook, Microsoft and Beaumont Hospital. The artwork was formally launched by Baroness Nuala O'Loan, Chair of Maynooth University's Governing Authority.
Seoladh an dealbh den teideal The Scribble i Scoil an Oideachais
Seoladh an dealbh den teideal The Scribble leis an ealaíontóir Rhona Byrne go foirmeálta i Scoil an Oideachais in Ollscoil Mhá Nuad.
Déanann an saothar ealaíne suíomhoiriúnaithe trácht ar na castachtaí a bhaineann le próisis agus conairí foghlama. Cuireann sé an fuinneamh agus an ghluaisne a bhaineann le líonraí néaracha, fionnachtain, nascanna, cruachás agus ceannródaíocht in iúl dúinn.
Gobann an dealbh amach ón gcúlchlós agus casann, lúbann, snaidhmíonn, cnuasaíonn agus trasnaíonn sé go fuinniúil trí fhoirgneamh Scoil an Oideachais. Meallann an suíochán mór ciorcalach grúpaí chun bailiú le chéile agus eolas a roinnt.
Is céimí de chuid an Choláiste Náisiúnta Ealaíne is Deartha le Baitsiléir Mínealaíne sa Dealbhóireacht í Rhona Byrne agus tá a hobair le feiscint sna bailiúcháin atá ag Áras Nua-Ealaíne na hÉireann, Comhairle Contae Fhine Gall, Facebook,
Microsoft agus Ospidéal Beaumont. Seoladh an saothar ealaíne go foirmeálta ag an mBanbharún Nuala O'Loan, Cathaoirleach ar Údarás Rialacháin Ollscoil Mhá Nuad.