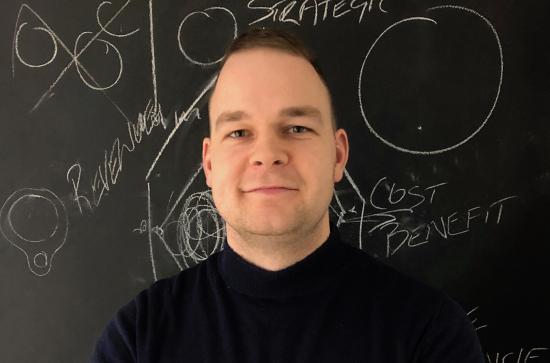 Lecturer
Programme Director
Rye Hall
B - 2nd Floor
(01) 708 6346
Martin is programme director for the Product Design degree, lecturer and researcher in the Department of Design Innovation and editor of Ireland's only design journal, Iterations. Martin lectures on a number of post graduate programmes and to industry groups on topics of entrepreneurship, design thinking, service design and innovation. His research interests centre on Design Thinking and early stage innovation processes.
Outside of academia, Martin is a multi-award winning designer and entrepreneur. In 2012 Martin founded BUA saddles – A revolutionary equestrian saddle which he conceived and developed to improve performance and comfort for horse and rider. Bua saddles launched its first product to market in 2015, quickly establishing a customer base in 18 countries. Martin is also a founding Partner at Actionable Innovation consultants (
www.thinkactionable.com
) and advises on innovation processes, design thinking, [product and service design across a variety of organisational sectors. Over the years Martin has acclaimed a number of awards, notably including, the Irish Dyson Design Award, IDI Graduate Designer Award, and finalist in the International Volvo Sports Design Award.
Design Thinking, Innovation Strategies, User Centered Design, Early stage innovation processes, Entrepreneurship and startups
Year
Publication
2020
Balanced Innovation.
Frank Devitt Martin Ryan Trevor Vaugh (2020) Balanced Innovation. London: Routledge. [Details]
 
Year
Publication
2018
'How Irish design consultancies align with Ireland's Innovation 2020 priorities: a preliminary study'
Kiernan, Alen; Robbins, Peter; Devitt, Frank; Vaugh, Trevor; Ryan, Martin; Koffel, Rachael (2018) 'How Irish design consultancies align with Ireland's Innovation 2020 priorities: a preliminary study'. ITERATIONS Design Research and Practice Review, (7):18-25 [DOI] [IR Link] [Details]
2018
'Design-driven Entrepreneurship; An interview with four Irish designer-founders'
Ryan, Martin; Vaugh, Trevor (2018) 'Design-driven Entrepreneurship; An interview with four Irish designer-founders'. ITERATIONS Design Research and Practice Review, (7):36-43 [DOI] [IR Link] [Details]
2018
'Design thinking, the driver of innovation in Irish industry; An interview with Denis Hayes, Managing Director of the IRDG'
Ryan, Martin; Vaugh, Trevor (2018) 'Design thinking, the driver of innovation in Irish industry; An interview with Denis Hayes, Managing Director of the IRDG'. ITERATIONS Design Research and Practice Review, (7):46-51 [DOI] [IR Link] [Details]
2015
'Getting the right design or getting the design right; An observation of 18 projects progressing through a structured design thinking process'
Vaugh, Trevor and Ryan, Martin (2015) 'Getting the right design or getting the design right; An observation of 18 projects progressing through a structured design thinking process'. ITERATIONS Design Research and Practice Review, 1 (1):14-21 [IR Link] [Details]
Year
Publication
2017
Unlocking Design Thinking's Potential
Devitt.F, Ryan.M, Robbins.P, Vaugh.T (2017) Unlocking Design Thinking's Potential . In: The ISPIM eds. The ISPIM Innovation Summit – Building the Innovation Century Melbourne, Australia, , 10-DEC-17 - 13-DEC-17 [IR Link] [Details]
2014
An Investigation into Design Thinking Behaviours in Early Stage Radical Innovation
Martin P. RYAN and Frank DEVITT (2014) An Investigation into Design Thinking Behaviours in Early Stage Radical Innovation . In: Erik Bohemia, Alison Rieple, Jeanne Liedtka, Rachel Cooper eds. Design Management in an Era of Disruption: Proceedings of the 19th DMI: Academic Design Management Conference London, , 02-SEP-14 - 04-SEP-14 [IR Link] [Details]
Year
Publication
2019
Design Thinking: Exploring the problem and finding human centred solutions.
Martin Ryan (2019) Design Thinking: Exploring the problem and finding human centred solutions. [Keynote Address], Revenue Conference 2019, Dublin Castle , 10-DEC-19 - 10-DEC-19 [Details]
2019
Innovating one of the world's most traditional industries through design thinking: The story of the Bua Saddle.
Martin Ryan (2019) Innovating one of the world's most traditional industries through design thinking: The story of the Bua Saddle. [Keynote Address], Design Thinking Ireland 2019, Croke Park, Dublin , 25-JUN-19 [Details]
2015
Getting The Right Design.
Martin Ryan, Trevor Vaugh (2015) Getting The Right Design. [Oral Presentation], Faultlines - Bridging Knowledge Spaces, Carlow Institute of Technology [Details]
2014
Design Management in an Era of Disruption.
Martin Ryan (2014) Design Management in an Era of Disruption. [International Refereed Conference], 19th Academic Design Management Conference, London [Details]
2013
Innovation Strategies - How Good Innovations Emerge.
Martin Ryan (2013) Innovation Strategies - How Good Innovations Emerge. [Keynote Address], Design Thinking, Engineers Ireland [Details]
2009
User First Design Seminar.
(2009) User First Design Seminar. [Oral Presentation], The Value of Design in Industry, National College of Art & Design [Details]
2008
International Society of Equitation Science Conference 2008.
(2008) International Society of Equitation Science Conference 2008. [Poster Presentation], Are there advantages to a cantilevered saddle over traditional English and western type saddles?, RDS, Dublin [Details]
Year
Publication
2016
A saddle tree and a method for limiting upward travel of a seat forming element relative to a back engaging element of the saddle tree.
LACEY, W.V. and CONBOY, A. and Ryan, M.P. (2016) A saddle tree and a method for limiting upward travel of a seat forming element relative to a back engaging element of the saddle tree. Technical Publication [Details]
2008
Saddle for an Animal.
Ryan, M.P. (2008) Saddle for an Animal. Technical Publication [Details]
| | Year | Title | Awarding Body |
| --- | --- | --- | --- |
| | 2005 | Winner of IDI Graduate Designer Award | Institute of Designers of Ireland |
| | 2007 | Bombay Sapphire Design Award, runner up | Bombay Sapphire |
| | 2005 | Winner of the Irish Dyson Design Award | Dyson |
| | 2006 | Finalist, ISPO Volvo sport Design Award, Munich | ISPO |
| | 2007 | DuPont 40/40 | DuPont |
| | 2006 | Enterprise Ireland Student Award | Enterprise Ireland |
| | 2016 | JEC World Innovation Award 2016, winner | JEC Composites |
| | 2016 | Seedcorn Competition, highly commended | Intertrade Ireland |
| | 2016 | Postgrad Ireland 'Best New Course 2016' for the MSc in Design innovation | Postgrad Ireland |
| | 2016 | IDI Collaborative Award for Iterations Design & Practice review | Institute of Designers of Ireland |
Professional Associations
| | Association | Function | From / To |
| --- | --- | --- | --- |
| | Institute of Designers, Ireland | Member | / |
| | Committee | Function | From / To |
| --- | --- | --- | --- |
| | Teaching & Learning committee | Member | 2014 / |
| | Maynooth Green Campus Comittee | Member | 2012 / 2015 |
| | Journal | Role |
| --- | --- | --- |
| | Iterations Design Research And Practice Review | Series Editor |
| | Iterations Design Research And Practice Review | Editor |
PD102/PD152 Design modelling: material and virtual
PD402C Final year individual project proposal
PD402B Final year individual design project
PD608 Applied innovation lab
PD620 MSc Level 9 Masters Dissertation

Previous
PD206 Computer aided design & visualisation
PD212 Innovating radical products and brands
PD304 Design for environment and sustainability
PD106 Design conceptualisation and model making


|   | Name | Institute | Country |
| --- | --- | --- | --- |
| | Trevor Vaugh | | IRELAND |