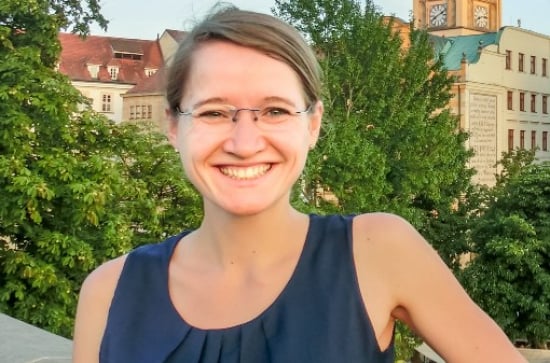 Levke Caesar joined the Irish Climate Analysis and Research UnitS at Maynooth University in October 2019. She is working as a postdoctoral researcher on the A4 project, investigating how changes in the Atlantic region, particularly with respect to ocean circulations, will affect Ireland.
Her main focus is on the evolution of the Atlantic Meriodional Overturning Circulation (AMOC).
As part of her doctoral research, she showed that this important ocean circulation system has slowed by about 15 percent since the mid-20th century (Caesar et al., 2018). Follow-up work with colleagues from Maynooth University and Imperial College in London suggests that this slowdown is unprecedented for more than 1,000 years and that the AMOC has been weaker in recent decades than at any time during that period (Caesar et al., 2021).
Dr Caesar studied Climate Physics at the University of Potsdam and the Helmholtz Centre for Ocean Research in Kiel.
 
Year
Publication
2021
'Current Atlantic Meridional Overturning Circulation weakest in last millennium'
Caesar, L;McCarthy, GD;Thornalley, DJR;Cahill, N;Rahmstorf, S (2021) 'Current Atlantic Meridional Overturning Circulation weakest in last millennium'. Nature Geoscience, [DOI] [full-text] [Details]
2021
'An Overview of Ocean Climate Change Indicators: Sea Surface Temperature, Ocean Heat Content, Ocean pH, Dissolved Oxygen Concentration, Arctic Sea Ice Extent, Thickness and Volume, Sea Level and Strength of the AMOC (Atlantic Meridional Overturning Circulation)'
Garcia-Soto, Carlos and Cheng, Lijing and Caesar, Levke and Schmidtko, S. and Jewett, Elizabeth B. and Cheripka, Alicia and Rigor, Ignatius and Caballero, Ainhoa and Chiba, Sanae and Báez, Jose Carlos and Zielinski, Tymon and Abraham, John Patrick (2021) 'An Overview of Ocean Climate Change Indicators: Sea Surface Temperature, Ocean Heat Content, Ocean pH, Dissolved Oxygen Concentration, Arctic Sea Ice Extent, Thickness and Volume, Sea Level and Strength of the AMOC (Atlantic Meridional Overturning Circulation)'. Frontiers in Marine Science, 8 [DOI] [Details]
2020
'On the relationship between Atlantic meridional overturning circulation slowdown and global surface warming'
Caesar, Levke and Rahmstorf, Stefan and Feulner, Georg (2020) 'On the relationship between Atlantic meridional overturning circulation slowdown and global surface warming'. Environmental Research Letters, 15 (2) [DOI] [full-text] [Details]
2020
'Reply to the Comment on On the relationship between AMOC slowdown and global surface warming'
Caesar, L., Rahmstorf, S., and Feulner, G (2020) 'Reply to the Comment on On the relationship between AMOC slowdown and global surface warming'. Environmental Research Letters (ERL), [DOI] [full-text] [Details]
2019
'Unravelling the spatial diversity of Indian precipitation teleconnections via a non-linear multi-scale approach'
Kurths, Jürgen and Agarwal, Ankit and Shukla, Roopam and Marwan, Norbert and Rathinasamy, Maheswaran and Krishnan, Raghavan and Merz, Bruno (2019) 'Unravelling the spatial diversity of Indian precipitation teleconnections via a non-linear multi-scale approach'. Nonlinear Processes in Geophysics, 26 :251-266 [DOI] [full-text] [Details]
2019
'Network-based identification and characterization of teleconnections on different scales'
Agarwal, Ankit and Marwan, Norbert and Rathinasamy, Maheswaran and Merz, Bruno and Kurths, Juergen (2019) 'Network-based identification and characterization of teleconnections on different scales'. Scientific Reports, 9 [DOI] [full-text] [Details]
2018
'Observed fingerprint of a weakening Atlantic Ocean overturning circulation'
Caesar, Levke and Rahmstorf, Stefan and Robinson, Alexander and Feulner, Georg and Saba, Vincent (2018) 'Observed fingerprint of a weakening Atlantic Ocean overturning circulation'. Nature, 556 (7700):191-196 [full-text] [Details]
2018
'Wavelet-based multiscale similarity measure for complex networks'
Agarwal, Ankit and Rathinasamy, Maheswaran and Marwan, Norbert and Kurths, Juergen (2018) 'Wavelet-based multiscale similarity measure for complex networks'. The European Physical Journal B, 91 [DOI] [full-text] [Details]
2018
'The dynamical core of the Aeolus 1.0 statistical-dynamical atmosphere model: Validation and parameter optimization'
Totz, Sonja and Eliseev, A. and Petri, Stefan and Flechsig, Michael and Petoukhov, Vladimir and Coumou, Dim (2018) 'The dynamical core of the Aeolus 1.0 statistical-dynamical atmosphere model: Validation and parameter optimization'. Geoscientific Model Development, 11 :665-679 [DOI] [full-text] [Details]
2017
'North Atlantic observations sharpen meridional overturning projections'
Olson, R. and An, Soon-Il and Fan, Yanan and Evans, Jason (2017) 'North Atlantic observations sharpen meridional overturning projections'. Climate Dynamics, 50 [DOI] [Details]
 
Year
Publication
2021
'Chapter 05, Trends in the physical and chemical state of the ocean'
Carlos Garcia-Soto (convener and lead member), Levke Caesar, Anny Cazenave, Lijing Cheng, Alicia Cheripka, Paul Durack, Karen Evans (co-lead member), David Halpern, Libby Jewett, Sung Yong Kim, Guancheng Li, Ignatius Rigor, Sunke Schmidtko, Juying Wang (co-lead member) and Tymon Zielinski (co-lead member) (2021) 'Chapter 05, Trends in the physical and chemical state of the ocean' In: World Ocean Assessment II. New York: United Nations. [Details]
| | Year | Title | Awarding Body |
| --- | --- | --- | --- |
| | 2020 | Publication Prize | Leibniz-Kolleg Potsdam, Germany |
| | 2015 | Jacob Jacobi Prize | University of Potsdam |