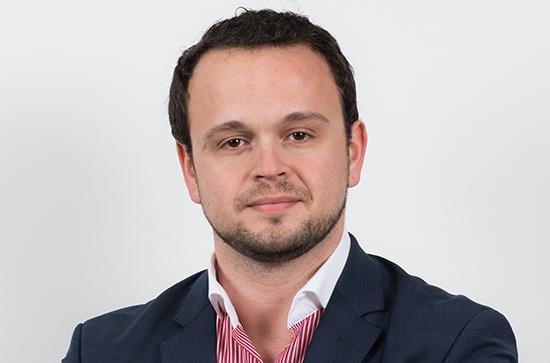 Lecturer
Assistant Professor
School of Business Building
26
(01) 474 7629
Dr Jon Gruda is an Assistant Professor in Organisational Behaviour at Maynooth University. He also serves as the Academic (Post-Graduate) Placement Co-Ordinator in the School of Business.

His previous appointment was at emlyon Business School (France) where he completed his PhD in Management from 2012 to 2017, together with a joint Doctorate in Psychology (Dr. rer. nat.) at Goethe University Frankfurt am Main (Germany). During his PhD, Dr Gruda also enrolled and completed a MSc in Affective Neuroscience from Maastricht University. As part of this degree, Dr Gruda also completed coursework and was awarded the European Certificate of Anxiety and Depression. It was this work that inspired his recent interdisciplinary work with colleagues on detecting anxiety using machine learning (
https://www.rte.ie/brainstorm/2019/0115/1023290-can-ai-reduce-anxiety-in-the-workplace/
).

Due to his training in econometrics and psychometrics, Dr Gruda recently was selected as one of 373 young scholars out of 20,000 applicants worldwide to attend the Lindau Nobel Prize Laureates Meeting in Economic Sciences (http://research.ie/what-we-do/loveirishresearch/blog/six-early-career-researchers-chosen-to-represent-ireland-in-lindau-at-the-nobel-laureate-meetings/).

Dr Gruda also holds a MSc from emlyon in Management Research (2012-2014), as well as a triple MSc degree from City University London (Cass Business School), ESCP Europe Paris and ESCP Europe Berlin (2010-2012). He completed his BSc in International Business and Management at the University of Groningen from 2007-2010.


In addition to his research, Dr Gruda also has attended and chaired several international conference sessions, including the Academy of Management Annual Meeting, the annual Interdisciplinary Perspectives on Leadership Symposium and bi-annual Emotions and Worklife International Conference. In terms of research interests, Dr Gruda primarily focuses on relational leadership, dark leadership traits, personality, in addition to the aforementioned work on anxiety.

Finally, due to his interest and application of innovative methodologies such as machine learning and AI, Dr. Gruda serves as an Associate Editor of Frontiers in Psychology as well as Frontiers in Blockchain, in addition to Reviewer roles in several academic journals.
My research follows three main streams.

Firstly, I study leader-follower interactions as well as the perception of leadership from the follower perspective. I do so in various contexts, including online interactions. In terms of research methods, most of my work is experimental in nature (experimental psychology) as well as longitudinal. Together with colleagues I have also developed and applied machine learning algorithms to predict various personality traits, such as narcissism, in online interactions.

Secondly, I have been focusing on introducing data science methods, such as machine learning and AI and Big Data, into the leadership and management literature. Currently, there have only been initial attempts to introduce these methods into the applied psychology literature. For example, the interdisciplinary research work with colleagues, now allows us to accurately predict anxiety using social media data. In turn, our algorithm can now be used to track anxiety in specific samples or entire populations over time.

Finally, my third research stream focuses on the merger of my training in psychology and my academic background in affective neuroscience. To that effect, I have begun working with an interdisciplinary research team, in which we aim to identify and study the impact of both physiological and psycho-social phenotypes on leadership ability.


 
Year
Publication
2021
'I Alone Can Fix It: Examining interactions between narcissistic leaders and anxious followers on Twitter using a machine learning approach'
Gruda, D., Karanatsiou D., Mendhekar K., Golbeck J., Vakali A. (2021) 'I Alone Can Fix It: Examining interactions between narcissistic leaders and anxious followers on Twitter using a machine learning approach'. Journal of the Association for Information Science and Technology, :1-14 [DOI] [Details]
2020
'Risk-taking, resilience, and state anxiety during the COVID-19 pandemic: A coming of (old) age story'
McCleskey J., Gruda D. (2020) 'Risk-taking, resilience, and state anxiety during the COVID-19 pandemic: A coming of (old) age story'. PERSONALITY AND INDIVIDUAL DIFFERENCES, [DOI] [Details]
2020
'I'm simply the best, better than all the rest: Narcissistic leaders and corporate fundraising success'
Gruda D., McCleskey J., Karanatsiou D., Vakali A. (2020) 'I'm simply the best, better than all the rest: Narcissistic leaders and corporate fundraising success'. PERSONALITY AND INDIVIDUAL DIFFERENCES, [Details]
2020
'Attachment Orientations Guide the Transfer of Leadership Judgments: Culture Matters'
Gruda, D, Kafetsios, K (2020) 'Attachment Orientations Guide the Transfer of Leadership Judgments: Culture Matters'. Personality and Social Psychology Bulletin, [DOI] [full-text] [Details]
2019
'Feeling anxious? Perceiving anxiety in tweets using machine learning'
Gruda D.;Hasan S. (2019) 'Feeling anxious? Perceiving anxiety in tweets using machine learning'. Computers in Human Behavior, 98 :245-255 [DOI] [full-text] [Details]
2018
'Interdependent Followers Prefer Avoidant Leaders: Followers' Cultural Orientation Moderates Leaders' Avoidance Relationships with Followers' Work Outcomes'
Gruda D., Kafetsios K. (2018) 'Interdependent Followers Prefer Avoidant Leaders: Followers' Cultural Orientation Moderates Leaders' Avoidance Relationships with Followers' Work Outcomes'. Frontiers in Psychology, [DOI] [full-text] [Details]
2017
'Seems Fair to Me: Dyadic Leader Consensus Mediates Fairness and Group Performance'
Gruda D., McCleskey J., Berrios R. (2017) 'Seems Fair to Me: Dyadic Leader Consensus Mediates Fairness and Group Performance'. Small Group Research, :1-31 [DOI] [full-text] [Details]
Year
Publication
2021
Inferring the Relationship between Anxiety and Extraversion from Tweets during COVID19 – A Linguistic Analytics Approach
Gruda D., Ojo A. (2021) Inferring the Relationship between Anxiety and Extraversion from Tweets during COVID19 – A Linguistic Analytics Approach Proceedings of the 54th Hawaii International Conference on System Sciences Hawaii, , 05-JAN-21 - 08-JAN-21 , pp.2689-2698 [Details]
Year
Publication
2020
Academy of Management Annual Meeting 2020.
Psychogios A., Prouska R., Szamosi L., Gruda D. (2020) Academy of Management Annual Meeting 2020. [Oral Presentation], Can we trust them again? A Framework for Repairing Trust in SMEs in an Economic Crisis Context, Vancouver , 07-AUG-20 - 11-AUG-20 [Details]
2020
International Conference on Emotions and Organizational Life XII EMONET XII 2020.
McCleskey J., Berrios R., Gruda D. (2020) International Conference on Emotions and Organizational Life XII EMONET XII 2020. [Oral Presentation], Revisiting Joseph and Newman: Specifying the role of Emotional Labor in the Cascading Model of Emotional Intelligence, Online , 08-JUL-20 - 09-JUL-20 [Details]
2019
Interdisciplinary Perspectives on Leadership Symposium.
Gruda D., Psychogios A., Melnyk Y. (2019) Interdisciplinary Perspectives on Leadership Symposium. [Oral Presentation], The Power of Temperament: Exploring the Biological Foundations of Leadership Perceptions, Corfu, Greece [Details]
2019
Interdisciplinary Perspectives on Leadership Symposium.
Gruda D., Berrios R., McCleskey J. (2019) Interdisciplinary Perspectives on Leadership Symposium. [Oral Presentation], Anxious Attachment and the Deceiving Nature of Good First Impressions, Corfu, Greece [Details]
2018
Institute of Work Psychology International Conference 2018.
Gruda D. (2018) Institute of Work Psychology International Conference 2018. [Oral Presentation], The Self, The Other, and In-between: Attachment Orientations and Leader Preference, Sheffield, UK , 19-JUN-18 - 21-JUN-18 [Details]
2018
Interdisciplinary Perspectives on Leadership Symposium.
Gruda D., Kafetsios K. (2018) Interdisciplinary Perspectives on Leadership Symposium. [Oral Presentation], Causing (or Inhibiting) Emotional Exhaustion at Work: Regulatory Matching between Leaders' Attachment Orientations and Followers' Emotion Labor Strategies, Crete, Greece , 09-MAY-18 - 12-MAY-18 [Details]
2018
Academy of Management Annual Meeting 2018.
Gruda D., Hasan S. (2018) Academy of Management Annual Meeting 2018. [Oral Presentation], You're Anxious and I know it! A Machine Learning Approach to perceiving Anxiety in Micro-Blog Data, Chicago, IL [Details]
2017
Academy of Management Annual Meeting 2017.
Gruda D. (2017) Academy of Management Annual Meeting 2017. [Oral Presentation], I Know a Leader When I See One: Implicit Leadership Theories and Attachment Styles, Atlanta, GA [Details]
2017
Interdisciplinary Perspectives on Leadership Symposium.
Gruda, D., Kafetsios, K. (2017) Interdisciplinary Perspectives on Leadership Symposium. [Oral Presentation], Case of Mistaken Identity – Attachment as a Predictor of Leader Transference, Mykonos, Greece , 04-MAY-17 - 06-MAY-17 [Details]
2017
European Association of Work and Organizational Psychology Congress.
Gruda, D. (2017) European Association of Work and Organizational Psychology Congress. [Oral Presentation], You Are What I Say You Are: Leader Transference and Attachment Theory, Dublin, Ireland , 17-MAY-17 - 20-MAY-17 [Details]
2017
European Association of Work and Organizational Psychology Congress.
Berrios R., Gruda D., McCleskey J. (2017) European Association of Work and Organizational Psychology Congress. [Oral Presentation], Emotions in groups as a function of dyadic member exchanges over time, Dublin, Ireland , 17-MAY-17 - 20-MAY-17 [Details]
2016
EAWOP Summer School.
Gruda D. (2016) EAWOP Summer School. [Poster Presentation], We have so much in common! Leader Transference and Attachment Theory, Birmingham , 12-SEP-16 - 16-SEP-16 [Details]
2016
Southwest Academy of Management Annual Meeting 2016.
McCleskey J., Gruda D., Tumel F. (2016) Southwest Academy of Management Annual Meeting 2016. [Oral Presentation], New Directions in Leadership: Emotional Intelligence, Leadership Emergence and Perceived Organizational Justice, Oklahoma City, OK , 09-MAR-16 - 11-MAR-16 [Details]
2016
International Conference on Emotions and Organizational Life X EMONET.
McCleskey J., Berrios R., Gruda D. (2016) International Conference on Emotions and Organizational Life X EMONET. [Oral Presentation], Embracing Emotional Labor Context: An Investigation of Ability Model Emotional Intelligence and Leadership Effectiveness, Rome, Italy , 04-JUL-16 - 05-JUL-16 [Details]
2016
Interdisciplinary Perspectives on Leadership Symposium.
Gruda D., Berrios R., McCleskey J. (2016) Interdisciplinary Perspectives on Leadership Symposium. [Oral Presentation], Who Says You're Not Perfect: Influence of Attachment Styles on the Perception and Evaluation of Others' Leadership Abilities, Rhodes, Greece , 05-MAY-16 - 07-MAY-16 [Details]
2015
European Association of Work and Organizational Psychology Congress.
Gruda D. (2015) European Association of Work and Organizational Psychology Congress. [Oral Presentation], Conform or Perish: A 'Familiar' Look at Group Conformity – Attachment Style and Team Dynamics, Oslo, Norway , 20-MAY-15 - 23-MAY-15 [Details]
2014
International Conference on Emotions and Organizational Life EMONET IX.
Gruda D., Rohrmann S. (2014) International Conference on Emotions and Organizational Life EMONET IX. [Oral Presentation], Increasing Employees' Performance through Negative Affective Feedback, Philadelphia, PA , 28-JUL-14 - 29-JUL-14 [Details]
2013
BPS Social Psychology Section Annual Conference.
Gruda D. (2013) BPS Social Psychology Section Annual Conference. [Oral Presentation], Harnessing the Power of Psychopathic Behavior, Exeter, UK , 28-AUG-13 - 30-AUG-13 [Details]
| | Year | Title | Awarding Body |
| --- | --- | --- | --- |
| | 2020 | Benedictine University Award for Outstanding Paper on Ethical Issues in Consulting | Academy of Management |
| | 2020 | Wharton Global Faculty Development Program | Wharton School of University of Pennsylvania |
| | 2020 | 7th Lindau Nobel Laureates Meeting on Economic Sciences | Lindau Nobel Laureates Foundation |
| | 2020 | Lindau Nobel Laureates Meeting Online Sciathon | Lindau Nobel Laureate Meetings Foundation |
| | Year | Institution | Qualification | Subject |
| --- | --- | --- | --- | --- |
| | 2018 | Maastricht University | MSc | Affective Neuroscience |
| | 2017 | EMLYON Business School | PhD | Management |
| | 2017 | Goethe University Frankfurt am Main | Dr. rer. nat. | Psychology |
| | 2014 | EMLYON Business School | MPhil | Management Research |
| | 2012 | ESCP Europe Paris/Berlin | MSc, Diplome Grande Ecole | Management |
| | 2012 | City University London | MSc | Management |
| | 2010 | Rijksuniversiteit Groningen | BSc | International Business & Management |
| | Language | Reading | Writing | Speaking |
| --- | --- | --- | --- | --- |
| | English | Fluent | Fluent | Fluent |
| | German | Fluent | Fluent | Fluent |
| | French | Functional | Functional | Functional |
| | Dutch | Functional | Basic | Basic |
| | Journal | Role |
| --- | --- | --- |
| | Academy Of Management Annual Meeting Proceedings | Reviewer |
| | Frontiers In Psychology | Reviewer |