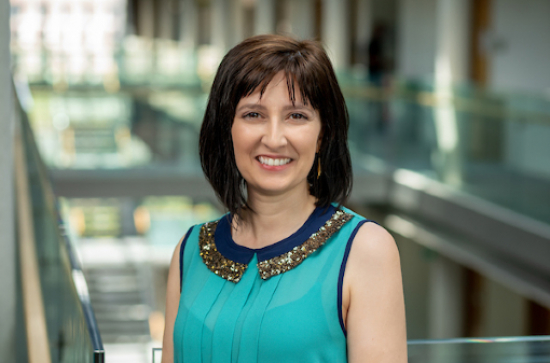 Dr. Ana de Prada Pérez joined the Department of Spanish and Latin American Studies in 2018, after working at the University of Florida for nine years. She obtained her Ph.D. from The Pennsylvania State University on Spanish linguistics in 2009.
At Maynooth University, she teaches courses on Spanish and Spanish linguistics at the undergraduate and postgraduate levels as well as courses on Applied Linguistics for the MA in Applied Linguistics and Intercultural Studies.
She is currently SPA 331/332 coordinator and final year coordinator.
My area of interest is syntactic variation, particularly as it applies to bilingualism and second language acquisition. I use variationist methods to study Spanish-English and Spanish-Catalan bilinguals to normalize bilingual speech and inform and propose theories of bilingualism.

My primary research interests focus on the structural outcomes of bilingualism and code-switching (CS) in Spanish. I take an interdisciplinary approach to the grand challenge question in bilingualism and language contact research: what restricts cross-linguistic influence and CS? In both research areas, I address the traditional enquiry of the formal generative tradition while applying data-driven approaches to data analysis, specifically those in variationist literature. My research is interdisciplinary, connecting issues in bilingualism/SLA with sociolinguistics by investigating the role of linguistic and extra-linguistic factors on bilingual speech or the speech of second language learners.
 
Year
Publication
2020
'Subject Expression in Heritage Speaker Spanish Oral Production'
Ana de Prada Pérez (2020) 'Subject Expression in Heritage Speaker Spanish Oral Production' In: Luis A. Ortiz López, Rosa Guzzardo Tamargo and Melvin Gonzalez Rivera (eds). Inquiries in Hispanic Contact Linguistics: Theoretical, Methodological and Empirical Perspectives. Amsterdam: John Benjamins. [Details]
2020
'The Effect of Grammatical Person on Subject Pronoun Expression in the Oral Narratives of Spanish Second Language Learners'
Ana de Prada Pérez, Nicholas Feroce (2020) 'The Effect of Grammatical Person on Subject Pronoun Expression in the Oral Narratives of Spanish Second Language Learners' In: Diego Pascual y Cabo, Idoia Elola (eds). Current Theoretical and Applied Perspectives on Hispanic and Lusophone Linguistics. Amsterdam: John Benjamins. [Details]
2020
'The Effect of Person in the Subject Expression of Spanish Heritage Speakers'
Ana de Prada Pérez, Inmaculada Gómez Soler (2020) 'The Effect of Person in the Subject Expression of Spanish Heritage Speakers' In: Wilfredo Valentín-Márquez and Melvin González-Rivera (eds). Dialects from Tropical Islands: Caribbean Spanish in the United States. London: Routledge. [Details]
2017
'Examining Code-Switching Performance Theories: Copula Choice in Spanish Among Cuban Heritage Speakers'
Ana de Prada Pérez, Andrea Hernández (2017) 'Examining Code-Switching Performance Theories: Copula Choice in Spanish Among Cuban Heritage Speakers' In: Alejandro Cuza (eds). Cuban Spanish Dialectoloy: Variation, Contact and Change. Washington, DC: Georgetown University Press. [Details]
2016
'On the Productive Use of 'Hacer + V' in Northern Belize Bilingual/Trilingual Code-switching'
Osmer Balam, Ana de Prada Pérez (2016) 'On the Productive Use of 'Hacer + V' in Northern Belize Bilingual/Trilingual Code-switching' In: Rosa E. Guzzardo Tamargo, Catherine A. Mazak, and M. Carmen Parafita Cuoto (eds). Code-switching in the Spanish-speaking Caribbean and its Diaspora. Amsterdam: John Benjamins. [Details]
2015
'First Person Singular Subject Pronoun Expression in Spanish in Contact with Catalan'
Ana de Prada Pérez (2015) 'First Person Singular Subject Pronoun Expression in Spanish in Contact with Catalan' In: Ana M. Carvalho, Rafael Orozco, and Naomi Shin (eds). Subject Pronoun Expression in Spanish: A Cross-Dialectal Perspective. Washington, D.C: Georgetown University Press. [Details]
2013
'Input and Quirky Agreement: Comparing Heritage Speakers and L2ers'
Ana de Prada Pérez, Diego Pascual y Cabo (2013) 'Input and Quirky Agreement: Comparing Heritage Speakers and L2ers' In: Stavroula Stavrakaki, Marina Lalioti, and Xenia Konstantinopoulou (eds). Advances in Language Acquisition. Newcastle Upon Tyne: Cambridge Scholars Publishing. [Details]
2010
'Variation in Subject Expression in Western Romance'
Ana de Prada Pérez (2010) 'Variation in Subject Expression in Western Romance' In: Sonia Colina, Antxon Olarrea and Ana Maria Carvalho (eds). Romance Linguistics 2009: Selected papers from the 39th Linguistic Symposium on Romance Languages (LSRL). Amsterdam: John Benjamins. [Details]
Year
Publication
2013
Selected Proceedings of the 16th Hispanic Linguistics Symposium
Cabrelli Amaro, Jennifer, Gillian Lord, Ana de Prada Pérez, and Jessi Elana Aaron (Ed.). (2013) Selected Proceedings of the 16th Hispanic Linguistics Symposium Sommerville, MA: Cascadilla Proceedings Project. [Details]
 
Year
Publication
2020
'The effect of grammatical person on subject pronoun expression in the oral narratives of Spanish second language learners'
De Prada Pérez A.;Feroce N. (2020) 'The effect of grammatical person on subject pronoun expression in the oral narratives of Spanish second language learners'. Issues In Hispanic And Lusophone Linguistics, 27 :85-107 [DOI] [Details]
2021
'How do Spanish heritage speakers in the US assign gender to English nouns in Spanish-English code-switching?: The effect of noun canonicity and codeswitcher type'
Denbaum N.;De Prada Pérez A. (2021) 'How do Spanish heritage speakers in the US assign gender to English nouns in Spanish-English code-switching?: The effect of noun canonicity and codeswitcher type'. Linguistic Approaches to Bilingualism, 11 (6):846-872 [DOI] [full-text] [Details]
2021
'Variable future-time expression in spanish: A comparison between heritage and second language learners'
Pérez A.d.P.;Soler I.G.;Feroce N. (2021) 'Variable future-time expression in spanish: A comparison between heritage and second language learners'. Languages, 6 (4) [DOI] [Details]
2021
'What can l2ers tell us about codeswitching? Mood selection in Spanish'
Feroce N.;de Prada Pérez A.;Kennedy L. (2021) 'What can l2ers tell us about codeswitching? Mood selection in Spanish'. Languages, 6 (4) [DOI] [Details]
2020
'How do Spanish heritage speakers in the US assign gender to English nouns in Spanish-English code-switching? The effect of noun canonicity and codeswitcher type'
Nofiya Denbaum, Ana de Prada Pérez (2020) 'How do Spanish heritage speakers in the US assign gender to English nouns in Spanish-English code-switching? The effect of noun canonicity and codeswitcher type'. Linguistic Approaches to Bilingualism, [DOI] [full-text] [Details]
2019
'Theoretical implications of research on bilingual subject production: The Vulnerability Hypothesis'
Ana de Prada Pérez (2019) 'Theoretical implications of research on bilingual subject production: The Vulnerability Hypothesis'. International Journal of Bilingualism, 23 (2):670-694 [DOI] [full-text] [Details]
2018
'Subject Pronoun Expression and Language Mode in Bilingual Spanish'
Ana de Prada Perez (2018) 'Subject Pronoun Expression and Language Mode in Bilingual Spanish'. Studies in Hispanic and Lusophone Linguistics, 11 (2):303-336 [DOI] [full-text] [Details]
2017
'Attitudes towards Spanish and Code-Switching in Belize: Stigmatization and Innovation in the Spanish Classroom'
Osmer Balam, Ana de Prada Pérez (2017) 'Attitudes towards Spanish and Code-Switching in Belize: Stigmatization and Innovation in the Spanish Classroom'. Journal of Language, Identity, and Education, 16 (1):17-31 [full-text] [Details]
2014
'A Congruence Approach to the study of Bilingual Compound Verbs in Northern Belize Contact Spanish'
Osmer Balam, Ana de Prada Pérez (2014) 'A Congruence Approach to the study of Bilingual Compound Verbs in Northern Belize Contact Spanish'. Spanish in Context, 11 (2):243-265 [full-text] [Details]
Year
Publication
2018
'Heritage Speakers and their Language Use: A Phonetic Approach to Code-Switching'
Adriana Ojeda, Ana de Prada Pérez, Ratree Wayland (2018) 'Heritage Speakers and their Language Use: A Phonetic Approach to Code-Switching' Florida Linguistics Papers, 5 (1) . [Details]
Year
Publication
2013
Introduction
Cabrelli Amaro, Jennifer, Gillian Lord, Ana de Prada Pérez, and Jessi Elana Aaron (2013) Introduction . In: Cabrelli Amaro, Jennifer, Gillian Lord, Ana de Prada Pérez, and Jessi Elana Aaron eds. Selected Proceedings of the 16th Hispanic Linguistics Symposium , pp.v-vii [Details]
2012
Interface Heritage Speech across Proficiencies: Unaccusativity, Focus, and Subject Position in Spanish
Ana de Prada Pérez, Diego Pascual y Cabo (2012) Interface Heritage Speech across Proficiencies: Unaccusativity, Focus, and Subject Position in Spanish . In: Kimberly Geeslin and Manuel Díaz Campos, Cascadilla Proceedings Project eds. Hispanic Linguistics Symposium , pp.308-318 [Details]
2011
Invariable gusta in the Spanish of Heritage Speakers in the US
Ana de Prada Pérez, Diego Pascual y Cabo (2011) Invariable gusta in the Spanish of Heritage Speakers in the US . In: Julia Herschensohn and Darren Tanner eds. Proceedings of the 11th Generative Approaches to Second Language Acquisition Conference (GASLA 2011) , pp.110-120 [Details]
2010
Subject Position in Spanish in Contact with Catalan: Language Similarity vs. Interface Vulnerability
Ana de Prada Pérez (2010) Subject Position in Spanish in Contact with Catalan: Language Similarity vs. Interface Vulnerability . In: Michael Iverson, Ivan Ivanov, Tiffany Judy, Jason Rothman, Roumyana Slabakova, and Marta Tyzna eds. Proceedings of the Mind-Context Divide: Language Acquisition and Interfaces of Cognitive-Linguistic Modules , pp.104-115 [Details]
2008
The Intonation of Focused Negation and Affirmation in Spanish in Contact with Catalan
Ana de Prada Pérez (2008) The Intonation of Focused Negation and Affirmation in Spanish in Contact with Catalan . In: Joyce Bruhn de Garavito, and Elena Valenzuela eds. Selected Proceedings of the 10th Hispanic Linguistic Symposium , pp.157-169 [Details]
Year
Publication
2010
Second Language Research Forum.
Gonzalo Campos, Jason Rothman, Diego Pascual y Cabo, and Ana de Prada Pérez (2010) Second Language Research Forum. [Oral Presentation], Subject-to-Subject Raising across an Experiencer in the English and Spanish of Hispanic Heritage Speakers, University of Maryland [Details]
2010
Hispanic Linguistics Symposium.
Prada Pérez, Ana de, Diego Pascual y Cabo, Murielle Joseph, and Domonique Rora (2010) Hispanic Linguistics Symposium. [Oral Presentation], Subject Position in Spanish in Contact with English in the US: Evidence for the Differential Interface Vulnerability Hypothesis, University of Florida [Details]
2010
Romance Turn IV.
Prada Pérez, Ana de, Diego Pascual y Cabo, Gonzalo Campos, and Jason Rothman (2010) Romance Turn IV. [Oral Presentation], On the Status of Embedded T in Heritage Speaker (HS) Spanish and English: Evidence from Subject-to-Subject Raising across Experiencers, Université François Rabelais, Tours (France) [Details]
2011
6th Annual Interdisciplinary Colloquium on Spanish, Portuguese and Catalan Linguistics, Literatures, and Cultures.
Ana de Prada Pérez, Diego Pascual y Cabo, Carolina López (2011) 6th Annual Interdisciplinary Colloquium on Spanish, Portuguese and Catalan Linguistics, Literatures, and Cultures. [Oral Presentation], Invariable gusta in the Spanish of Heritage Speakers in the US, University of Florida [Details]
2011
6th Annual Interdisciplinary Colloquium on Spanish, Portuguese and Catalan Linguistics, Literatures, and Cultures.
Prada Pérez, Ana de, Diego Pascual y Cabo, Murielle Joseph, and Domonique Rora (2011) 6th Annual Interdisciplinary Colloquium on Spanish, Portuguese and Catalan Linguistics, Literatures, and Cultures. [Oral Presentation], Subject Position in L2 Spanish: The Effect of Variable vs. Categorical Input, University of Florida [Details]
2011
Generative Approaches to Language Acquisition.
Ana de Prada Pérez, Diego Pascual y Cabo (2011) Generative Approaches to Language Acquisition. [Oral Presentation], On the Acquisition of Spanish Reverse Psychological Predicates Among Second Language Learners and Heritage Speakers, University of Washington [Details]
2011
Linguistic Symposium of Romance Languages.
Ana de Prada Pérez, Diego Pascual y Cabo (2011) Linguistic Symposium of Romance Languages. [Oral Presentation], Invariable gusta in the Spanish of Heritage Speakers in the US, University of Ottawa (Canada) [Details]
2011
Generative Approaches to Language Acquisition.
Prada Pérez, Ana de, and Diego Pascual y Cabo (2011) Generative Approaches to Language Acquisition. [Oral Presentation], Reverse Psychological Predicates: Spanish Heritage Speakers vs. Second Language Learners, University of Thessaloniki (Greece) [Details]
2012
Hispanic Linguistics Symposium.
Roggia, Aaron, Jacqueline Toribio, Liliana Sánchez, and Ana de Prada Pérez (2012) Hispanic Linguistics Symposium. [Oral Presentation], Differential Interface Vulnerability at the Left Periphery in Contact Spanish, University of Georgia [Details]
2012
Hispanic Linguistics Symposium.
Toribio, Jacqueline, Verónica González López, and Ana de Prada Pérez (2012) Hispanic Linguistics Symposium. [Oral Presentation], Code-switching as Cross-Language Syntactic Priming: A look at Variable Phenomena in Spanish-English Bilinguals in the US, University of Georgia [Details]
2012
7th Annual Interdisciplinary Colloquium on Spanish, Portuguese and Catalan Linguistics, Literatures, and Cultures.
Ana de Prada Pérez (2012) 7th Annual Interdisciplinary Colloquium on Spanish, Portuguese and Catalan Linguistics, Literatures, and Cultures. [Oral Presentation], Subject Expression in Minorcan Spanish: Consequences of Contact with Catalan, University of Florida [Details]
2012
7th Annual Interdisciplinary Colloquium on Spanish, Portuguese and Catalan Linguistics, Literatures, and Cultures.
Prada Pérez, Ana de, Adrián Rodríguez Riccelli, Kelly Woodfine, Sarah Rogers, Jacqueline Toribio, and Verónica González López (2012) 7th Annual Interdisciplinary Colloquium on Spanish, Portuguese and Catalan Linguistics, Literatures, and Cultures. [Oral Presentation], Priming across Languages: Evidence from Variable Phenomena in Spanish-English Bilingual Speech, University of Florida [Details]
2013
Hispanic Linguistics Symposium.
Prada Pérez, Ana de, Adrián Rodríguez Riccelli, Kelly Woodfine and Sarah Rogers (2013) Hispanic Linguistics Symposium. [Poster Presentation], Weakening in Subject-Verb Number Agreement in Spanish in Contact with English, University of Florida [Details]
2013
Hispanic Linguistics Symposium.
Osmer Balam, Ana de Prada Pérez (2013) Hispanic Linguistics Symposium. [Oral Presentation], Light Verb Constructions in Stative Versus Eventive Passives in Contact Spanish, University of Ottawa (Canada) [Details]
2013
Hispanic Linguistics Symposium.
Ana de Prada Pérez (2013) Hispanic Linguistics Symposium. [Oral Presentation], The Vulnerability Hypothesis, University of Ottawa (Canada) [Details]
2013
Second Language Research Forum.
Ana de Prada Pérez (2013) Second Language Research Forum. [Oral Presentation], The Vulnerability Hypothesis, Bringham Young University [Details]
2014
Symposium on Spanish as a Heritage Language.
Prada Pérez, Ana de, Adrián Rodríguez Riccelli, Kelly Woodfine and Sarah Rogers (2014) Symposium on Spanish as a Heritage Language. [Oral Presentation], The Effects of Language Contact on Variable Phenomena: The Case of Clitic Climbing in Spanish-English Heritage Bilinguals, Texas Tech University [Details]
2014
7th Workshop on Spanish Sociolinguistics.
Ana de Prada Pérez (2014) 7th Workshop on Spanish Sociolinguistics. [Oral Presentation], The Vulnerability Hypothesis: Evidence from Subject Expression, University of Wisconsin [Details]
2014
Hispanic Linguistics Symposium.
Feroce, Nicholas, Lilian Kennedy, and Ana de Prada Pérez (2014) Hispanic Linguistics Symposium. [Poster Presentation], The Use of The Indicative and Subjunctive in Relative Clauses in Spanish-English Code-switching (CS), Purdue University [Details]
2014
Hispanic Linguistics Symposium.
Andrea Hernández, Ana de Prada Pérez (2014) Hispanic Linguistics Symposium. [Poster Presentation], Examining Code-Switching Performance Theories: Copula Choice in Spanish Among Cuban Heritage Speakers, Purdue University [Details]
2014
Hispanic Linguistics Symposium.
Ana de Prada Pérez (2014) Hispanic Linguistics Symposium. [Oral Presentation], Theoretical Implications of Research On Bilingual Subject Pronoun Production, Purdue University [Details]
2015
Bilingualism in the Hispanic and Lusophone World.
Mayans Ramon, Damaris, Michael Johns, Edith Kaan, and Ana de Prada Pérez (2015) Bilingualism in the Hispanic and Lusophone World. [Oral Presentation], Heritage Speakers' and Second Language Learners' Processing of Non-Adjacent Noun-Adjective Agreement.", University of Leiden, Leiden (The Netherlands) [Details]
2015
Bilingualism in the Hispanic and Lusophone World.
Ana de Prada Pérez (2015) Bilingualism in the Hispanic and Lusophone World. [Oral Presentation], Spanish-Catalan Bilingual Subject Pronoun Production and the Vulnerability Hypothesis, University of Leiden, Leiden (The Netherlands) [Details]
2015
Hispanic Linguistics Symposium.
Ana de Prada Pérez (2015) Hispanic Linguistics Symposium. [Oral Presentation], Code-switching (CS) effects: Evidence from Variable Subject Pronoun Expression in Spanish-Catalan Bilinguals, University of Illinois, Urbana-Champaign [Details]
2016
Linguistic Symposium on Romance Languages.
Ana de Prada Pérez, Inmaculada Gómez Soler (2016) Linguistic Symposium on Romance Languages. [Oral Presentation], Subject Expression in Heritage Speaker Spanish Oral Production vs. Judgments, Stony Brook University [Details]
2016
8th International Workshop on Spanish Sociolinguistics.
Chloe de Crecy, Jorge Valdés-Kroff, Ana de Prada Pérez (2016) 8th International Workshop on Spanish Sociolinguistics. [Oral Presentation], The Gender Congruency Effect in Spanish Heritage Speakers, Universidad de Puerto Rico, Río Piedras [Details]
2016
8th International Workshop on Spanish Sociolinguistics.
Inmaculada Gómez Soler, Ana de Prada Pérez (2016) 8th International Workshop on Spanish Sociolinguistics. [Oral Presentation], Variable Future Time Expression in Heritage Spanish, Universidad de Puerto Rico, Río Piedras [Details]
2016
8th International Workshop on Spanish Sociolinguistics.
Ana de Prada Pérez, Inmaculada Gómez Soler (2016) 8th International Workshop on Spanish Sociolinguistics. [Oral Presentation], Subject Expression in Heritage Speaker Spanish (HS) Oral Production Vs. Judgments, Universidad de Puerto Rico, Río Piedras [Details]
2016
Hispanic Linguistics Symposium.
Inmaculada Gómez Soler, Ana de Prada Pérez (2016) Hispanic Linguistics Symposium. [Oral Presentation], Exploring Sources of Variability in Bilinguals' Future-Time Expression, Georgetown University [Details]
2016
Hispanic Linguistics Symposium.
Chris Dean, Ana de Prada Pérez (2016) Hispanic Linguistics Symposium. [Oral Presentation], Subject Inversion across Clause Types in Spanish L2ers and Heritage Speakers, Georgetown University [Details]
2016
Hispanic Linguistics Symposium.
Ana de Prada Pérez, Inmaculada Gómez Soler (2016) Hispanic Linguistics Symposium. [Oral Presentation], Third Person Singular as The Locus of Cross-Linguistic Interference in Spanish Heritage Speaker (HS) Subject Pronoun Expressions (SPE), Georgetown University [Details]
2017
Hispanic Linguistics Symposium.
Inmaculada Gómez Soler, Ana de Prada Perez (2017) Hispanic Linguistics Symposium. [Oral Presentation], A Variationist Account of Future Time Expression in Peninsular Spanish, Texas Tech University [Details]
2017
Hispanic Linguistics Symposium.
Ana de Prada Perez, Nicholas Feroce (2017) Hispanic Linguistics Symposium. [Oral Presentation], The Effect of Person on Subject Pronoun Expression in the Oral Narratives of Spanish L2ers, Texas Tech University [Details]
2019
Bilingualism in the Hispanic and Lusophone World.
Ana de Prada Pérez, Nicholas Feroce (2019) Bilingualism in the Hispanic and Lusophone World. [Poster Presentation], Perseveration effects in subject pronoun expression (SPE) in Spanish second-language learners (L2ers, University of Leiden, Leiden (Netherlands) [Details]
2019
Bilingualism in the Hispanic and Lusophone World.
Ana de Prada Perez (2019) Bilingualism in the Hispanic and Lusophone World. [Oral Presentation], The effect of person and proficiency in Caribbean Spanish HS Subject Pronoun Expression (SPE), University of Leiden, Leiden (Netherlands) [Details]
2019
AESLA (Asociación Española de Lingüística Aplicada),.
Ana de Prada Perez, Nicholas Feroce (2019) AESLA (Asociación Española de Lingüística Aplicada),. [Oral Presentation], Mechanical vs. functional processes in subject pronoun expression (SPE) in Spanish second-language learners (L2ers), Universidad de Valladolid, Valladolid (Spain) [Details]
2019
AESLA (Asociación Española de Lingüística Aplicada),.
Ana de Prada Perez (2019) AESLA (Asociación Española de Lingüística Aplicada),. [Oral Presentation], A variationist approach to Caribbean Spanish heritage speaker (HS) subject pronoun expression (SPE).", Universidad de Valladolid, Valladolid (Spain) [Details]
2010
Department of Linguistics, Colloquium.
Ana de Prada Perez (2010) Department of Linguistics, Colloquium. [Invited Lecture], Subject Expression and Position in Spanish-Catalan Bilingual Speech: The Role of Language Similarity in Interface Vulnerability, University of Texas, Austin [Details]
2013
Departamento de Filología Inglesa, Universidad de Valladolid.
Ana de Prada Perez (2013) Departamento de Filología Inglesa, Universidad de Valladolid. [Invited Lecture], The Grammars and Effects Of Code-Switching: Concepts and Methods, Valladolid, Spain [Details]
2015
Synergies research speaker series.
Ana de Prada Perez (2015) Synergies research speaker series. [Invited Lecture], Code-switching Effects: Evidence from Variable Subject Pronoun Expression in Spanish-Catalan Bilinguals, Center for Humanities and the Public Sphere, University of Florida [Details]
2017
The Department of Spanish and Portuguese Linguistics Colloquium.
Ana de Prada Pérez (2017) The Department of Spanish and Portuguese Linguistics Colloquium. [Invited Lecture], The Effect of Grammatical Person on Bilingual Subject Production, University of Arizona, Tucson, AZ [Details]
2020
Universidad de Valladolid, Postgraduate and early career scholars' conference.
Ana de Prada Pérez (2020) Universidad de Valladolid, Postgraduate and early career scholars' conference. [Keynote Address], The Vulnerability Hypothesis: Applying Variationist Methods to Explain Bilingualism Outcomes, Valladolid, Spain [Details]