For example, to find out more about Gradebook, just type 'Gradebook' in the search box.
A
An Academic Transcript lists your complete academic history: programmes attended, a breakdown of marks/grades achieved, the degree awarded (if completed), your overall grade. Further information is available on the Student Records website. To get a copy from the Student Records Office you can complete their online form.
An academic year is a period of time each year (normally September to May). The academic year is divided up into two semesters. A semester consists of 12 teaching weeks and two study weeks, followed by a period of examinations. The teaching weeks normally involve a series of lectures and tutorials, along with written assignments and/or laboratory work, depending on your chosen discipline. Key dates can be found on the Academic Calendar.
A student who wishes to appeal an examination result must do so in writing (using the form in the link below), setting out the grounds for the appeal in full to the Supervisor of Examinations (Registrar), within three weeks of the publication of the examination results.
For full details on grounds for appeal, appeals procedures and form to request an appeal, click appeal.
A module may have a number of different assessment elements, such as an end-of-module University scheduled written examination, a in-class test, an essay, laboratory/practical classes, workshops, tutorial assignments or an oral examination. All of these are your opportunity to show your understanding of the material covered in the module and to build your module mark. Course Finder will indicate how your module will be assessed. Each of the module assessment elements contributes, in a pre-defined manner, towards the overall mark of the module as a whole.

Maynooth University academic policy and procedure that govern how assessment marks feed into your results are known as Marks and Standards. There are some programmes where different conditions apply - these exceptions are identified in the Marks and Standards, and in course handbooks.
Assignments take the form of essays or project work, which require reading and independent research. A certain amount of marks will be given for assignments and these will contribute to your overall grade for continuous assessment each year. In First Year you will be given guidelines on how to prepare and present assignments.
These are listening based exams scheduled by the academic department of the module. Check directly with them for details.
​
Award Weighting & Composition of the Award
In order to complete an undergraduate programme and be eligible for the award a student must:
1. Complete and pass modules to the required credit value for the programme, for example 180 credits for three year full time degrees, and 240 credits for four year full time degrees.
2. Complete and pass the minimum number of credits in each subject taken to degree level.
3. Complete and pass the modules specified in the programme specification, including the prescribed modules in each subject, and all compulsory modules.

Composition of the award mark: Postgraduate Programmes
In postgraduate taught programmes (except professional/taught doctorates) all modules other than ungraded modules contribute to the calculation of the award.
In postgraduate research programmes, students are required to complete a specified number of credits in approved modules, to complete the programme. However, the award of the degree is based on assessment of the research thesis.
In professional/taught doctorates taught modules may or may not contribute to the award, as defined in the programme specification.
Transfer Students and Exemptions
Students transferring from other recognised universities or higher education institutions may receive credit for work done in the other institution, in accordance with the credit value of the work done and its relevance to the programme they wish to pursue at Maynooth University.
Modules taken in other institutions will normally be treated as ungraded modules, and therefore add to the credits earned by the student but make no contribution to the annual, subject or award mark. Similarly, where students are granted exemptions, this will contribute to the credit value but the marks/grades earned elsewhere will not contribute to the annual, subject or award mark/grade.

Award Weighting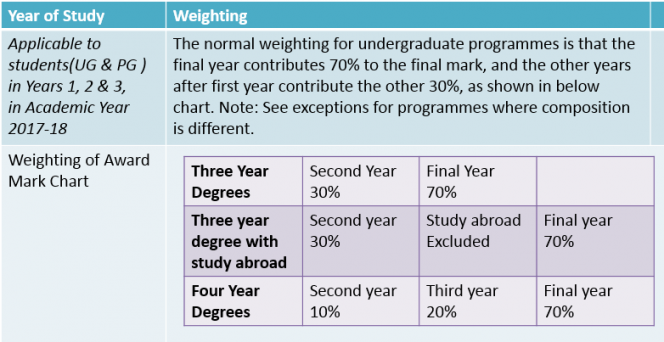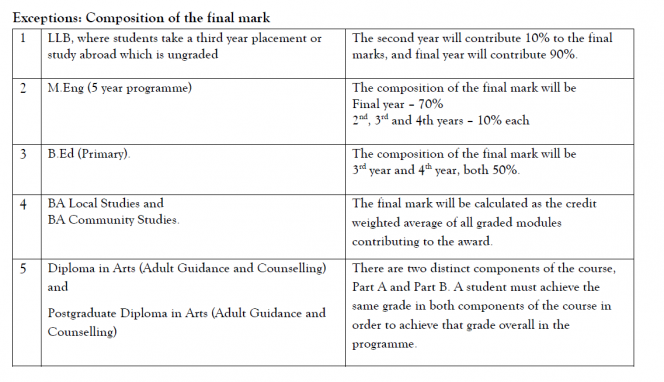 Click here for
Award Grades
​
B
Undergraduate degree qualification awarded by the University. To check your qualification check your student card.
Breaches of Exam Regulations
C
A module may have defined co-requisites, which are modules which a student must take, or have taken, in order to register for the module.
Module assessments are usually made up of components such as essay, practical, in class exam and/or University scheduled written exam at the end of the semester. You complete assessment for each component and the results are combined to given an overall module mark.
A compulsory module is one which must be taken by all students taking the subject, because the content of the module is considered essential. A student may not complete the programme of study and receive the award in that subject without passing all the compulsory modules.

On course finder a compulsory module is indicated as in the below screenshot.


This is the day when Staff will be available in all Academic Departments to discuss results with students.
End of Academic Year
Wednesday, 3 July 2019
Supplemental Assessments
Monday, 9 September 2019
A piece of work required as part of a degree course
This is the academic listing for Maynooth University. You can use this tool to find information about:

Programme of study, award type/level
Module information by year of study, credit value of module, semester module is taught
Department and module co-ordinator responsible for module
Description of module
Any module dependencies (pre-requisites, required modules for progression, co-requisites, compulsory or disallowed combinations
Learning Outcomes
Teaching & Learning Methods and indication of the expected student workload
Assessment
Repeat options
Timetable (only for the current academic year)
Information on these First Year Critical Skills courses is available here. You can also find a listing of First Year Critical Skills courses on CourseFinder.
ECTS (European Credit Transfer System)
Each module has an ECTS(European Credit Transfer System) credit value. ECTS is a standard for comparing the study attainment and performance of students of higher education across the European Union and other collaborating European countries. For successfully completed studies, ECTS credits are awarded. One undergraduate academic year corresponds to 60 ECTS credits.
Further information on the ECTS is available here:
European Commission Website
ECTS User Guide
D
At the start of second year most students will have the option to avail of the University's new flexible pathways structure. This means significant additional flexibility in choosing your programme of study. A range of options will generally be available, although not all options will be available for every subject and degree:

Double Major:
Taking two subjects (30 credits each subject, each year) equally to degree level

Major with Minor:
Specialising in one subject (40 credits each year), to degree level, while continuing with a smaller amount of a second subject (20 credits each year) to degree level;

Single Major:
Specialising in only one subject to degree level (60 credits, each year) to degree level;
See Course Finder and/or Student Handbook for further details.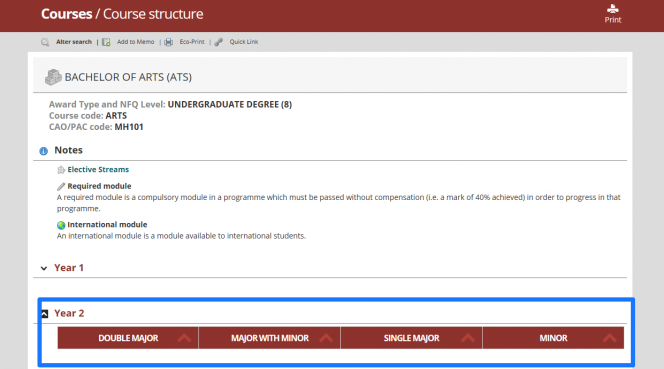 ​
Dictionary use in examinations
Permissible Use of Dictionaries
All examination halls have been equipped with English dictionaries to assist students who query the meaning of a word on an examination paper. For certain language examinations, departments may wish to allow all students make use of a translation dictionary. The rubric on the examination paper should indicate this clearly and, if appropriate, state the specific edition/version of dictionary permissible. Electronic Dictionaries are not permitted.
Erasmus and Visiting International Students
Use of own language-English/English-own language dictionaries may be permitted for Erasmus students who are attending Maynooth University as part of their studies in their home university (normally semester 1). Departments may wish to revoke this ruling for certain, specified modules (e.g. language or translation type examinations).
International Students
International students pursuing full-time undergraduate or postgraduate degrees are expected to have a competent standard of English prior to admission. These students are not permitted to use dictionaries or other aids to complete examinations. Extra time will not be granted to such students unless merited on other, documented circumstances.
Click here for further details.
Where modules have very similar learning outcomes they may be classified as disallowed combinations. In this case a student cannot be awarded credit for more than one module of the disallowed combination.
A major written piece of work or research project undertaken in the final year of an undergraduate honours degree course.
You will need to be logged in to access this part of the University website.
Durations for University Scheduled Written Examinations
University Scheduled Written Examinations will be held in one of three available 'slots' in each day of the Examination Period. These are:

| | |
| --- | --- |
| 9:30am | with durations up to 2 hours |
| 12:30pm | with durations up to 2 hours |
| 3:30pm | with durations up to 3 hours |
E
In second year, gain exposure to a topic that you find interesting but outside your chosen subject(s) by taking an Elective Stream. Click here for further details.
Exam Accommodation (overnight)
Exam Accommodations in Exam Halls
Temporary/Short Term Exam Accommodations
If you need temporary/short term exam accommodations during your university scheduled written exams (one exam session only) for a recent injury for example, then you should contact the Examination Office. Drop in anytime during our office hours 9.30am-1pm, 2-5pm Monday to Friday. We are located in Humanity House (Room 28), South Campus on the ground floor.
Student Services Office, Ground Floor (behind rear entrance to John Hume Building)

Tel: 01 708 4729
E-mail: student.services@mu.ie

Or drop in during their Office hours Monday- Friday 9.00am to 1pm and 2pm to 5pm.

Check out sessions run in the library through the LIST service, which includes exam anxiety specific sessions focusing on strategies and coping skills to reduce your exam anxiety.
Student exam wellbeing support includes Counselling Service, Pastoral Care and Student Health Centre.
Students are expected to be available for exams for the entire duration of the exam session. *Examination finish dates are subject to change, in the event of exceptional circumstances, such as severe weather conditions.

Exam Session

Dates

Semester One
University scheduled written examinations
Friday 11 January 2019 to Saturday 26 January 2019* approximately including Saturdays
Semester Two
University scheduled written examinations
Friday 17 May 2019 to Saturday 1 June 2019* approximately including Saturdays
Supplemental Autumn Assessment
Wednesday 7 August 2019 to Saturday.17 August 2019* approximately including Saturdays
University scheduled written exam durations are from 60 minutes up to 3 hours. Identified by module when you look at the exam timetable or your personalised timetable.
The following are the exam halls where university scheduled exams take place:


| Exam Hall | | Campus | Small Map - For larger map click here Examination Hall Map |
| --- | --- | --- | --- |
| Callan Building | CB3-CB9 | North Campus | |
| John Hume Building | 1st Floor | North Campus | |
| Lower Loftus | Loftus Halls | South Campus | Click here for short video to find exam hall. |
| Main Sport Hall | | North Campus | |
| PE Hall | | North Campus | Note entrance location below. |
| Small Sports Hall | | North Campus | Note entrance location below. |
| Long Corridor | | North Campus | |
| | | | |
Exam Regulations and Procedures
Students may formally request the Supervisor of Examinations (Registrar) to arrange a check of their examination result within two weeks from the date of the publication of
examination results or in exceptional circumstances, within such extended period as allowed by the President of the University.

There shall be a fee for the checking of an examination result, which will be €25.00 per subject.
For full details including details on how to appeal a recheck, click recheck.

Topic
Information
Exam Results Regulations
The University regulations for assessment are described in the Marks and Standards of the University. These lay out the regulations for passing modules, compensation, repetition, progression to the next year, and the calculation of the final award.

Depending on your category of student below you will find guides to help you interpret your exam results.
Exam Results Release Dates
Click here for release dates.
Exam Results Release Dates
Semester One Results
Semester 1 results are provisional results and are issued by your academic department.

The Examinations Office will release official results on the following dates -
Semester One and Semester Two
Monday 1 July, 2019
Supplemental Results
By 6 September, 2019
Extenuating Circumstances
The regulations for assessment, progression and completion of awards are laid down in the University Marks and Standards. Nevertheless, the University acknowledges that a student may experience unexpected or serious difficulties which could prevent them meeting these requirements, and/or inhibit them from performing to the best of their abilities. To address this, there are a small number of areas where the Marks and Standards allow extenuating circumstances to be taken into consideration.
Click here for further details and the form to apply for special permission to be allowed deviate from a regulation as permitted in the Marks and Standards of the university.

F
A group of academic departments defined by shared interests. There are 3 faculties in Maynooth University:
Fees & Fee waiver requests
It is the responsibility of all students to ensure that their fees(including exam & assessment fees) due are paid in full by the due date. Students who have not paid the fees due are not considered registered students of the University, are not entitled to draw on the services of the University or obtain benefits from the University. Fee arrears are debts to the University, and remain so even after the period of registration.
Medical/Exceptional Circumstances Fee waiver requests (undergraduate and postgraduate), are processed by the Fees and Grants Office - the link to the their webpage with the online forms is here
G
Someone who has successfully completed a degree programme at University.
H
A full undergraduate degree that usually requires completion of a final year dissertation or research project. This is a Level 8 award on the National Framework of Qualifications.
I
An international module is available only to International Students and is indicated on Course Finder by the icon in the below screenshot.


​
Someone who supervises an examination.
L
Certain courses, especially subjects with Science and Engineering, involve a substantial amount of laboratory work. This consists of a series of hands-on, practical sessions where you will have an opportunity to explore the reality behind the theory of your chosen subjects, under the supervision of experienced staff members.
To find the amount of lab time required for a module, search under the module on Course Finder and then under the Teaching & Learning methods tab.


​
Lecturers and tutors are members of the University academic staff and have responsibility for teaching and helping students with their studies.
You will be expected to attend a series of lectures as part of your course. Lectures range from the core theoretical knowledge of your subjects, introducing the main ideas of your discipline and providing a guide to further research and reading. Lectures are delivered to groups of students, varying in size from 40 to 450 people.
M
Maynooth University academic regulations that govern assessment of your chosen programme are known as Marks and Standards.

We have made changes to our Marks and Standards and they are been phased in over a period as per the below chart.

| Year of Study in 2017-18 | Applicable Rules | |
| --- | --- | --- |
| First year, Second year, Third Year | New Marks and Standards | Marks and Standards |
| Final year students in year 4 of a 4 year programme | Old Marks and Standards | |
An academic degree awarded by the University upon completion of at least one year of prescribed study beyond the bachelors degree.
Mature & Restricted Entry Tests – Regulations and Procedures
A module is a unit of work which is assessed separately. The typical workload required to complete a module is indicated by the credit value of the module. While students may vary in pace of work, the general calculation is that one credit represents 25 hours of student work. A normal academic year of full time study over two semesters is 60 credits. Programmes which involve full time study for the full year (12 months) are normally 90 credits.
A module can be included in more than one programme. While we tend to refer to modules as Compulsory, Optional, or Required, these are not characteristics of the Module, but rather characteristics of the Programme or Subject. A Module can be Compulsory in one subject and Optional in another.
For further information by module code, go to Course Finder.

To access a module description, use Course Finder. Here you will find the number of hours, type of assessment associated with the module along with its specified learning outcomes.
Moodle is the virtual learning environment (VLE) we use at Maynooth University. Moodle allows you to access resources and online learning activities associated with your course.
All Maynooth University staff and registered students have access to Moodle. To log in to Moodle, you need to enter your Maynooth University username and password in the Log in area.
Visibility of a module on Moodle alone (initiated via the Enrolment key) DOES NOT constitute registration to the module proper. All registrations to modules must take place either through the Student Web facility On-Line Registration Menu, Registration Amendments Menu or manually in the Student Records and Registration Office
Amendments made by students online, or by staff in the Student Records and Registration Office should be reflected on Moodle over the following 24 hours
N
National Framework of Qualification (NFQ)
The National Framework of Qualification (NFQ) was launched in 2003 as an infrastructure by which all learning and academic achievements can be related to each other in a meaningful and organised fashion. The various kinds of qualifications and awards included in the NFQ are organised based on the skills, competency and level of knowledge required to achieve them. Quality and Qualifications Ireland (QQI) has responsibility to maintain, support and develop the NFQ as well as facilitating the recognition of non-Irish qualifications. As every NFQ award is quality assured, international learners can be assured that their qualifications will be recognised around the world.
More information on the NFQ is available here:
National Framework of Qualifications chart
NFQ User Guide

To see the NFQ level of any programme, simple search for your qualification on Course Finder, NFQ Level is indicated beside the award type. See screenshot below for qualification of Arts.


​
O
An optional module is one that you may take as part of the subject.
P
A programme of study, and a subject, may be divided into periods of study, which are normally academic years. Students are normally required to reach a certain standard in each period of study before progressing to the next.
Plagiarism involves an attempt to use an element of another person's work, without appropriate acknowledgement in order to gain academic credit. It may include the unacknowledged verbatim reproduction of material, unsanctioned collusion, but is not limited to these matters; it may also include the unacknowledged adoption of an argumentative structure, or the unacknowledged use of a source or of research materials, including computer code or elements of mathematical formulae in an inappropriate manner. Maynooth University's policy on plagiarism.
See Library LIST online avoiding plagiarism tutorial which is available here
A module may have defined pre-requisites, that is a module or modules which must have been passed in a previous period of study in order to register for the module.
The Maynooth University Prizes and Awards Ceremony is an annual event with a view to promoting academic excellence and to rewarding achievements in this regard with appropriate recognition. It is not intended that the provision for supplemental examinations should create a pressure to re-sit unnecessarily. Therefore, prizes and awards are typically based on performance excluding results from resits/supplemental examinations.
R
↵A module that is "required" in a subject must be passed (40%) without compensation to meet the subject completion and progression requirements.

If you wish to check if a module is required, you need to first enter your programme of study i.e. Arts and then go to the year of study, subject and you will find the following screen. A module that is required is shown as indicated in the below screenshot.
S
We divide the academic year into two parts called semesters. The first semester runs from September to January, and the second semester runs from January/February to May. A semester consists of 12 teaching weeks and two study weeks, followed by a period of examinations. Semester 1 starts in September and Semester 2 starts in January/February. The teaching weeks normally involve a series of lectures and tutorials, along with written assignments and/or laboratory work, depending on your chosen discipline.
Current Semester Dates.
A subject is a subset of a programme of study, normally focussed on a specific discipline. Some programmes are single subject programmes. A subject may have defined requirements which must be met in order to progress in that subject, or graduate with an award in that subject.
See Marks and Standards for your year of study for the rules around supplemental assessment.
To see if your module has a supplemental assessment available, check on course finder (see screenshot below).

T
A student may normally repeat a period of study only once. In exceptional circumstances the University may decide to allow additional repetition opportunities. Further details on how to request permission is available under Extenuating Circumstances. Getting permission to repeat does not waive the fees. Any student seeking a fee waiver should contact the fees office and make a separate application for a fee waiver.
Tutorials involve smaller groups of students, who meet regularly with an academic staff member to work through ideas and topics relevant to their course. Tutorials provide an opportunity for students to engage in debate and exchange ideas with their fellow students. Marks maybe allotted for attendance at tutorials, as part of continuous assessment. The expectation is for full attendance by students. Absence from tutorials may have implications for eligibility for assessment. Check details with your department.
U
In some cases a module is either passed or not passed, and there is no module mark. These are termed ungraded modules. In this case, the student is awarded the credits associated with the module once the module is passed, but no mark or grade is included in the calculation of annual or subject marks. Ungraded modules also contribute to the proportion of credits passed. Ungraded modules are typically used for:
Work placements and other experiential learning.
Modules taken in other institutions where there is not an agreement to accept the marks/grades awarded elsewhere.
Modules involving a competency standard.
Modules within a structured PhD/research master's programme.
Ungraded modules are indicated in the Academic Database/
Coursefinder
.
University scheduled written examination
This is a written examination at the end of the semester scheduled by Maynooth University (via Examinations Office). If a module has a University scheduled exam this will be indicated as part of the module description on Course Finder. See screen shot below.