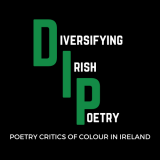 Led by Dr Catherine Gander in official partnership with Poetry Ireland, Diversifying Irish Poetry (DIP) is a mentorship programme for poetry critics of colour on the island of Ireland, leading to publication in mainstream print and online platforms. Run in collaboration with Ledbury Poetry Critics, for which Dr Gander is a co-organiser, it adapts their highly successful mentorship programme to the specific contexts of Irish poetry and poetry criticism. Targeted towards budding critics with some experience of reviewing, the programme aims to usher in change to reviewing and commissioning cultures. This project is above all to establish a sustainable mentorship programme in Ireland for poetry critics from underrepresented ethnic groups whose access to critical culture is hindered by structural racism and migration. It also provides a robust data gathering and monitoring mechanism, which will feed into a project report on diversity, equality, and inclusion in Ireland's reviewing culture and broader literary landscape.
Run an open competition mentorship scheme for poetry critics of colour in Ireland
Foster critical voices, and open doors for a diverse range of critics
Deliver open workshops and a two-day residency for the selected critics
Gather anonymised data on published critics from a wide variety of publishing platforms
Make meaningful change to Ireland's literary networks, and by extension, to the value Irish society gives to diversity in the arts.