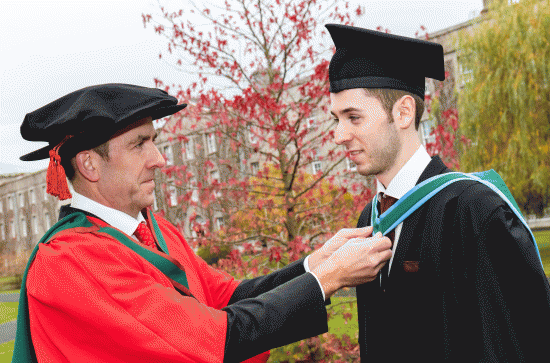 Thursday, November 1, 2018 - 09:15
Autumn trees of red and gold provided a seasonal backdrop for November's conferring ceremonies at Maynooth University.
Among the proud graduates were father and son, Thomas and Seán O'Kane, from Baltinglass in Co Wicklow, who shared their conferring day celebrations.
Thomas works with Suzuki Motor Corporation, which is headquartered in Hamamatsu, Japan. He was awarded a Doctorate in Electronic Engineering for his research, titled: 'High Fidelity Modelling in Motorcycle Dynamics', under the supervision of Professor of Electronic Engineering, John Ringwood.
"I was motivated by working in this area, and I felt a PhD would help me in my work and make a contribution to the field," he said.
His son, Seán, who graduated with an MSc in Geography, is now embarking on a PhD in the field of environmental monitoring and remote sensing under the supervison of Dr Tim McCarthy, in the National Centre of Geocomputation at Maynooth University.
The week marked the first conferring of students with a new Postgraduate Diploma in International Justice and Law.
Over the course of this week, a total of 613 students graduated, including 13 doctoral candidates who were awarded PhDs. This year, Maynooth will hold an extra day of ceremonies with 13 ceremonies to take place.
Maynooth University is Ireland's fastest growing university, with more than 12,500 students, including almost 1,600 taught postgraduate and professional students and a growing cohort of over 400 research students.
Maynooth University has recently marked 20 years since its foundation as an independent institution, and was recognised as one of the leading new universities in the world when the Times Higher Education ranked it #80 in its 2018 Young University Rankings.