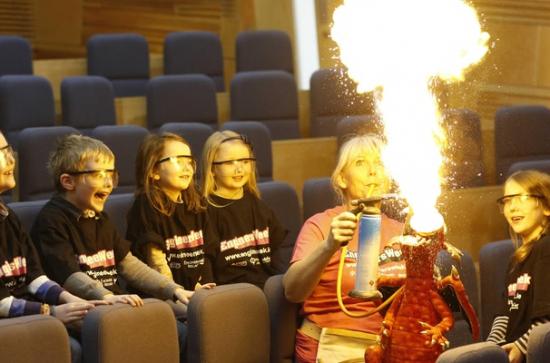 Monday, February 26, 2018 -

09:45

to

14:00
Aula Maxima, South Campus, Maynooth University
What is Engineers Week?
Engineers Week is a week-long festival of nationwide events celebrating the world of engineering in Ireland. The annual event is coordinated on a national basis by Engineers Ireland's STEPS programme -funded under Science Foundation Ireland's Discover programme
Andrew Meehan from the Department of Electronic Engineering at Maynooth University will host three workshops for students up to Junior Certificate level
This highly creative engineering show explores some of the amazing scientific discoveries that have led to incredible engineering feats. In the show, we will delve into the worlds of 13 Irish Scientists, whose work spanned 350 years, to see how their discoveries led to engineering inventions which continue to impact our lives today.

We thank Robert Boyle for our expanding marshmallows and potato gun; Sir Hans Sloane for his hot chocolate creation; Joseph Black's discovery which allows us now to cool our drinks with dry ice; William Reid Clanney for giving engineers an excuse to create explosions in caverns; James Murray for easing stomach aches with alkalis; Thomas Andrews for another excuse to play with dry ice - made with the gas discovered by Joseph Black; Lord Kelvin for his Kelvin temperature scale – which we will use to explore the temperatures of ice cream that will be made and eaten on stage!; Dunlop for his invention that allowed Harry Ferguson to build and fly his own plane and Anne Acheson for applying her knowledge as a sculptress of the human body to invent splints to help the soldiers in WW1. We will then learn how James Martin's invention of explosive ejector seats saved the life of Neil Armstrong; how Ernest Walton helped split the atom and, finally, how Frank Pantridge invented the mobile defibrillator, which hopefully we won't need to use during this very energetic and informative show! We will also need lots of budding young engineers to help Scientific Sue on this mind-boggling engineering journey.
Tickets to attend can be booked at eventbrite for the following shows:
09:45 - 10:45 http://bit.ly/2nyzKOZ
11:15 - 12:15 http://bit.ly/2DQTmVu
12:45 - 13:45 http://bit.ly/2ns6gmM