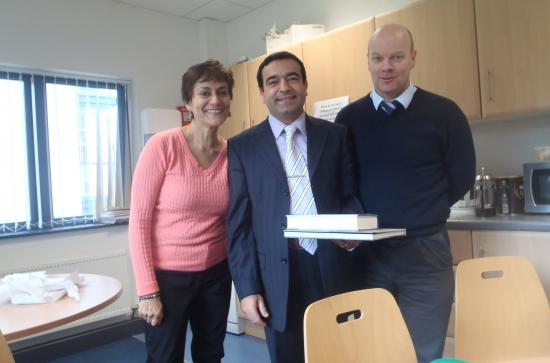 Thursday, October 27, 2016 - 12:45
Farewell for the Jean Monnet Scholar-in-Residence at the Kennedy Institute

Dr Aytekin Cantekin finished one-year postdoctoral research on European security and defence on 14th October 2016 at the Maynooth University.

He has been a Jean Monnet research scholar in residence at the Kennedy Institute. He holds a PhD in international security from the Turkish Defence Sciences Institute and has conducted a research titled 'The EU in International Conflict Prevention and Crisis Management: Decision Making, Practice and Perspectives of the CSDP (Common Security and Defence Policy)'. The paper examines strategic lift capability development efforts as a case study and EDA's (European Defence Agency) role in this process. He has studied under the supervision of Prof Robert Galavan from the School of Business and Dr Kieran Doyle of the Kennedy Institute. He is pictured here at the farewell with Patty Abozaglo and Dr Kieran Doyle.