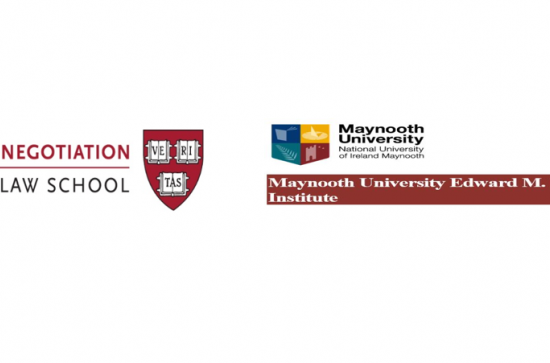 Tuesday, December 12, 2017 - 09:45
Kennedy Institute's Peter Cassells speaking at the closing of the PON Global Ireland event
Harvard Law School's widely recognized Program on Negotiation course has been held in Ireland for the first time, in partnership with the Edward M. Kennedy Institute at Maynooth University. The Program on Negotiation (PON) is a university consortium with MIT and Tufts, dedicated to developing the theory and practice of negotiation and dispute resolution.
The first course was held at the Carton House, Maynooth, Co. Kildare, on the 6th, 7th and 8th of December, 2017.
Peter Cassells, Executive Director of the Edward M. Kennedy Institute said, "We are delighted to partner with the Program on Negotiation at Harvard Law School in this initiative. With the support of the Department of Law, School of Business and the Irish Defense Forces, we welcome all participants to PON Global – Dublin."
The PON curriculum has been utilized by more than 35,000 individuals who have participated in PON's Executive Education programmes.
Read more about the course https://www.maynoothuniversity.ie/sites/default/files/assets/document/PON_Global_Dublin_Brochure__0.pdf