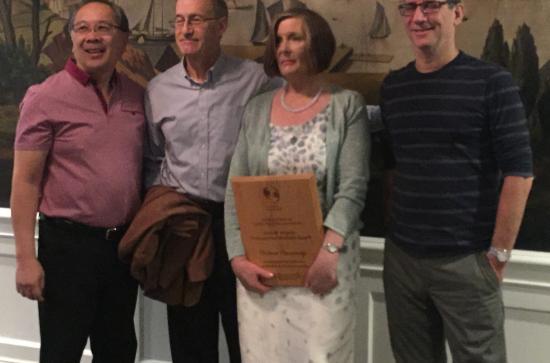 Thursday, January 12, 2017 - 11:15
Dr. Delma Sweeney has been awarded the John Haynes Distinguished Mediator Award in Baltimore, USA, in recognition of her promotion and establishment of family mediation in Ireland. The award is presented annually to a prominent and internationally recognized leader in mediation who demonstrates personal and professional commitment to finding mediation solutions to conflict while balancing therapeutic and legal perspectives.This is the first time the award has been presented to a mediator outside the USA and Canada.
As well as an educator, trainer and author Delma helped establish high standards of professional excellence in mediation practice. In addition, for the past 30 years, she has been a family counselor. She helped create and taught in graduate programs including serving as Joint Academic Director, Masters (MSc.) in Psychotherapy, Turning Point, Dublin City University , and most recently as Director, Mediation and Conflict Intervention at the Edward M. Kennedy Institute for Mediation and Conflict Intervention at Maynooth University. At the Kennedy Institute, Delma also founded and is principal editor of a scholarly publication, Journal of Mediation and Applied Conflict Analysis.

Delma is also an author, trainer and consultant. In short, her varied experiences in the area of family mediation and conflict resolution, her commitment to practice and scholarship and her leadership in the field make her an ideal recipient of the John Haynes Distinguished Mediator Award.